A combination of Irish and American actors and playwrights have come together for Transatlantic Tales, a series of plays to be broadcast on YouTube in June.
Paul Nugent, the Co-Artistic Director of AboutFACE Theatre Company, writes for Culture about turning disappointment into opportunity. 
What do you do during a lockdown, when your big June show has been cancelled?
Well, put on a digital international theatre production spanning 5,000km with over 20 artists, of course.
Like many artists, due to the pandemic our theatre company, AboutFACE, had to cancel a show we were very excited about, our production of The Gods of the Ozarks by Matthew Cole Kelly, which was set for Dublin's Smock Alley theatre in June.
But after our initial disappointment we thought – why not turn this into an opportunity?
We still wanted to provide a chance for our artists to create, to share their talents and be of purpose, which we feel is deeply important at this time, and we wanted to create something that would work digitally – fresh, short, inventive experiences, with global range – and resonate with the present moment.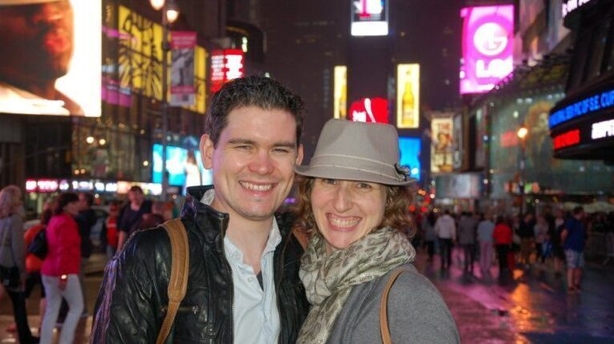 What is possible now, that we wouldn't have considered before this crisis?
And we hit on our America-Ireland connection.
The Gods of the Ozarks is set in the US and produced in Ireland.
My wife Anna (co-artistic director) is from the US and I'm from Dublin.
We started AboutFACE in Dublin and then spent 10 years in New York, and our original aim was to produce Irish premieres of American plays – bringing together US and Irish theatre is pretty much in our company's DNA.
Now how do we do this in a digital world? Create something transatlantic?
Suddenly, we realised this could be a thrilling chance to pair the cast of our cancelled show with some of our favourite New York-based actors.
And to tie in with our NEWvember Festival where we've developed plays by over 30 playwrights from Ireland and the US.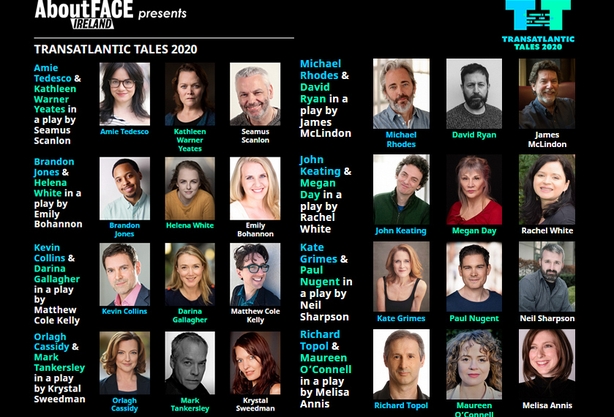 That started to sound like something that would not only engage artists we love, but also produce new stories that audiences would be excited about too.
We would bring together eight Ireland-based actors with eight New York-based actors and eight international playwrights (including The Gods of the Ozarks writer), to create and perform eight new three-minute plays – each set on a Zoom call.
We'd call it Transatlantic Tales 2020.
Our Irish cast went from disappointed to buzzing.
We reached out to eight playwrights, told them, "we'll give you photos of two actors and you'll have just one week to write a play for them", and they all said great.
We reached out to some amazing actors in New York, including performers with Broadway credits and to our delight, they said yes. Suddenly, at super short notice, this whole thing was a go.
Last week we did a draw on Youtube Live to randomly match the actors and writers – and started to get very excited...
We need your consent to load this YouTube contentWe use YouTube to manage extra content that can set cookies on your device and collect data about your activity. Please review their details and accept them to load the content.Manage Preferences
The combinations just got juicier and juicier – New York-based, Tipperary-born actor John Keating in a play with Kildare-based Megan Day from North Carolina; Georgia-born NYC playwright Emily Bohannon writing a piece for Kilkenny's Helena Walsh and Kentucky's Brandon Jones; Broadway veteran Richard Topol with Wicklow-born Maureen O'Connell in a play by Welsh-born New York writer Melisa Annis.
The writers have had until today to turn in their three-minute plays; then we'll be rehearsing on Zoom, before sharing the pieces via Youtube in the first week of June, when we should have been performing our cancelled show.
In this crazy time, suddenly we have a project that just feels right.
We can't wait to share some transatlantic tales...
For more details about Translatic Tales, see the AboutFACE website.