We're delighted to present an extract from The Heart of Summer, the new novel by Felicity Hayes-McCoy, published by Hachette.
It's summer in Finfarran on the west coast of Ireland. Librarian Hanna Casey is looking forward to al fresco lunches, and to balmy evenings with her boyfriend Brian in their stunning new house in the beautiful Hag's Glen. With family dramas and a painful divorce behind her, Hanna and Brian are browsing romantic holiday brochures. Then, unexpectedly, Brian's adult son moves in with them and Hanna re-encounters Amy, one of three girls with whom she shared a London flat in her 20s. And all of a sudden, she begins to question her apparently perfect life...
---
On the towpath opposite Amy's garden, a woman and a little girl were wheeling bicycles. A pair of swans drifted by followed by a half-grown cygnet whose gold-grey plumage matched the tint of the willow trees. The dark-haired child in a kilted skirt and a sweater reminded Hanna of Jazz in her school uniform. In the past, late summer shopping trips in London had meant Marks & Spencer for socks and knickers, WH Smith for folders, and Liberty's for special items, bought with Jazz's hoarded birthday money: she had inherited Hanna's love of stationery and had insisted on a beautiful notebook or pen to give solace in the classroom after the long weeks of freedom.
The previous day, Hanna had taken the train up to London and visited Liberty's, planning to buy Jazz a nostalgic gift but, as soon as she'd turned the corner from Regent St, she'd known that she was really there for herself. Amy might accuse her of having lost all sense of fashion, but colour and design had never ceased to enchant her. Liberty's had much of what she missed at home in Finfarran, from its dramatic interior, constructed of timber from decommissioned warships, to the sumptuous stock presented in intimate rooms and long galleries, like a cross between a souk and a Paris boutique.
She'd climbed the stairs to the fabric department, tempted by the riot of colours and patterns she knew she'd find on display. Even the staircase was wonderful. It had worn treads, and mullioned windows with painted panes salvaged from the ships' captains' quarters, and on each return there were flower displays on the deep windowsills. As a child,
Jazz had loved the carvings on the oak rails and bannisters: little polished figures of birds and monkeys, and an elephant sitting on its haunches. In Hanna's own childhood, these would have informed one of Tom's bedtime stories, but Jazz had been less enthralled by fantasy than by hard statistics, which she'd demanded each time they went to Liberty's.
'A ship as big as the whole shop?'
'That's right. And the floors are made from the decks.'
'Who made the elephant?'
'Nobody knows. All the carvings were made for the shop, but no-one remembers the names of the men who carved them.'
Hanna could recall that conversation as if it had happened yesterday. Being in England seemed to be making time ripple, spewing memories of London, like molten lava, over the familiar landscape of her existence in Finfarran. And yesterday, to her confusion, Finfarran had invaded Liberty's, throwing images of her new life over scenes she'd half forgotten. Surrounded by floral and paisley patterned fabrics, she'd been riveted by the thought of a page in the Carrick Psalter, on which a meadow full of flowers, bees and fantastic gauzy insects appeared within the curves of a capital letter. No one remembers the name of the monk or nun who made that either, she'd thought, or of the craftsman who, centuries later, carved a lectern to hold it. Fury's skill will be forgotten too, all the craft and care he brought to restoring the broken lectern. And it doesn't matter. What matters is that someone saw insects, flowers and bees and painted them at a high desk in a medieval scriptorium. Just as London craftsmen in the 1920s saw monkeys and birds in timber that had sailed oceans, and had once been sapwood and heartwood in a living forest like Fury's.
As she undressed that night, she was sleepily content. Having brushed out her hair, she climbed into bed and, propping herself against the pillows, wondered if she ought to text Brian. There was a message on her phone wishing her goodnight, but now it was long past midnight, so she decided not to disturb him. Instead, she took out the gift she'd bought for Jazz. It was a set of cards in Liberty's designs with cream envelopes lined in glowing colours. Possibly, like a cat or a child, Jazz might be more delighted by the packaging than the present, which came in a purple box stamped with the Liberty crest in gold, and had floral tissue paper inside, enclosing the ten notecards. Most of Jazz's communication was by email, but Hanna knew that, even so, the cards would be appreciated. While in the shop, she'd wandered about, wondering if she might find a gift for Brian. But nothing had presented itself. Now, slipping down under the duvet, she smiled, thinking of him asleep in the Hag's Glen. It was only an hour's flight away but it seemed like another world. As she settled herself to sleep, she wondered how Fury's work on the garage was going, and with the thought came a vision of Jo, shaggy in her dark shelter between the fallen stones and the sagging roof.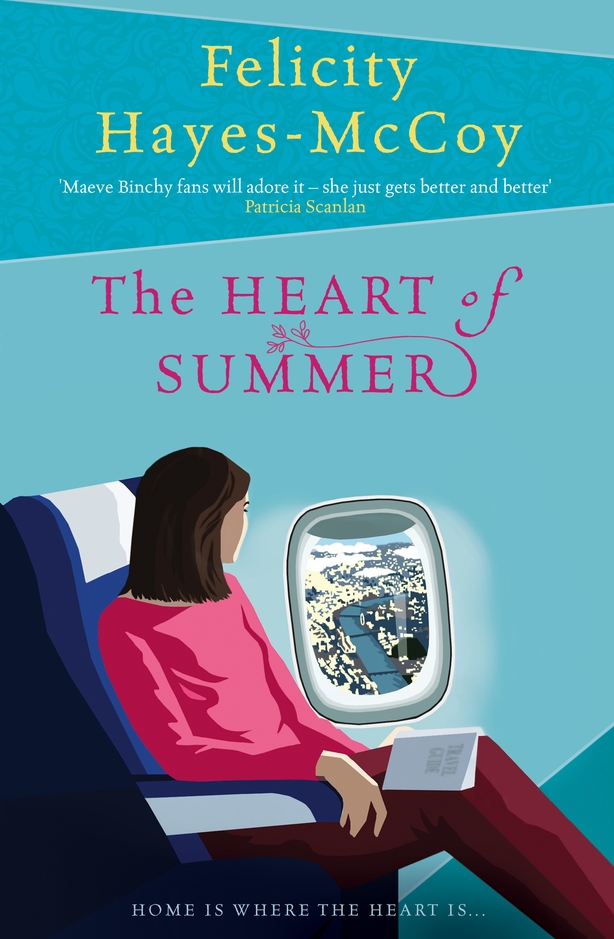 The Heart of Summer by Felicity Hayes-McCoy is published by Hachette Ireland on 4th June