Folklorist Michael Fortune looks ahead to The Wexford May Bush Festival - a special celebration that can be celebrated within your own home, no matter where you live...
---
On 1 May, summer officially begins in Ireland and many of us here in Wexford and beyond will decorate our May bushes with eggshells, flowers and ribbons to welcome the season and "drive dull care away".
Never has there been a time when so many of us need a lift, and Aileen Lambert and myself at the Wexford May Bush Festival are asking everyone to embrace this year with gusto.
While most festivals and events have been cancelled due to the Covid-19 crisis, the May bush is erected and decorated in people's homes - so it is a perfect match for our current situation.
We have been promoting May folklore, traditions and customs for the past 15 years via the folklore collection work that I share on my own personal Facebook page and on www.folklore.ie.
This year in particular we are encouraging people to put up a May Bush and take photos of themselves alongside it and submit them to the Wexford May Bush Festival Facebook page.
Although the festival has been developed here in Co Wexford, we would be delighted to accept photos of May Bushes from around the country. Putting up a May Bush is one of the easiest things to do.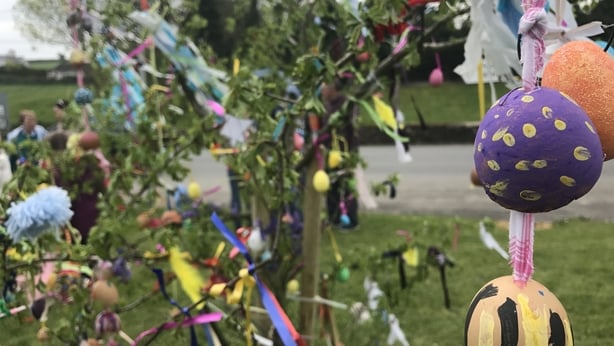 For the past three years we have distributed hundreds of young whitethorns throughout Wexford which people have planted in their homes to use as May Bushes.
However, if you don't have one planted, all you need to do is cut down a bough of a whitethorn or furze, stake it up in a prominent place and decorate it with ribbons, egg shells and flowers on May Eve or May Day.
If you don't have a whitethorn or a furze, any bush will do as long as you decorate it with little bunches of flowers, ribbons and not forgetting painted egg shells.
This is a lovely thing for everyone to do. For those who don't know, the May Bush is erected to herald the coming of the summer and to keep bad luck away - two very important things in our lives at present.
So with that in mind it's time to get planning as this Friday is 1 May - you have a few days to get your decorations ready and eggshells painted.
We need your consent to load this YouTube contentWe use YouTube to manage extra content that can set cookies on your device and collect data about your activity. Please review their details and accept them to load the content.Manage Preferences
To find out more about this tradition and to watch videos of people decorating theirs head on over to our Facebook page.
Don't forget to send your photos and videos to me at micfortune@gmail.com or by phone at 0876470247 where they will be shared on the page and on www.folklore.ie.