The Abbey Theatre has commissioned writers from Ireland, with unique additional contributions from the USA, China and Italy, to each write a monologue to be performed online by the cream of Irish acting talent.
Dear Ireland will be held online from Tuesday 28 April to Friday 1 May, and will be streamed live on RTÉ Culture. Below, the Co-Director of the Abbey, Graham McLaren, introduces the project.
Sunday morning 15 March 2020, was scheduled to be the morning after the last night of The Fall Of The Second Republic, the Abbey Theatre's co-production with The Corn Exchange.
That last night came a lot sooner than anyone could have imagined, as mid-week, following Government guidance and the restrictions put in place to help prevent the spread of Covid-19, we closed down the Abbey Theatre.
That morning felt like no other Sunday.
Ireland's national theatre was closed until further notice.
That morning was, for me, consumed by two questions.
How can the Abbey Theatre support the theatre community right now?
How can the Abbey Theatre capture this moment in our history?
I sent a text to Neil Murray (Co-Director of the Abbey Theatre), who came over to my house and we started planning.
We felt that we could best support the artists by acting fast, because everything was closing down around us in the theatre community.
We wanted to inspire Ireland's artists and, perhaps most importantly, pay them to help us capture this historical moment.
A quick responsive message to the Nation: Invite 100 diverse and interesting artists to work on rapid response monologues written and recorded in self-isolation.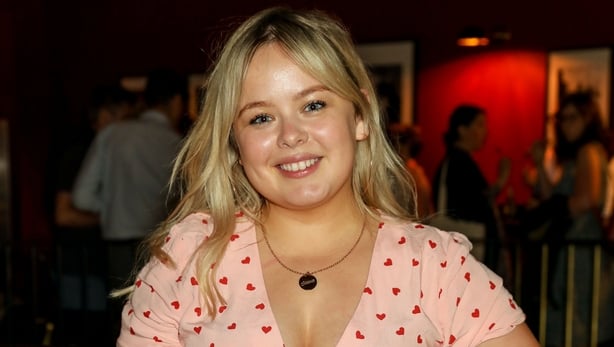 It was important to us that we commission writers from different backgrounds, people at different stages of career, genders etc. reflecting the diverse society that is united in these trying times.
We were asking a lot of the artists involved.
Some write films. For others, this may be their first foray into writing for screens.
Some will have been comfortable setting up a camera self-tape in their bedrooms, as they are used to doing it for auditions. Others won't.
Listen: Contributor Frank McGuinness talks Dear Ireland on RTÉ Arena
All were and are dealing with the stresses and surrounds of pandemic and we want to offer our sincere thanks to them for agreeing to participate in this experiment.
The aim was to create a choir of voices and ideas with no one artist feeling the individual responsibility to draw down the heavens and crystallise the nation's hopes and fears, but instead our community of theatre-makers would go some way towards that.
Despite being apart we could come together to capture something.
And we have, despite the extraordinary challenges faced by the theatre-makers, the New Work and the Communications teams at the Abbey, a poignant, angry, often funny, sometimes absurd portrait of Ireland in this unique moment in our history has emerged.
Dear Ireland will be screened in four parts at 7.30pm from Tuesday 28 April to Friday 1 May on the Abbey Theatre's YouTube channel, and via RTÉ Culture.
---
Dear Ireland - The Participants
The writers involved are as follows:
Blindboy
Dermot Bolger
Pom Boyd
Sinéad Burke
TKB (Thommas Kane Byrne)
Dylan Coburn Gray
Karen Cogan
John Connors
Kit de Waal
Shaun Dunne
Iseult Golden
Stacey Gregg
Sarah Hanly
Nancy Harris
David Ireland
Colm Keegan
Sonya Kelly
Deirdre Kinahan
Emmet Kirwan
Darach Mac Con Iomaire
Manchán Magan
Aoife Martyn
Owen McCafferty
Rosaleen McDonagh
Frank McGuinness
Meadhbh McHugh (New York)
Una McKevitt
Phillip McMahon
Andrea Molino (Italy)
Gina Moxley
Jimmy Murphy
Zoe Ní Riordáin
Edna O'Brien
Eva O'Connor
Joseph O'Connor
John O'Donovan
Mark O'Halloran
Jody O'Neill
Shane O'Reilly
Felicia 'Felispeaks' Olusanya
Margaret Perry
Ursula Rani Sarma
Arthur Riordan
Ciara Elizabeth Smyth
Abbie Spallen
Keith James Walker
Enda Walsh
Michael West
Carmel Winters
Zhu Yi (China)
Actors involved in the project are
Cathy Belton
Andrew Bennett
Dawn Bradfield
Amanda Coogan
Nicola Coughlan
Tim Creed
Bríd Criomhthain
Zara Devlin
Mark Doherty
Deirdre Donnelly
Mike Donnelly
Ashleigh Dorrell
Caoilfhionn Dunne
Clare Dunne
Graham Earley
Sorcha Fox
Eva-Jane Gaffney
Denise Gough
Brendan Gleeson
Peter Gowen
Julia Gu
Breffni Holahan
Seána Kerslake
Katherine Lynch
Conor MacNeill
Amy McAllister
Owen McDonnell
Lucianne McEvoy
Abigail McGibbon
Siobhán McSweeney
Leah Minto
Deirdre Molloy
David Moss
Marie Mullen
Bríd Ní Neachtain
Rory Nolan
Eoin O Dubhghaill
Kathy Rose O'Brien
Marion O'Dwyer
Jolene O'Hara
Patrick O'Kane
Clare O'Malley
Marty Rea
Ericka Roe
Owen Roe
Camille Lucy Ross
Norma Sheahan
Joan Sheehy
Stanley Townsend
Eleanor Walsh