Over the coming weeks, we'll be bringing you a series of 'digital postcards' from a variety of creatives who have, like the rest of us, been staying put and filling their days and nights as purposefully as they might, in the most curious of times.
Today, musician and broadcaster Ruth Smith checks in...
As I write this I can see the little notebook I bought late last year filled with plans for 2020.
I haven't opened it in over two months and every time I see it now, I smile.
Give God a laugh. Tell Her your plans.
I can say for certain, this Ruth & Fergal staycation did not feature in any of the projections for the year ahead!
It's very rare for the two of us to be at home without one or both running off to an event, festival or gig of sorts.
Fergal could be on the road for 6-8 weeks at a time, mostly touring in the US and for me as a freelance performer and presenter, no two days were ever the same.
We haven't been the best at planning or committing to things too far in advance.
Routine, once established, was regularly uprooted, so we got used to rolling with it, the arrivals and departures, finding pockets of calm, grounding and connection when we could.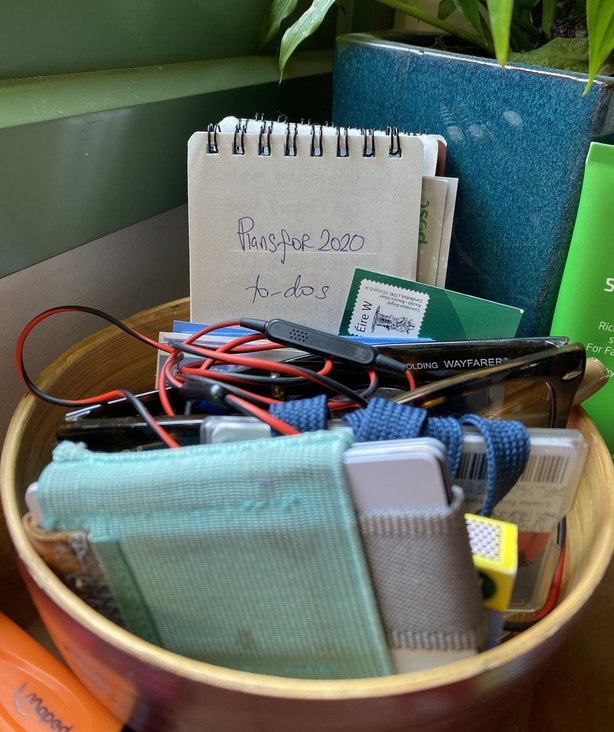 Fast forward to the present. I now know the meals we'll be having for the next 5-7 days, so we can plan what we need for the big shop. I have a garden centre amount of seedlings growing in the kitchen ready to transplant out to the polytunnel. We have zoom dinner dates planned with friends, snag lists for jobs around the house that are actually getting done, and I've started using the bullet journal to put some scaffolding on my days.
This time at home together has confirmed a couple of things. Fergal is the doer. I am the dreamer. Thankfully we both encourage each other to adventure across our default lines. For me, these endless days can often amount to little more than listening to music, watching the birds or noodling with notions, which is lovely, but not for six weeks solid and definitely not indefinitely! I still have days where I can't climb the scaffolding to get the jobs done, and that's ok. I do feel very lucky to have the focus and routine of my weekly radio show, recording it now at home. It's a way to stay connected and to mark the days.
One of my daily cornerstones are my morning pages. If I can get those three sheets of mental chatter, inane drivel, thoughts and words onto the page everything else builds from there.
Writing things down has always felt like a way to make sense of the immediate, to give shape and structure to my interior world, to reframe memory, honour emotions and claim my truth. For me writing is a form of self care.
This is what came the morning after I sanded an old table.
---
Listen to (and read) Veneer by Ruth Smith below...
We need your consent to load this SoundCloud contentWe use SoundCloud to manage extra content that can set cookies on your device and collect data about your activity. Please review their details and accept them to load the content.Manage Preferences
"The veneer's come away".
That's what he said in passing, glancing at the job I was at. Sanding a table I had bought in Oxfam after the marriage broke down. All I could afford at the time. But gladly it had a touch of French glamour about it. A double leaf dark mahogany finish with multi-pronged legs that made it look organic somehow, or animal-like with brass paws at the end. I liked that table. It made me feel adult and inspired, somehow capable of getting through the divorce with a touch of style and daily self care.
A table I could sit at, and eat, and come back to myself.
His comment wasn't loaded in any way. (Or at least I don't think it was)
It was a fact. The veneer had come away at the edges.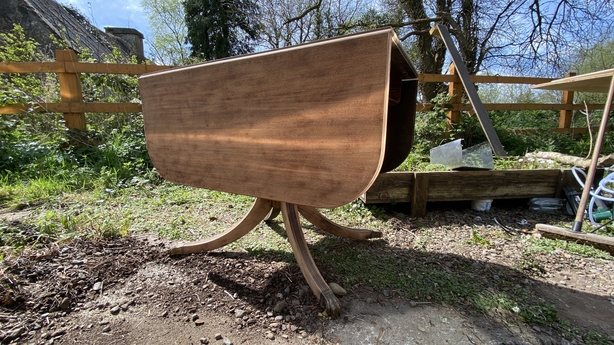 This table had been through the wars, a second hand purchase, and sure who knows what kind of life it had before me? Two nights previous I had forgotten to take it in and the rain came. There was saving in it though, nothing a good sanding and a lick of paint couldn't cure.
He'd moved on to his jobs again by the time I'd percolated things. ("The veneer's come away")
My husband. The one now, not then; which I hope you'll agree saves me from using that phrase 'my second husband', like it's some kind of 'also ran' or 'highly commended' prize. No. He is my husband. Like the only one I've ever known.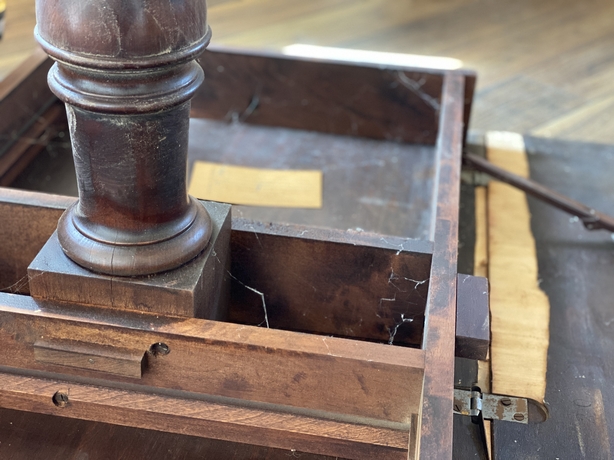 And he's right too, the veneer has come away! I see now that this table was exactly what I needed to work on today. In this time of lock-down and make-do. In these days of cancelled gigs and livelihood uncertainty, pulling together to make the best of it, with no external distraction, no frills, no paint nor powder, no none at all.
When cabin fever rolls in like an unexpected weather system, one hour snot filled sobs, the next helium level hysterical laughter, the next a dead calm, hardly a puff of air. The veneer has indeed come away. The edges are fraying and the invitation to work with what we find, here, right now, a challenge and a richness.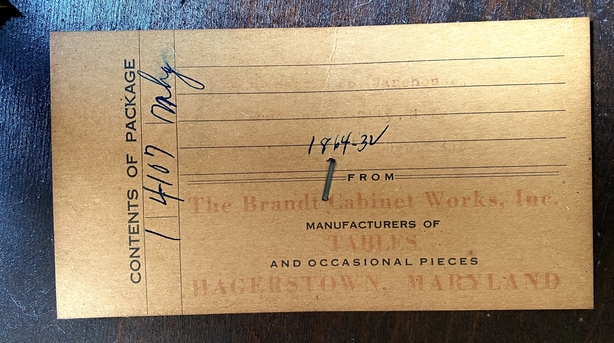 Because what we find isn't pretty at first. It's tear stained and rough, it's been left out in the cold, it feels worn and second hand, 'pre-loved', pre-loaded with hurts, triggers and patterns. Those lines at the eyes, smiling or crying, crows feet landing with a darkness, a wisdom. Silver linings.
The grey flecks through hair that will be there until such a time that hairdressing becomes a thing again. Until we find a new glossy finish.
I take a finer sand paper to finish off the job. I'm quite happy with what it's become; a kind of salvaged chic, a rural make and do. Lots of layers. Interesting. Curious. Now that the dust has settled, I hear his words with a different lilt and I like what I'm finding under the veneer.