Our Women's Hearts is a Documentary on One aired on RTÉ Radio 1 in April 2012 to mark the 20th anniversary of the classic album A Women's Heart - listen to it above, ahead of the broadcast of A Woman's Heart Orchestrated with the RTÉ Concert Orchestra on RTÉ One on April 18th.
This compilation of six female Irish artists has sold over 750,000 copies.
The album was initially recorded as a low-budget sampler project by small Irish label Dara Records, but it soon struck a chord with the Irish people and soared into the album charts at Number 1, where it stayed for over four months.
The line-up included Eleanor McEvoy, Mary Black, Maura O'Connell, Dolores Keane, Sharon Shannon and Frances Black, with each artist performing two tracks on the album.
Some of the artists already had an established career in the music industry, but it catapulted them to a larger international audience.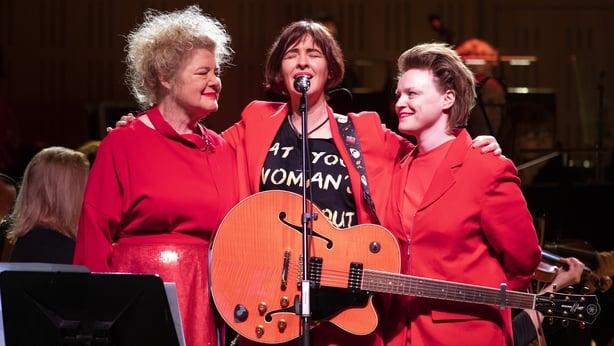 It also raised the profile of lesser-known artists at the time, like Frances Black and Eleanor McEvoy, to a new platform.
The title track of the album, A Woman's Heart, was composed by Eleanor McEvoy and recorded as a duet with Mary Black.
Although the album was mainly made up of contemporary songs at the time, it also mixed traditional melodies with haunting ballads, giving it a distinctly new Irish sound that struck a chord with people both at home and abroad.
The emotional depth portrayed in the songs seemed to tap into the female psyche and still resonates with women today.
Watch: Eleanor McEvoy performs A Woman's Heart on The Late Late Show
Having heard about the 20th-anniversary concerts that were to take place in Dublin last February, Kiara Murphy began to reminisce about going to the original concert back in 1992.
Upon contacting friends and family to see who would be interested in going to the anniversary concert, it soon became apparent how influential this album had been not only to the women in her family, but to their friends and women around them.
This documentary explores how this album came about, why it became so popular and the effect it has had on three generations of women.
The documentary features Mary Murphy, Ruth Rice, Mary Rice, Deborah Roche, Mary Edwards, Mary Stanley and Martina Cassidy, as well as clips of Joe O'Reilly, Eleanor McEvoy and Sharon Shannon.
A Woman's Heart Orchestrated with the RTÉ Concert Orchestra, RTÉ One, April 18th at 10.35 pm