This is an important time. With 'My Coronavirus Story' - we want to reflect on Irish life as it is now and to show how we coped and tried to get through this together.
'My Coronavirus Story' will document this unprecedented period through personal, family and community stories from around the country. This is an opportunity to say: "Here's my story...and here's why it matters."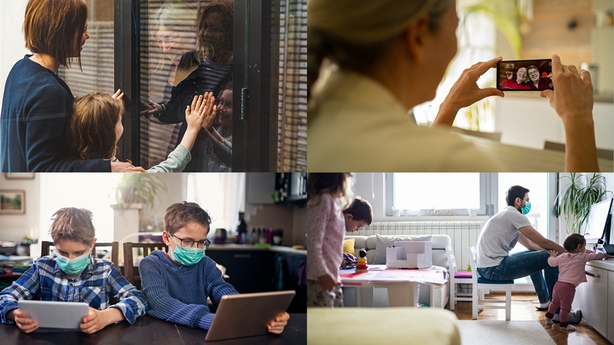 How to get involved
Here's what to do. We want you to record a short 2-5 minute video to tell us your story, video diary-style. You can do this by pointing your phone or camera at yourself and those around you (with their permission) who make up your world in 2020. Show us what you are talking about.

Upload your video in the form below
Some questions you can consider for your video:
Tell us your story and show us your life. Show us and tell us how you spend your days.
Are you actively engaged in work (volunteer or otherwise) because of Covid-19?
Have you lost employment because of Covid-19? 
What are your frustrations? 
What are your hopes?
What are you afraid of?
Are you contacting people you haven't seen in years? 
How are you adapting to life now? Can you show this?
Can you capture a moment or image that makes you smile?
Do you see your future differently?
What's the thing you want to do most when this period of staying at home is over?
Make a wish.
Are you currently unwell? Have you or your family been affected by the virus?
How we will use your footage:
These short videos may be used in an upcoming RTÉ documentary project and/ or across RTÉ's other online digital and social media channels sharing stories from around the nation.
#RTEMyStory 
Directions for your video:
Shots that show the time of day or time passing - setting up shots, sunrise, sunset, going to bed, nap time, evening meal time, clock shots.
Please, please turn your phone sideways when filming to get a 'landscape' view. 
Please try and make the sound easy to hear, without a lot of background noise, especially when telling your story.
Please show us your world, we do want to see you, but not as a selfie-video, we want to see your world and your story
Make your video 2-5 minutes long  (2-5 minute unproduced video i.e. please no commercial music or any graphics on screen). We may contact you to ask for more.  
Please make sure you abide by social distancing and the latest HSE Guidelines.
Thank you for sharing your story.
We need your consent to load this 123FormBuilder contentWe use 123FormBuilder to manage extra content that can set cookies on your device and collect data about your activity. Please review their details and accept them to load the content.Manage Preferences