We're delighted to present an extract from Adele, the new novel from Nicola Cassidy, published by Poolbeg Press.
Adele and Fred Astaire dazzled 1920s London and Broadway. The brother and sister dancing duo were mobbed wherever they went. At the height of their celebrity, Adele shocked the world of showbusiness by retiring and marrying into British Aristocracy. Settled into her new home with Lord Cavendish at Lismore Castle in Ireland, Adele dreamed of a family and domestic bliss. But it wasn't to be. In this bio-fictional account, Adele Astaire's tragic story is recounted, to somewhat dazzling effect...
In this short extract, Adele Astaire is at Port Lympne, the extravagant home of wealthy socialite and politician, Philip Sassoon, where some of England's most roaring 1920s parties took place...
---
The place was awash with beautiful people. Tall, lithe young men lay about in chairs, smoking, drinking. Some were dressed in light clothes that looked as though they'd been imported from the east. They sat like Indian kings, laughing together, silks wide open against barely hairy chests. Women, smoking, mostly bobbed, joined them here and there, or danced in corners.
I was pretty sure I saw the flash of a breast.
The staff flew in and out, bringing drinks, food. The music blared from a gramophone.
When we got up to sing, I danced on a grand piano that stood below a beautifully muralled ceiling. Later I spotted the Michelangelo himself, crouched beneath the top of the room, on a scaffold, paintbrush in hand and scowl on his face.
He worked as we partied around him.
There was an atmosphere that we had never quite felt before. We were so welcome, so wanted. Everyone was smiling, having a wonderful time. It was different to the parties we'd been to in America, where drink was still illegal and usually home-made. You were never guaranteed what the taste would be like – it could be raw and spiky and you always felt a bit unnerved drinking it. Here, drinking was the most natural thing in the world.
"Freddie, isn't this wonderful?" I said, after we had finished our performance to great applause that echoed through the house.
"It's something!" he said.
We met Philip who was a tall, striking man, similar to the Indian kings who had scattered themselves across his armchairs. He had a cool charm about him, a sense of calm. I liked him immediately.
He liked us too. During our London runs I went out there whenever I could, like now, while we waited for a two-day repair to the Winter Garden Theatre. You could stay over, in one of his en-suite bedrooms, even if he wasn't there. It was like a luxury hotel, a home from home, an oasis of decadence and frivolity.
The waiter came back and put my iced tea onto a wooden table beside me. It had a little umbrella in it.
I took it and sipped, continuing to watch the young men in tight, tiny shorts, diving in and out of the pool. They shouted before they dive-bombed, knees bent, heads tucked in, splashing anyone foolish enough to sit nearby.
It couldn't be ignored how their shapes were identical, how their shoulders were wide, their waists narrow, their pelvis a V. They all wore their hair the same, slicked back, combed. They had prominent noses, striking faces.
I wondered how many were of Sassoon's persuasion. I tried to pick them out, by their gestures, by the way they held themselves. One or two maybe, the rest were certainly straight. But here, anything went. And anyone, I had learned, could be persuaded.
I lay back and listened to the bees buzzing about the lavender. White butterflies were landing on mugwort the same colour, batting their wings silently.
I thought about the end of the show.
Funny Face had one more month to run.
And what would I do then?
Would I come here to Port Lympne to rest and relax, to socialise?
I pictured him on the telephone as I made my future request, in his mauve gown and leather slippers, one leg over the other, foot tapping the air.
"Can I stay with you, Philip?"
"Of course, dahling! Stay as long as you like. My home is your home!"
Would Freddie come too? Probably not. Freddie wasn't as fond of the party set as I was. And life at Port Lympne was one long party.
"Hello."
A man sat down beside me, lay back in his lounger chair.
"Hello," I said. "Nice to see you here."
He looked at me closely.
"Oh … Adele. Adele Astaire!"
"The very one."
I lowered my sunglasses, a pair of Sam Fosters I'd had sent over from Macy's. Harry Gordon Selfridge had admired them the last day I was in, so no doubt there was an order in already. He loved the idea of shielding your eyes from the sun. "Parasols are so awkward," he said. I had to agree.
"It's lovely here, isn't it?" said the man who had just joined me. He was wearing a white suit and I noticed it matched his glistening teeth. He had a lovely mouth.
"It is. I'm just down for a short break, back to the rat race tomorrow."
"Ah, we are here for a few days at least."
"Have you just come from the States?" I said. "Didn't I read about you getting some acting award there, recently?"
"Yes. An Academy Award. A big palaver. You know the Americans. I didn't hang about."
He laughed. I did too.
What a handsome man. He fit in perfectly here with his startling eyes and swept-back fair hair. Nothing like his persona on the screen.
"Well, congratulations. Very well deserved, I'm sure," I said and leaned over to clink his glass.
A shout rang out as a young man leapt high into the air and dive-bombed into the pool, the splash echoing all the way back to us.
Philip came down the stone steps, his mauve jacket flowing against the red-brick background. He rounded the pool and stopped to chat to the water-soaked men. His hand lingered on a shoulder. Wet. Drying in the sun.
"He's some chap," I said, flicking my head towards the pool.
"An unflappable gent."
Sassoon left the pool and made his way towards us. His skin was dark, his hair jet-black.
"Dahlings!" he said as he lowered his behind onto the end of my lounge chair. It sagged with his weight and I liked the steadiness it gave to the seat.
We watched the men dive, some of them now tiring and lying prostrate on the grass, water evaporating from their muscled torsos.
"I could live here, Philip," I say.
"Some people do," he joked.
"Oh, it's wonderful. I just love coming here."
"You are welcome any time, my dear. Get that brother of yours down soon, I'd love to see him."
"If we tell him you have racehorses here, he'll be down in a flash!"
"You do that," he said and patted my leg. He turned his attention to my companion, who was now also lying back on the lounge chair and shielding his eyes.
"You'll have to get a pair of Fosters like Adele's, Charlie," he says.
"Yes," I said. "You could introduce them to your films. A bowler hat, black moustache and sunglasses, quite the look."
Charlie Chaplin laughed.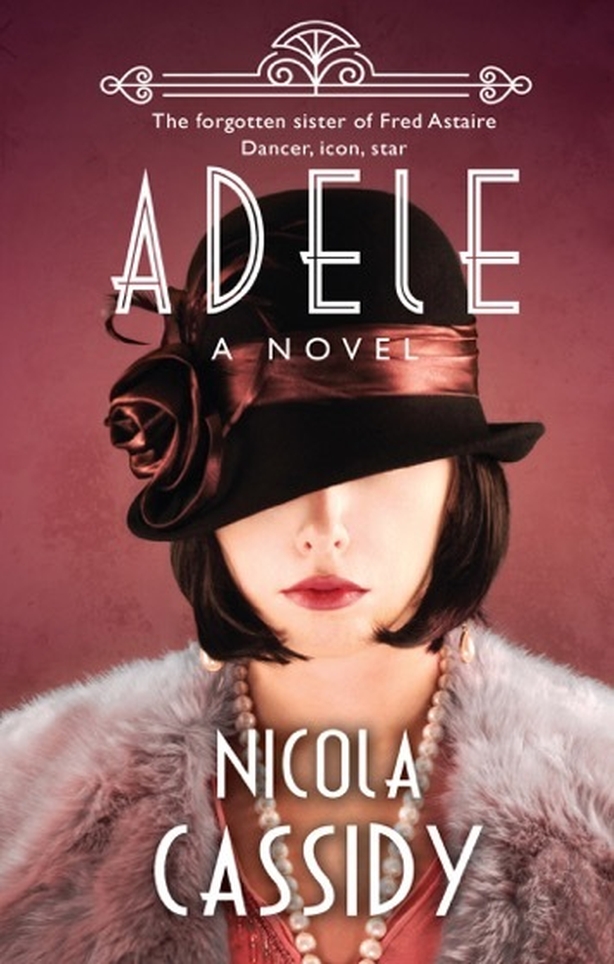 Adele by Nicola Cassidy (published by Poolbeg Press) is available now.