The former speaker of the British House of Commons John Bercow goes through many emotional states, discussing his new autobiography on The Ryan Tubridy Show on RTÉ Radio 1.
He's contrite about his youthful dalliance with far right ideology: "I was very right wing. It was a very grave error of judgement."
He's robust in his defence of Tony Blair and the war in Iraq: "If you ask me do I regret voting as I did, the honest answer is no."
And he's cheerfully melancholic about his acne-affected teenage years: "That did trouble me for some considerable period."
But it's only when the conversation gets on to former Prime Minister Theresa May that he gets unabashedly disdainful. She's described in his book as "decent, but as wooden as your average coffee table" and "a worthy public servant, but as dull as ditchwater" and "lacking in any original convictions". It's quite a rap sheet.
And when Ryan reads out those quotes from the book, Bercow adds an unrepentant "yes" each time. He is of course happy to expand on his printed views of the former leader of his party: "It seems to me there's not much point in sitting on the fence. You know, was she a successful prime minister? We have to be honest about that and say that she wasn't."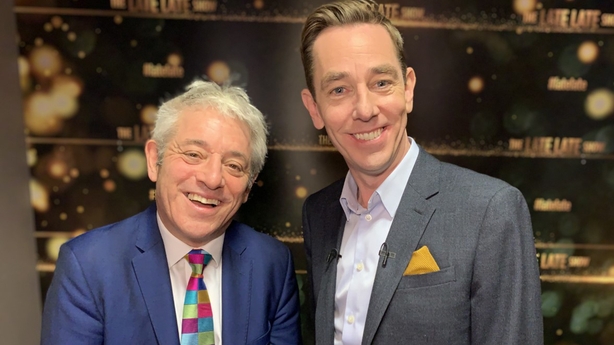 Asked by Ryan if he has any sympathy for Theresa May at a personal level, Bercow is, well, you'd have to say, unyielding: "I must say that when she made her resignation statement and she welled up somewhat, I found it quite hard to feel much sympathy for her because it seemed to me that she welled up and became very emotional when the situation affected her. But when it was the Grenfell victims, I didn't really detect it at all."
John Bercow was first elected as a Conservative MP in 1997 and served as Speaker of the House of Commons from June 2009 until his retirement in November last year. Intriguingly for a former Tory MP, he talks fondly about Tony Blair and Tony Benn and scathingly about Theresa May and Michael Howard. But what about the current British Prime Minister? In the book, Boris Johnson is described as "reaching the heights of a passably adequate politician". Bercow tells Ryan that Johnson is an undeniable campaign-winner, but he wonders if he can be statesman-like enough to get the best deal for Britain in negotiations with the EU and the rest of the world. His conclusion: "The jury is out."
Unspeakable: The Autobiography by John Bercow is published by Weidenfeld & Nicholson. Listen to more from The Ryan Tubridy Show here.