A poetic meander taking in Bachelard, Jane Eyre, David Byrne and Talking Heads and on through Roma and the stories of Herman Melville...
The latest talk in the timely RTÉ Radio 1 Davis Now Lectures: Making Home series is Houses in Motion: Architecture and Patterns of Dwelling by Professor Hugh Campbell, the School of Architecture, Planning and Environmental Policy at University College Dublin. The lecture was recorded on location at Nano Nagle Place in Cork city - listen to it above.
Campbell considers the relationship between psychology and design. Focusing on the home as the first and last space of human experience, the lecture explores how our relation to home is at the heart of how we live and imagine ourselves in the world; and how habit and form shape us. He calls up houses that have become familiar to us through literature and cinema, including the 1970s Mexican house in the 2018 Oscar-winning film Roma.
We need your consent to load this YouTube contentWe use YouTube to manage extra content that can set cookies on your device and collect data about your activity. Please review their details and accept them to load the content.Manage Preferences
Among other examples he references are experimental houses and dwellings such as those for people with Alzheimer's disease at their heart, or those from a recent exhibition in the Barbican in London about modern Japanese radical and experimental houses.
Campbell notes too how Irish domestic habits have been shifting in recent times and the role architecture has played in this, particularly in the domestic extension. These extensions are both indicative of the need of the individual for change but also illustrate a profound cultural change in how we engage with space and home. He would like to see architects more involved in the larger-scale issues of home building, to which Michelle Norris and Ellen Rowley refer to in their lectures in the series.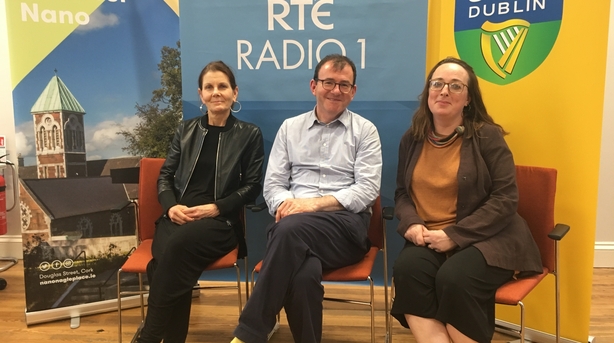 Contributors from the public audience in attendance include consultant psychiatrist Aisling Campbell, Aaron O'Connell of Cork Simon Community, architecture lecturer Kevin Busby, architect Margaret Mulcahy, geographer Darius Bartlett and art historian Vera Ryan.
The RTÉ Davis Now Lectures, Sunday at 6pm on RTÉ Radio 1 from January 5th - February 16th - the series is produced by Clíodhna Ní Anluain and made with the support of academic partner University College Dublin CD and the Broadcasting Authority of Ireland - listen to more here.
The image of the house in Roma needs the following credit: licensed under the Creative Commons Attribution-Share Alike 4.0 International license