A whirlwind of emotions based on life, love and loss, evoked in 52 personal stories afford a wonderful insight into unforgettable moments in the author's life.
Childhood memories with loved ones, and the moments that stuck with him as he got older is the abiding subject matter and Diebold's unique style makes you happy, sad and hysterical in a short number of pages.
One of the themes throughout the book is the lack of closure in life, and it is definitely not full of perfect endings in David's past. Many of the stories reveal the honest truth of his childhood and the underlying imperfections and strangeness.
Read an extract from This is How We Dance here
Many of the memories are sad and have been very possibly hard to write about, but Diebold still manages to make the reader laugh. Childhood Christmas memories are evoked in the story Glitter and Phallic Sheep, in which the author recalls writing Christmas cards with his mum. He mentions the time he sent one to his grandmother with the message, "Dear grandma, sorry that you are old now and everybody you know is dead.."
The vignettes of family life are very heart-warming and some extremely sad, particularly Thaw, based on his childhood relationship with his brother. His brother was battling with mental issues as a young boy and seemed quite troubled. "Growing up I never thought of my brother as angry, or depressed, or mentally ill, I just thought of him as a super pain in the ass."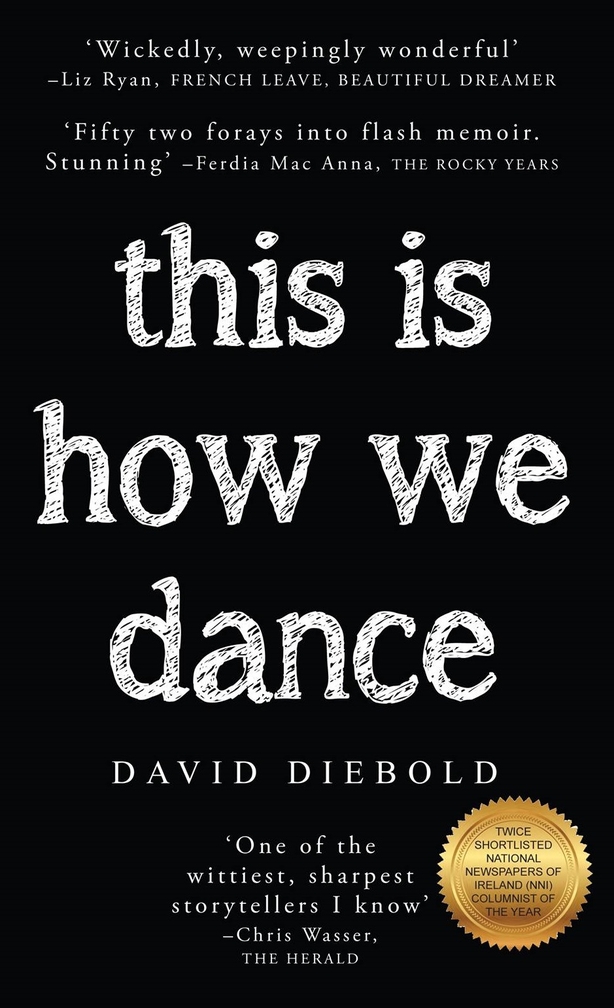 Diebold writes that the pair hated each other and described the struggle his dad had with figuring out what was wrong. "If they'd asked me, I'd have told them: 'He's an idiot.' He's no fun and I hate him". Some time later his brother went missing and he never saw him again.
In The Fine Art of Disappearing, he writes about how he likes to reset or recharge. He mentions a recent conversation with a man who told him he likes to recharges by going for a swim, and how the colder the water the better it is for the body. This conversation flashes back to a time when David was at Dublin's legendary swimming cove at the Forty Foot (Sandycove) when he was forced into the water by his friend's dad. He writes that he hates himself, but that he sees the humour in that.
Diebold addresses men's mental health in the course of his humorous reflections and the posters which address how men should handle this by talking to people. He argues that this is the last thing they want to do. "Blokes aren't exactly known for talking about their feelings. We generally just keep going until we fall off".
The irascible author takes readers on an amazing journey through his life in these 52 vignettes based on family life, friends, hard times and happy times. This is the type of book that you'll be sad when you finish. Diebold's experienced career in writing, chiefly in his award-winning work for the print media, is evident throughout. A brilliant read.