Varo are Lucie Azconaga and Consuelo Nerea Breschi, a fiddle and vocal duo who perform traditional Irish songs and tunes with arrangement influences from the baroque and classical traditions. Lucie, from France, and Consuelo, from Italy, met in 2015 after moving to Dublin to pursue their love for Irish traditional music, and immediately started a fruitful collaboration.
As they release their eponymous debut album, Lucie writes for Culture about their musical journey.
We met about 5 years ago in Dublin after moving from France and Italy, sitting beside each other at a session in The Cobblestone pub, in Smithfield. This place became a second home for both of us from the day we arrived, and it still is. We became instant friends and decided that we wanted to play music together.
Watch: Varo live at The Workman's Club, Dublin
A few weeks later, we were playing our first gig, for which we put together a combination of Irish, French and Italian music. Although we come from different musical backgrounds and experiences, we kept discovering plenty of similarities in our musical tastes - the way we like to play and sing, as well as in our political and social views. Therefore, starting this project came quite naturally and picking songs and tunes turned out to be very easy.
Listen to Varo's debut album, via Spotify
In terms of instrumental tunes, the first one we worked on was The Rakes of Clonmel. That jig set the tone for many of our later musical endeavours, as we composed a counter melody for the second fiddle to complement the actual traditional tune. From then on, we chose tunes that, for us, would offer the possibility to explore various styles and sounds, and to marry the Irish tradition with our other influences, such as baroque and medieval music.
Listen: Varo join Seán Rocks live on RTÉ Arena

Approaching Irish music that way was extremely exciting and inspiring, but we must admit that at first, we were slightly nervous to push it too far from its traditional origins. Still, playing them with these kinds of musical colours was so enjoyable that we just went for it, hoping that when the time would come for us to play the material live, it might resonate the same way with other people.
Watch: Varo perform Sovay
We have both always loved singing, particularly in harmony, and Sovay was the first song we worked on. We have always been very interested in songs told from a strong female point of view. As we were looking for them, we came across this song and fell in love with it straight away. It tells the tale of a woman who decides to test the love of her man by dressing as a highway robber and attacking him in a valley, in an attempt to steal the ring she had given him as a keepsake. Beside the actual story, the melody is beautiful and offers very interesting possibilities in terms of vocal harmonies and when we recorded it, we tried to emphasise the darker elements of the song as much as possible.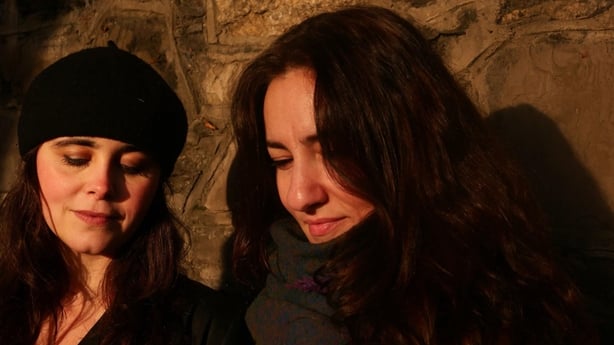 After about a year of building a repertoire, we felt the urge to push the arrangements even further and to explore the tunes with more instrumentation, so we collaborated with our friend, mandolin and bouzouki player Frank Tate. He was the first of the many musicians who we've had the honor and immense pleasure to work with, such as singer Helen Diamond, fiddle and viola player Ultan O'Brien, fiddle player Ben McKenzie - all of whom recorded with us on this album - as well as singer Niamh Bury and bouzouki player Libby Mc Crohan, who will be joining us on our album launch tour.
Varo's debut album is out now. The duo are currently on a nationwide tour - find a date near you here.