We're delighted to present an extract from An Unravelling, the new novel by Elske Rahill, published by Lilliput Press.
Molly is now in her eighties and she helps her grand-daughters Cara and Freya bring up their young children with unstinting care. Hers has been a life of unselfpitying service, from her working-class Dublin girlhood to her current status as the wealthy widow of a famous artist. But her own children, particularly her daughter Eileen, are her life's great failure: unhappy, self-indulgent women who resent the younger generation's apparent freedom from guilt and their unconventional family arrangements. This intricate web of female relationships comes under terrible strain when Molly, her health sapped by her constant efforts on behalf of others, decides to consult the family solicitor about changing her will...
---
Molly never thought she'd want that back – the close rows of houses and the front doors always wide open and the streetload of children crowding like flies at the stew pot and not a moment alone to do a little thinking even, or a sketch or to be looking at things. Not an inch to shift around in the bed and if someone wanted to play the piano, well then, they went to the Cannons next door and played it and everyone went in to listen and sing and all; no deciding for yourself what to do, for there was always the whole street in it. Even if you stayed put the singing would be coming in at you through the walls and the banging of the piano shaking the cups. There was no such thing as alone. That was a thing she took for granted, maybe – that no one would ever be left alone with themselves.
It's not everyone had the white sheet and pillowcase that was needed, so when little Sheila across the road went and burned herself so bad she died, it was Molly's mam who brought over the white things to lay her out. Molly and her big sister Kat were told to make sandwiches – Mrs Keogh came up out of the shop with bread and ham and a lump of butter and told them to make lots and cut them small the way people would feel they could manage one – and the others were to mind the little ones and keep them all quiet on the street. There were candles fetched from the church for a loan, and a little bowl of holy water for her feet, and as it was a child's death there was no shame in the women and the men both crying through the wake like she was their own. Mam and the other women were upstairs with the mother all night long, but Kat came down and said, 'You don't want to go up there, Molly; it's not nice to see her poor neck and hands like that; no one will notice if you stay downstairs now and tend to the tea and sandwiches.'
The next day the coffin was carried out by all the men in the street; all those strong, hardworking men that there were then, backs cobbled and dirt tracks in their faces, their eyes crunched small with the sobbing and drinking that went on through the night. A terrifying thing for a child, to see big men weep like that.
There was a coming together at those times, but she gave no value to that at all. It could be such a stifling thing to be woven in, always accounting for yourself, that she didn't even mind much her mam's scorn or the cruel things her sisters said to her when she went off and married at the drop of a hat, Kat said, to the first fellow to sniff at you, for she felt like a great heavy thing had been lifted from her face and she could breathe light, cool air in a way she hadn't known before. It was only after burying her little boy that Molly remembered her mam running over the road with the white things that time, and her face all stricken, and then the men carrying the little coffin out. Grown men, crying for the mother and for the little girl, and for each other.
In Soho, there wasn't much in the way of neighbouring, so when she held her little boy then, and he lost right there in her arms, she didn't think to go to the door and howl out the way they would have done at home. She only sat there with him on the clean floor for how long she'll never know and the word she heard out of herself was just 'Mam' over and over. She heard herself say it so quiet and soft – 'Mam Mam, Mam Mam Mam MamMamMamMamMam.' She should have gone up that time, to see the burned girl laid out; she should have wept with the mothers instead of hanging back like that.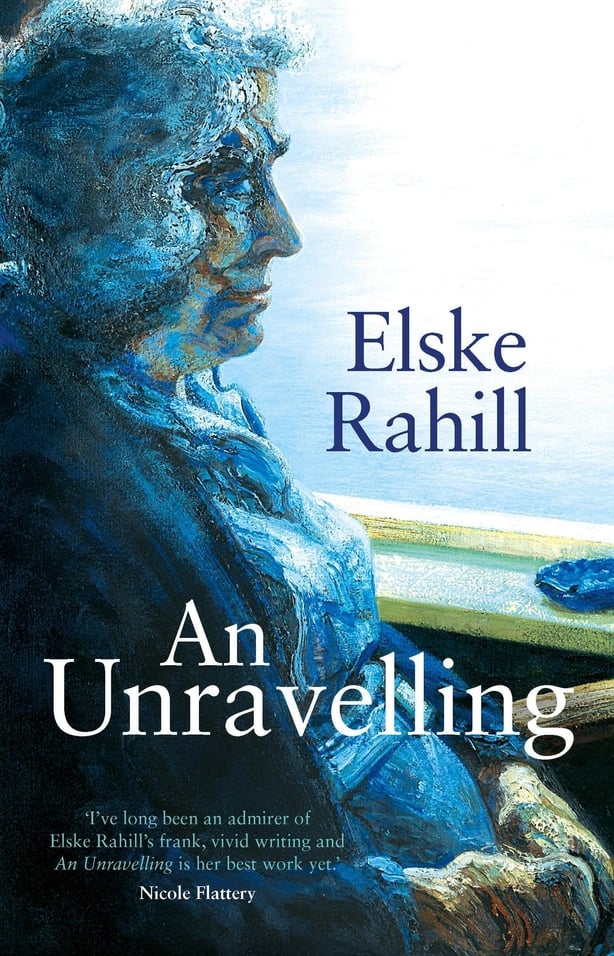 An Unravelling by Elske Rahill (published by Lilliput Press) is out now.