In his latest collection, poet Gerry Murphy is moving in surreal regalia through the fair of poetry, and if he is not doing that he is being sardonic and mischievous, Cork colourful and catch-all in the best sense.
Murphy has a thing about death, the possibility of oblivion, annihilation, the humours of nothingness, in short. Rebirth, which is set in a graveyard, begins as follows:
Too drunk to speak,/I left the pub/and took a walk along the beach/to clear my head.
After stumbling about disorientated, the poet passes the night in a freshly-opened grave.
Graves abound, as is their wont. In Myth, he is on his way to work 'the graveyard shift', while the poem Voodoo features a deaf mute,/ buried upside down in a peat bog;
The two-line Lullaby for Samuel Beckett also features a grave. Here it is in its entirety:
Your mother is singing a melancholy stave/as she rocks your cradle over an open grave.
In A Brahms High, the music of the eponymous composer comes on the car radio and the poet-narrator hears it, as he sits in 'cement-spattered clothes', squeezed alongside two big men in the back seat. Despite the constriction, the soul cuts loose and lifts away. Lifts away from the confines of what you reviewer imagines to be one of those angular, bockety Ford Anglias that appeared on the scene in the mid-sixties, looking like no other car imaginable.
Con turns it up to full volume/and I am away,/ out of the car, out of my body,/ soaring into the late afternoon air/ above Parliament Bridge,/ to the rousing strains of Gaudeamus Igitur.
The companion 'music' poem, Bands Passing, paints a delightful picture of two marching bands passing each other, inscrutable in their unwillingness to make a show of any kind. Does this stoic face-off mask rivalry between the bands, or is it all about adherence to a formal tradition that eschews emotion? There is the rub, who is to say.
Looking dead-ahead,/ they pass in full panoply, / neither band acknowledging the other/ by sign, sound or gesture.
Your reviewer was instantly reminded of his late father standing at the bridge in Enniscorthy, being a steward for a few hours, helping to direct the Corpus Christi procession, more than 50 years ago. The red sash he wore across his Sunday suit had put him at a kind of ritualistic remove and I recall the stern refusal to smile when his eldest came ambling along with his fellow classmates.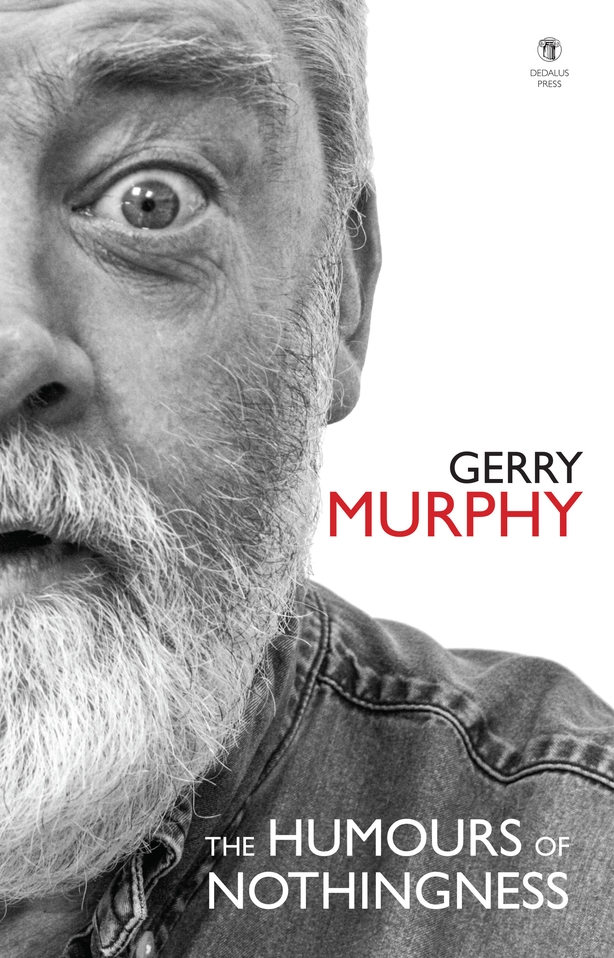 Meanwhile, back in Cork. Along with death, back seats are clearly a recurring theme in the Murphy ouevre and in the poem, A Cranky Buddha on Glanmire Bridge, an irritable child is spotted kneeling on the back seat of a car passing over or paused on the bridge.
Her hard, unforgiving features/frowning at me,/with the knowing look of someone/who's been here again and again and again.
There are loose versions of poems by Amichai, Prévert, Borges, RS Thomas and others, and a poem that draws on the 15th century Irish, while another poem is based on lines from a Babylonian tablet.
His wonderfully piquant War & Peace (after Yehuda Amichai) has to be done the justice of full reproduction here:
It's exhausting:/ beating swords into ploughshares,/ ploughshares into musical instruments,/ musical instruments into ploughshares,/ ploughshares into swords. 
The Humours of Nothingess is an invigorating and sometimes marvellous collection from Gerry Murphy. The late James Liddy, who also inclined to the ribald and outrageous in his poetry, would have appreciated the poet's tilting at cardinal's hats and the kissing of rings. 
In sum, Murphy is a poet of real vision, with a flair for the kind of humour - be it related to nothingness or not-  that is in large part absent in contemporary poetry, be it Irish or not, and more's the pity.