When Aaron Monaghan isn't treading the boards as one of the most acclaimed actors of his generation, he's busy running his own theatre company, Livin' Dred, based out of The Ramor Theatre, Virginia, County Cavan. Their acclaimed production of Mark Doherty's play Trad tours Ireland this January and February - find out more here.
We asked Aaron for his choice cultural picks...
FILM
I went to see JoJo Rabbit a second time with my wife Clare this week, and it was even better on the second viewing. The three kids' performances are so stunningly good. I've loved Taika Waititi's work as a filmmaker since Clare introduced me to his stuff, and I'm a huge fan of both Scarlett Johansson and Sam Rockwell.
MUSIC
I'm listening to Lisa O'Neill a lot these days, especially her last album Heard A Long Gone Song and her EP The Wren, The Wren. Lisa's music is mesmeric and she breathes such beautiful new life into those older songs. I love how she uses her Cavan voice, so full of character, grit and grace. I'm so proud to have gone to school with her and to see her now taking the music scene by storm.
BOOK
Most of my reading lately is for work and research so I'm reading a lot of Chekhov and Tarry Flynn-related stuff for the upcoming work, which is a joy. For pleasure I'm reading Three Little Truths by Eithne Shortall, and Pat McCabe's The Big Yaroo. Both excellently good.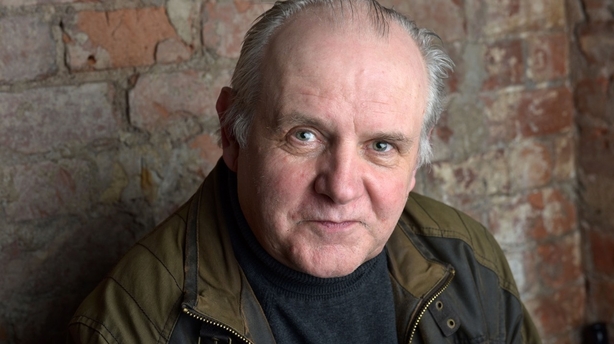 PLAY
I'd have to shamelessly plug both the plays I'm currently working on! But only because I genuinely adore them so much. Trad by Mark Doherty, which is being toured by my own company Livin' Dred, is simply one of my most favorite plays, and it's just sheer joy to work on it and swim about in it's gorgeous and hilarious words. I'm rehearsing in Druid's production of Chekhov's The Cherry Orchard, in a version by Tom Murphy, and Tom is my favorite writer of all time. Both plays are as far apart in tone and style as you could get, but it's an absolute privilege to be living in both those worlds.
We are so excited to announce that #TheCherryOrchard will be live in cinemas across Ireland and the world, from the Black Box Theatre, Galway on Thursday 5 March 2020. For more details: https://t.co/ggPUTEbOGv @ElementPictures pic.twitter.com/C2zshN2n0t

— Druid Theatre (@DruidTheatre) December 12, 2019
TV
I started watching Flowers on Netflix with Olivia Coleman and was hooked within minutes, the writing and performances are so tight and clever. I'd watch The Tommy Tiernan show on repeat whenever I get a spare half hour, I'm a huge fan. He's like the country's parish priest and psychotherapist rolled into one, and his series is the best show on television at the moment.
GIG
I don't get to see as many gigs as I'd like to because as an actor you're often on stage at the same time as the gig. I went to see Foil, Arms & Hogg last night, they're superb. I'm hoping to see Tommy Tiernan's new show at some point in the year, and I'm going to see David Gray's White Ladder anniversary gig in April, just for nostalgia's sake.
ART
I love going into Listen Now Again, the exhibition of Seamus Heaney's life and work, on College Green whenever I'm passing. His work is something I read or listen to very often, and having such a brilliant and big exhibition so centrally located is a gift to the city. It's a beautiful and lovingly-crafted exhibition and I hope it stays for as long as possible.
RADIO
RTÉ lyric fm is usually the background soundtrack to our day, either in the car or in the house. You can't start the day any better than listening to Marty Whelan. I've tried podcasts, but I don't think I get the deal with them generally. Although you always find a few gems on The RTÉ Documentary on One or Drama on One podcasts, and I love picking my way through Mystery Train with John Kelly.
The Next Big Thing...
I did a film in Cavan last year, which will hopefully be released later in the year, and there was a few stunningly-talented people working on it that I have no doubt we'll be hearing more of in the next while: Tamryn Reinecke and Emma Foley of Pale Rebel Productions, Writer/Director Philip Doherty, and Director of Photography Burschi Wojnar. They created a very exciting, funny and beautiful thing.
Livin' Dred's production of Trad returns for a nationwide tour in January and March - go here for tickets and further information.