Talking It Out is a brand new eight-part weekly satirical animated series and podcast starting 12th January on RTÉ - below, creator David Coffey writes about making 'an improvised version of Joe Duffy's Liveline with different guest performers each week...' Watch the first episode above.
Talking It Out is set in a radio studio where a panel of dysfunctional 'media personalities' dissect the week's news. The show is completely improvised by the cast, and then animated using innovative software that allows us to produce a ten-minute cartoon in two days.
#TalkingItOut launches on the @RTEplayer next week. It's a topical improvised cartoon panel show I've been working for over a year with a crazy talented bunch of performers: @kevinmcgahern, Pearl O'Rourke, @peterjmcgann and Sophie Shanley. Can't wait for people to see it! pic.twitter.com/XtuqzijZNX

— David Coffey (@davidcoffey) January 6, 2020
I've been working on this idea for over a year, but it's been part of a much longer journey I've had with improv comedy. I've always been intrigued by improv and love improvised comedy films like Spinal Tap and Best In Show. When I made Dan & Becs for RTÉ years ago, I improvised bits and pieces of dialogue as Dan, but I didn't really know what I was doing.
I took a short-form improv class at Second City in Hollywood a few years later, which I enjoyed but it didn't really stick. Then, a few years ago, a friend and improv teacher, Kelly Shatter, convinced me to take her long-form improv class, and I was immediately hooked.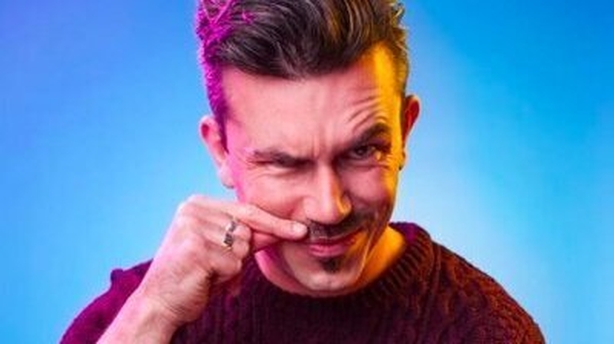 While short-form improv revolves around short games and quick gags, long-form improv is a lot more freeform and is the real basis for those films I love. After I had spent a bit of time performing on stage in Dublin and making friends in the improv scene, I decided to start a podcast called Phoning It In. It's basically an improvised version of Joe Duffy's Liveline with different guest performers each week.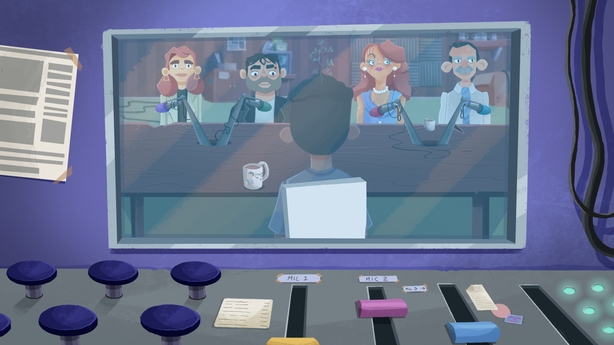 We generally record more than we need and then edit it down to the best bits for the podcast. I've had loads of great comedians on it - like Joanne McNally, Owen Colgan and Alison Spittle – and we've performed it live at Electric Picnic and The Dublin Podcast Festival.
While I was making Phoning It In, I was also writing sketches for the topical radio show Callan's Kicks and thinking it would be great if I could come up with a spin-off show for Phoning It In that deals with topical subjects. I gathered a few of the Phoning It In regular performers (Kevin McGahern, Pearl O'Rourke, Sophie Shanley and Peter McGann) and gave them specific characters, caricatures of the typical panel show lineup: a gombeen politician, a shock journo, a social media influencer and a celebrity-turned-activist. We recorded a pilot, which turned out great and I originally pitched to different radio stations.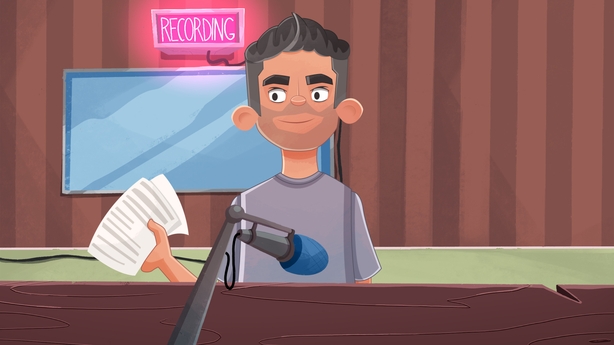 The idea to turn it into a cartoon came to me when I came across this software that automates some of the animation process. I worked with an amazing illustrator named Aisling O'Reilly who is responsible for the show's entire look-and-feel.
Like any topical comedy, we have to work around the clock for 48 hours to get the show on air in a timely fashion, but the fact that we're making an improvised cartoon is crazy. This show wouldn't have been possible two years ago and it's great to see RTÉ taking a gamble on something totally new and innovative.
You can check it out wherever you get your podcasts or watch the animated version on RTÉ Player every Monday for the next eight weeks.
Watch Talking It Out on RTÉ Player here or download the podcast here.