Janet Moran has been a familiar face on Irish stage and screen over the past two decades, from TV roles in Love Is The Drug and Trivia to stage appearances for the likes of Fishamble, Corn Exchange and The Abbey. She's also an acclaimed writer; her debut play Swing was an international hit, touring to New York and Paris, and her latest work A Holy Show returns to the Irish stage for a nationwide tour this spring.
A Holy Show is a nostalgic comedy based on a very Irish hijacking of the 1981 Aer Lingus plane by an ex-Trappist monk with a bottle of water as his weapon, the Pope as his nemesis, and a burning desire to know The Third Secret of Fatima...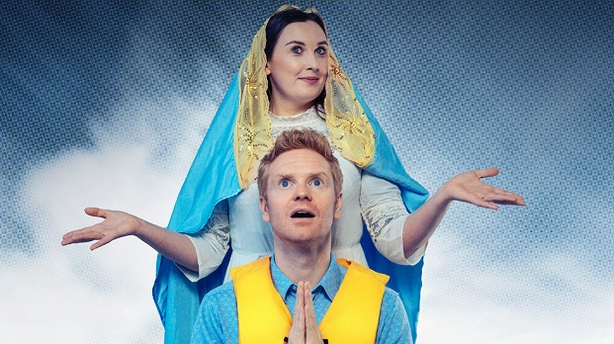 We asked Janet for her choice cultural picks...
FILM
I'm late to the party but I just watched Papi Chulo, written and directed by John Butler, which I absolutely loved. It's surprising and funny and has real heart and wonderful performances. I also just watched Marriage Story which is worth a watch. It's a little bit grim and you can see the actors giving their big performances but I still liked it. It's stayed with me and it's definitely good for arguing with your partner about which character you sympathise with.
MUSIC
It's all about Hurrah for the Riff Raff for me at the moment. She's a Puerto Rican/American singer and her last album, The Navigator is full of powerful, politically engaged and super catchy tunes. We're also listening to Tony Camargo, a Mexican singer from the 50's and I've just discovered Ryuichi Sakamoto thanks to the brilliant Lyric FM.
BOOK
Someone just bought me No One Belongs Here More Than You by MIranda July. It's laugh out loud funny, stranger and terribly sad. She made the film , Me You and Everyone We know which I love. It has the funniest scene re internet dating you can imagine. I'm also reading Playwriting by Stephen Jeffires. I don't usually have the discipline to read books about how to write, but I'm finding this really useful.
PLAY
I'm really looking forward to seeing Well That's What I Heard at Project Arts Centre. It's by an annoyingly young and talented writer, Thomas Kane Byrne who is a furious, funny force. He's gonna be huge.
Listen: Thomas Kane Byrne talks to RTÉ Arena
TV
Hail Satan on Netflix is very funny and surprisingly moving. I adore The Unbreakable Kimmy Schmidt and go back to it again and again. It's such a dose of heart and funnies.
GIG
I'm booked to go to see Jack L at the Pavilion just after Christmas with all my siblings. My brother told me that Jack L was the first gig he ever went to when he was 16 which I brought him to. I can't remember that. I've lost years to my bad memory but I have been seeing him live for a long time and it's always such an event. He's an incredible live artist and I never tire of the anthems, Georgie Boy and Little Man. I don't get out much to gigs so last one was Nick Cave in Kilmanham. He is extraordinary. Ghosteen his new album is indescribably gorgeous.
ART
Pato Cassinoni is an Argintinian artist I really like. His recent exhibition at the Cervantes Institute, Fantastic Portraits and Visual Haikus was glorious, upending traditional ideas of portraits in a really playful way. I also love the work of Jordi Fornies at the Olivier Cornet Gallery.
RADIO
Dear Joan and Jericha by Julia Davis and Vicki Pepperdine is so filthy, so bold and so funny. I want to be them when I grow up. Boringly, I listen to The Daily from the New York Times because I'm obsessed with American politics at the moment. Witness History is a joy - ten minutes of history every day. I just started listening to On Being, which I'm enjoying.
TECH
Pinterest to inspire me and depress me. Oblique is quite cool. It's a random ideas generator which is quite fun for writing. Though the last thing it generated was "What is the simplest solution"? I wish I knew. Fun Spanish is a great app for kids learning Spanish, so my son and I use that quite a bit...
THE NEXT BIG THING...
Ciara Elizabeth Smyth. She's an incredibly smart and funny playwright. Her play All Honey is playing at the Project in Feb and her Fringe hit Sauce will be out on the road again soon. Don't miss them.
Janet Moran's A Holy Show is touring venues across Ireland during January-March 2020 - find out more here.