Ireland's Edge is a multidisciplinary creative event series that makes up a distinct strand of the Other Voices festival of music and ideas.
RTÉ Culture is once again hosting the live video stream of the 2019 edition - watch Day Two above.
Sovereignty, national borders, citizenship, climate, international trade, gender and technological innovation are issues that have been subjects of continuous discourse, argument and reappraisal in 2019.
The attendant uncertainties and ambiguities have impacted on every aspect of life and society; in art and culture, in the economy, in politics, education, media and business. Accepted narratives of place and identity are becoming disturbed in the process.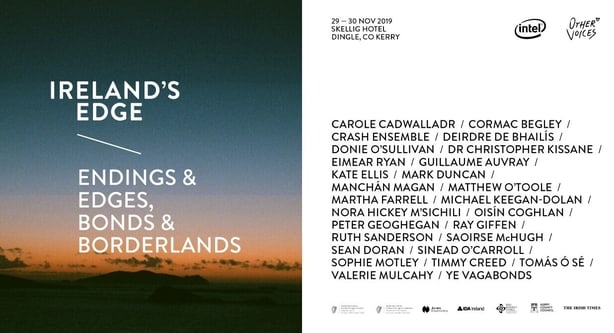 Innovation, creativity and an ability to adapt are distinctive features of the Irish "edge" and will be key to the transition now underway. This borderland between the known predictable world and the uncharted territory ahead will frame the discussions at this year's Ireland's Edge event.