Ireland's Edge is a multidisciplinary creative event series that makes up a distinct strand of the Other Voices festival of music and ideas - RTÉ Culture will once again host the live video stream of the 2019 edition, which kicks off here at 2pm on Friday, November 28th. 
Sovereignty, national borders, citizenship, climate, international trade, gender and technological innovation are issues that have been subjects of continuous discourse, argument and reappraisal in 2019.
The attendant uncertainties and ambiguities have impacted on every aspect of life and society; in art and culture, in the economy, in politics, education, media and business. Accepted narratives of place and identity are becoming disturbed in the process.
We need your consent to load this YouTube contentWe use YouTube to manage extra content that can set cookies on your device and collect data about your activity. Please review their details and accept them to load the content.Manage Preferences
Watch: Discussion from Ireland's Edge 2018 with Patrick McCormick, Julian Coman, Gavin Kelly, Deirdre Connelly and Dr. Killian Quigley about Irish identity, citizenship, what's involved with choosing Irish identity and what that Identity means to different individuals.
These issues are increasingly acute for Ireland and the Irish abroad, particularly in the context of the changing dynamics of Ireland's relationships with the EU, Britain and the United States of America. Long-established practices and procedures in politics, business and diplomacy are undergoing profound change. 
Innovation, creativity and an ability to adapt are distinctive features of the Irish "edge" and will be key to the transition now underway. This borderland between the known predictable world and the uncharted territory ahead will frame the discussions at this year's Ireland's Edge event.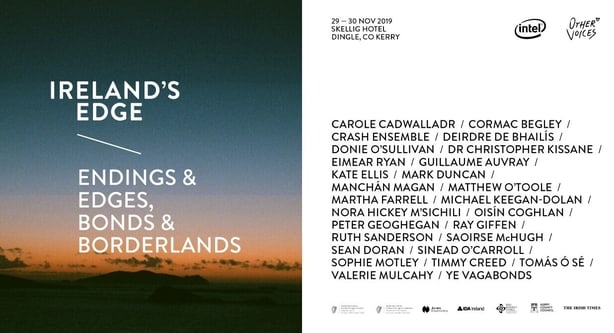 As ever, the Ireland's Edge talks and performances will happen in the company of a curious attendance of thinkers, policy makers, innovators, commentators and artists. Speakers include Donie O'Sullivan (Reporter, CNN), Peter Geoghegan (Journalist at openDemocracy), Carole Cadwalladr (Journalist, The Observer and The Guardian), Michael Keegan-Dolan (Artistic Director of Teac Damsa), Nora Hickey M'Sichili (Director, Centre Culturel Irlandais, Paris), Matthew O'Toole (Writer and former Brexit spokesperson in Number 10 Downing Street), Cormac Begley (Acclaimed concertina player and Founder of Airt), Kate Ellis (Artistic Director and cellist, Crash Ensemble) and many more.