Ahead of this year's RTÉ lyric fm Choirs for Christmas event on Sunday 1st December 2019 in University Concert Hall, Limerick, producer Gail Henry celebrates 20 years of RTÉ lyric fm's Choirs for Christmas and explains exactly why joining a choir might just be the thing for you...
Christmas for many is about getting together with family and friends, affording time to rekindle friendships and celebrating the renewal of that inherent social cohesiveness that keeps friends, friends despite everything life throws at us.
Watch: Choirs for Christmas: Once in Royal David's City performed by Trinity Singers
The many activities we engage in on the build-up to Christmas whether working, shopping, socialising or partying are all accompanied by Christmas choral music! Whether it's carolers in your local shopping centre, on TV and radio adverts, in Christmas movie soundtracks or an ensemble at your local Christmas fair - inevitably a choir is involved.
Since the autumn leaves started to fall, choirs have been forming and re-forming in schools, colleges, community centres and workplaces around the country. Their aim inescapably is to sing something Christmassy for a Christmas concert or performance.
But just why do so many people want to sing in a choir? What does research tell us about the benefits of choral singing? Here are the Top 3 Benefits of singing in a choir...
Watch: Choirs for Christmas: Cantette Limerick perform Caribbean Christmas with the RTÉ Concert Orchestra
1. Friendship
Well, firstly it has been found that joining a choir is a great way to make new friends. Studies have shown that choir members socially bond together and grow closer through singing (and of course, the non-singing aspects of choir practice - we can't forget the all-important coffee breaks!).
2. Physiological and Psychological well-being
Is singing good for you and your health, and how so?
The very act of singing can be a physical workout for many as we exercise our lungs and diaphragm. Indeed, our breathing and breath control exhibited in singing has been shown to improve lung function in asthma patients. At the same time, singing can be regarded as a form of cardiovascular exercise as it leads to increased heart-rate. And to top those benefits off, singing leads to a reduction in cortisol which translates to lower stress levels and correspondingly improved mood and a healthy immune system.
Can singing make you happy?
Singing in a group provides people with the opportunity to build relationships and community, which are vital to a person's overall well-being. Numerous studies have shown that a person's overall mood is improved when singing. Singing has also been shown to help as a coping mechanism with many studies reporting that participants felt they were better able to cope with loss, as well as difficulties at home and at work thanks for their participation in a choir.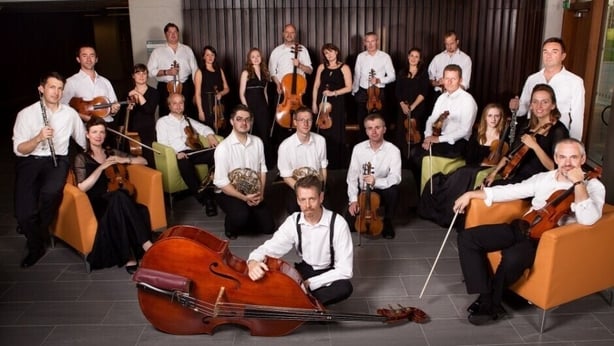 3. Senses of accomplishment – achieving that collective goal!
When singers are collectively learning a new piece in a choir it requires the members to focus on their individual part, while simultaneously maintaining an awareness of the complete work and their relationship to the singers immediately around them, while also taking instructions from the conductor. There is no doubt that learning and performing a piece of music can be incredibly challenging, but successfully accomplishing that challenge can be very rewarding. All of this, has the added benefit that working as a group, learning and performing a piece of music, can strengthen community bonds which as a result increases the choirs very sense of accomplishment and overall achievement.
Of course, listening to choirs and joining in has its benefits too!
Come along and join RTÉ lyric fm's Liz Nolan and Lorcan Murray for the 20th Birthday celebration of RTÉ lyric fm's Choirs for Christmas in a concert with the Irish Chamber Orchestra, conductor Desmond Earley and guest award winning choirs from Ireland's largest choral competition, RTÉ lyric fm's Choirs for Christmas, including Seoda, Limerick, Cantette, Limerick, Ardu, Dublin, St Joseph's Primary School Choir, Tipperary town, Carrickfergus Grammar School Choir, New Dublin Voices and The Choral Singers of University College Dublin.
The Choirs for Christmas 20th anniversary concert takes place on Sunday 1st December 2019 at 5pm in University Concert Hall, Limerick - more information here.