Screenwriter Sarah Phelps isn't a big fan of Cluedo. She's not all that interested in whether or not it was Professor Plum in the Library with the candlestick. She is much more interested, she told Ryan Tubridy on RTÉ Radio 1, in the why – why did it happen?
Sarah was in studio with actor Killian Scott, to talk about new crime drama series Dublin Murders.
"Really it's about lies. Most murder mysteries are about lies and the lies we tell ourselves."
We need your consent to load this YouTube contentWe use YouTube to manage extra content that can set cookies on your device and collect data about your activity. Please review their details and accept them to load the content.Manage Preferences
And Dublin Murders delves deep into the why of two possibly-related killings, years apart, as well as the lives of the detectives who investigate them.
"You've got professional people, and bit by bit you take their layers away and see what's underneath."
Based on the first two novels of Tana French's acclaimed Dublin Murder Squad novels, In The Woods and The Likeness, Dublin Murders has been written for TV by Sarah and stars Killian as detective Rob Reilly, who, along with detective Cassie Maddox (Sarah Greene) is tasked with investigating the murder of a young girl.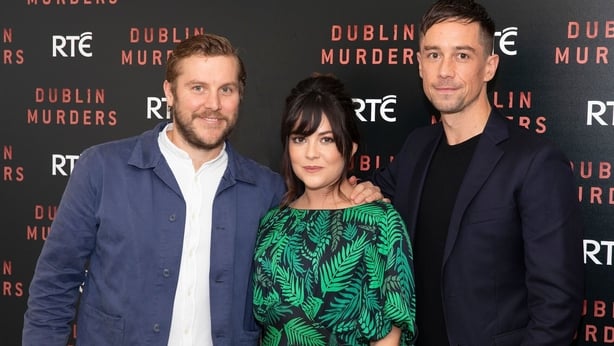 There was much talk of books – with Ryan and Sarah falling over themselves to praise Hallie Rubenhold's The Five – as well as Brexit ("What was promised is undeliverable and what is deliverable is undesirable," is Sarah's memorable quote) and Anglo-Irish relations, before the trio got focused on murderous goings-on in suburban Dublin and the perils of being an Irish actor playing a character with an English accent.
"There is a little bit of self-consciousness," says Scott, "I just felt myself cringing occasionally when I would ask one of the assistant directors for, you know, an Americano in this sort of English accent."
Killian didn't go so far as to say he used The Method - rather that it was easier to maintain the accent and relax into it if he used it all the time. The character of Rob and indeed, the whole premise of the show, required a bit of working out initially: "I was in Los Angeles and I get a script and it's, like, to play an English detective in a show about Dublin that's filmed in Belfast. And I'm, ok well, let's see how I get my head around this one."
#DublinMurders spoilers without context. pic.twitter.com/6KXChdslpX

— SHANnibal Lecter?????? (@NerdyGirlShay) October 14, 2019
The wood in the story becomes, according to Ryan, a character in the story in its own right, a notion that Killian and Sarah agree with. Sarah even tells Ryan that the English word 'wood' used to mean mad. And she loves the idea of modern, 21st-century people being faced with an altogether older and ineffable darkness.
"We feel we're so, so powerful, we've got phones and we can call up Google and Wikipedia in a moment… and we're just in full command of our universe. But what happens when the lights go out and we're in the middle of the deep, dark wood?"
For more on Killian's brother – the poor man's Ben Affleck, apparently – and some very strange EastEnders scenarios, listen to their full conversation above.
Dublin Murders, Wednesdays at 9.35pm on RTÉ One - catch up here via RTÉ Player.