A new three-day festival, Púca, will celebrate Ireland as the original birthplace of Halloween, exploring and evoking ancient tradition in the company of cutting-edge Irish creative talent.  
The event, which will take place in a trio of locations across Meath and Louth from 31 October – 2 November 2019,  has been developed by Fáilte Ireland in partnership with Meath and Louth County Councils to tell the story of Halloween's origins in Irish and Celtic traditions. 
PÚCA – WHERE HALLOWEEN'S STORY BEGINS
▻ 31 OCT - 2 NOV 2019 ◅#pucafestival will capture the ancient spirit of Samhain across three breathtaking nights of music, food, light and spectacle in Athboy, Drogheda and Trim.
🔥 https://t.co/yXZj4DCtcR pic.twitter.com/qAzd5VUmhs

— Púca Festival (@PucaFestival) July 30, 2019
Highlights for the inaugural event include The Coming of Samhain, which takes place in Fair Green, Athboy on October 31st, a historical and spiritual celebration in the shadow of The Hill of Ward (Tlachtga); the ancient site from which the light of the new year first emanates.
Trim will place host to a series of events on the Halloween night, including a Samhain Procession, an Arrival of the Spirits event in the spooky environs of Trim Castle and a Púca Light Spectacular, which will bring the walls of the castle to life, along with a series of concerts from the likes of Jerry Fish, Pillow Queens and a collaboration between KORMAC and the Irish Chamber Orchestra.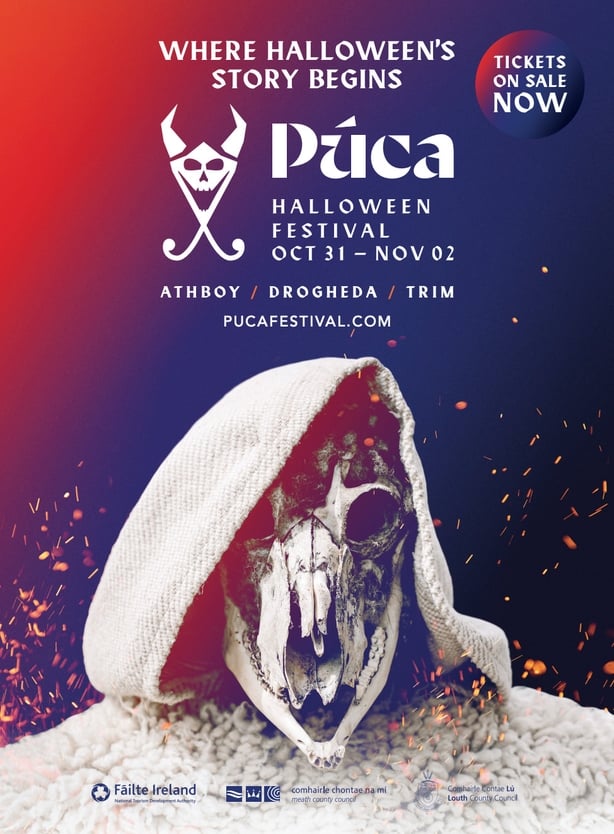 In Drogheda, Shadows Of The Tain, taking place on Thursday 31 October & Friday 1 November at Old Mollies, offers an immersive re-telling by Candlelit Tales of the Irish epic Táin Bó Cuailgne. Elsewhere, musician Matthew Nolan has created a new score for Benjamin Christensen's legendary silent horror Häxan (The Witches), for a special screening at Drogheda Arts Centre, while musicians David Keenan and Lisa O'Neill will play special shows, while over the three nights Drogheda will play host to de:LUX, a series of music and light installations drawing inspiration from tales of Irish folklore and the spirits of Halloween.
The Puca Festival takes place across Meath and Louth from 31 October – 2 November - find out more here.