And how was your week? Here's our handy tipsheet of Cultural musts for the next seven days...
RTÉ AT ALL TOGETHER NOW...
Festival season kicks into high gear this August Bank Holiday with the return of the Waterford weekender; the formidable line-up includes everybody from Patti Smith and Orbital to The Good, The Bad & The Queen and homegrown heroes Fontaines DC, not to mention the RTÉ Concert Orchestra's eagerly anticipated tribute to Leonard Cohen. You'll find us at The Now By RTÉ tent, located in the Curious Minds area, which hosts live editions of several RTÉ radio favourites and celebrates Irish culture and creativity in the company of the casts of The Young Offenders and Derry Girls, with music from Colm Mac Con Iomaire, My Bloody Valentine's Colm Ó Cíosóig and Lux Alma (above), who just released an excellent new single, The Visit - find out more here.
AISLING BEA IN THIS WAY UP
The brilliant Miss Bea finally gets the starring vehicle she's been crying out for - and she wrote it herself. Produced by old mate Sharon Horgan, who takes a co-starring role, it starts on Channel 4 on August 8th.
CAOIMHIN Ó RAGHALLAIGH & THOMAS BARTLETT
Two-fifths of The Gloaming join forces for a new album (out September) and a rake of live shows (including Live at St Luke's in Cork on Sep 14th as part of Sounds From A Safe Harbour. Check out Kestrel now for a taste of what to expect.
BOOK NOW FOR THE DUBLIN THEATRE FESTIVAL...
Tickets just went on sale for the annual orgy of theatrical delights, with new shows from companies like Rough Magic, Fishamble, ANU, Dead Centre and The Lyric, along with international heavy-hitters from across the globe - be warned that the one show nigh-upon guaranteed to sell out in advance is Mám, the new show from choreographer and mad genius Michael Keegan Dolan, and his first new work since 2016's transcendent Swan Lake/Loch na hEala - get those tickets now.
PAUL THOMAS ANDERSON'S NEW HAIM VIDEO
While we're waiting for a new film from the genius director behind There Will Be Blood, The Master, Inherent Vice and Phantom Thread (to name his four films this century thus far), Paul Thomas Anderson is keeping busy shooting music videos - after last month's Thom Yorke epic Anima, he's gone and done one for West Coast compadres Haim, prominently featuring the New Beverly, the picture house owned by Quentin Tarantino. The music's pretty cool, too.
VANESSA KIRBY IN HOBBS & SHAW
Your choice guilty pleasure for the week is the gleefully dumb spin-off from the Fast And Furious flicks, which lashes on the vehicular mayhem with considerable aplomb, courtesy of original John Wick and Deadpool 2 director David Leitch - for all the testosterone-fuelled banter between Duane Johnson and Jason Statham, the movie's real MVP is the former star of The Crown, who gives the movie a touch of class, and more than holds her own when it comes to kicking serious butt.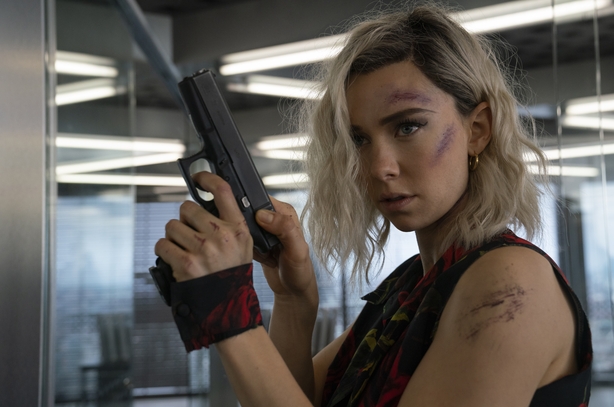 THE ONCE UPON A TIME IN HOLLYWOOD SOUNDTRACK
We saw the movie this week, and as has come to be expected, the last-but-one movie from QT has a soundtrack to die for, serving up a choice selection of unsung '60s gems - he's also curated a whopping four hour Spotify playlist of his favourite tunes from his own movies.
THE GREAT HACK ON NETFLIX
They took your data. Then they took control... The best horror movie you'll see this week is the new Netflix documentary uncovering the explosive Cambridge Analytica/Facebook data scandal, via the stories of whistleblowers Brittany Kaiser and Chris Wylie, who both spoke out about the company's unethical activities. Illuminating, terrifying and utterly compelling by turns.
DON'T WORRY LITTLE CRAB BY CHRIS HAUGHTON
For those of a certain age, a new picture book from the creator of such classics as Shh! We Have a Plan, A Bit Lost and the incomparable Oh No George! is a major event. Dubliner Haughton is a true master of the form, creating books for kids that are funny, deep and endlessly re-readable.
INHALER BEGIN WORLD DOMINATION CAMPAIGN
They're a four-piece rock band from Dublin, and inevitable comparisons will continue with another well-known four-piece rock band from Dublin, especially as lead singer Eli Hewson sounds a bit like his dad, Paul, AKA Bono - have a listen and judge for yourself. NB: Their most recent video was shot by Anaïs Gallagher, whose dad Noel was apparently in a band, too.
Contributors: Jim Carroll, Rick O'Shea, Derek O'Connor