The latest edition of The Cormorant, a new broadsheet of poetry and prose that publishes both established and new writers, will be launched at the 2019 Tread Softly arts festival in Sligo, which runs from July 25th - August 3rd.
Below, editor Una Mannion details how The Cormorant took flight...
In the Autumn of 2017, Niall Henry, artistic director of Blue Raincoat Theatre Company, asked to meet for a coffee. He had this idea: a broadsheet of writing that would be rooted in Sligo but not provincial, that would be something tactile that you could hold in your hand, that could unfold, layer after layer like strata of earth, that would be beautiful so people would want to hold it, that would be free, that would represent a range of voices and experiences. If you edit, he said, we will produce. And so we began.
We agreed the broadsheet would include both poetry and prose pieces under 300 words. That it would fold into 32 panels. It would publish new and established writers, an ethos held by an earlier Sligo publication FORCE 10, edited by the late Dermot Healy. We needed a name and turned to Dermot's work. In his poem Cormorants, he describes the sea birds allowed to travel between worlds, to plumb depths and return with messages from the dead. It seemed an appropriate title for a broadsheet produced in a town where cormorants keep sentinel along the docks and sea walls, augurs and witnesses, ever watchful.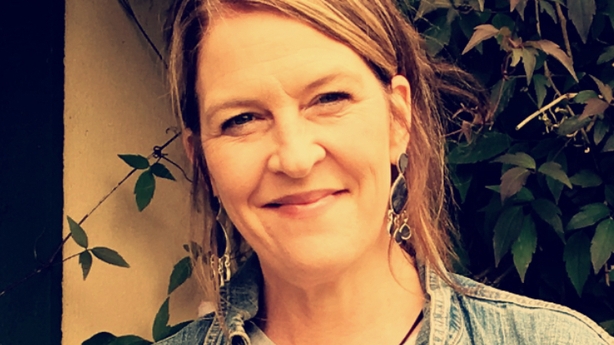 We invited writers with Sligo connections to contribute: writers in writing groups, writers who had left Sligo, writers who had come back to Sligo, writers from other places who arrived here and never left. They responded. Kevin Barry, Molly McCloskey, Tess Gallagher and Eoin McNamee were some of the established voices who sent work. There were new voices: Louise Kennedy, Elaine Cosgrove, Niamh MacCabe, Julianna Holland. And unexpected voices: Marion Dowd is internationally renowned archaeologist; in her pieces published in The Cormorant, she excavates both language and what the earth holds with a striking poetic sensibility. There are recurring motifs in the work: the mountain, whitethorn, the pull of the landscape, salt, the pulse of the sea. Holding all these voices and experiences together, these different rhythms of looking and telling, the broadsheet felt more than the sum of its parts.
If you edit, he said, we will produce. And so we began.
We launched in July 2018. Artist Cormac O'Leary provided cormorant sketches for the cover and the family of Seán McSweeney gave us his print, Rain on the Wind, for the back. Inside, new writers are placed beside established writers, a democracy and collision that invigorates the experience of reading. An excerpt from Kevin Barry's The Coast of Leitrim sits beside Rose Jordan's Bringin' Home the Cows, her first publication. The cadence and music of her voice shimmers beside Barry's story.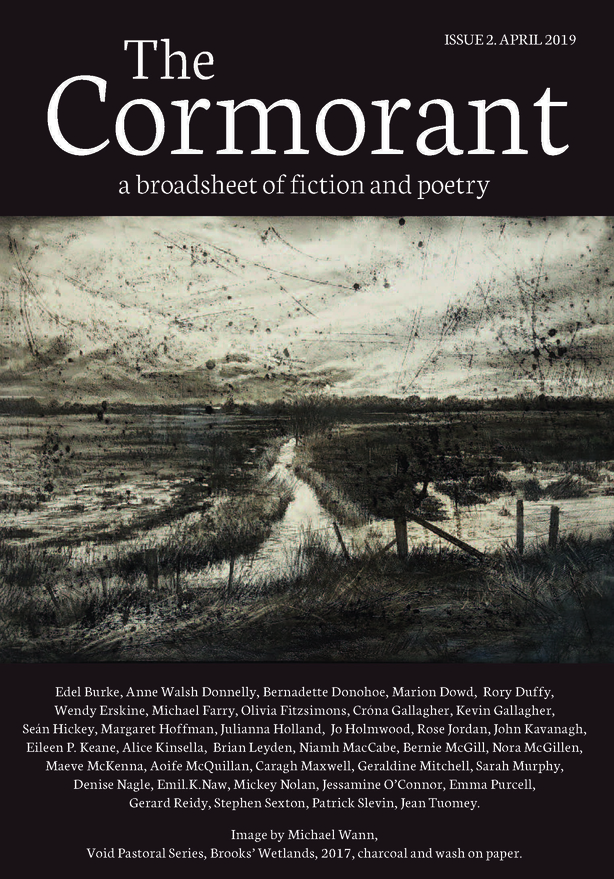 Writers Louise Kennedy and Eoin McNamee joined as editors after issue 1, and we made our first open calls for work. The response was tremendous. Both Louise and Eoin are from the North, and in Issue 2 we had a number of contributions from Northern writers including Wendy Erskine, Bernie McGill, Stephen Sexton and Michael Nolan. Michael Wann's cover, a charcoal and wash image of wetlands, captures the persistence of landscape in the Irish psyche, how it holds both memory and loss.
Louise, Eoin and I have read over 500 pieces of work. The decisions are difficult because there is such good writing with genuine emotional heft. The forthcoming issue includes Pat Boran, Nuala O'Connor, and Mary O'Donnell. There are new voices that add ballast, poets Jessamine O'Connor and Dawn Watson and fiction writer Caragh Maxwell. The cover is by photographer and musician Eddie Lee. It is an image of two horses on the strand at Culleenamore taken from Knocknarea.
Like The Cormorant, it gives a sense of what it is like to look from here.
The Cormorant issue 3 will be launched at the 2019 Tread Softly arts festival in Sligo, which runs from July 25th - August 3rd - find out more here.