Ahead of RTÉ's live event, 50 Years: To the Moon and Back, we sat down with comedian Neil Delamere to discuss science, history, and the myths of the moon.
Presented by Áine Lawlor in front of a live studio audience, RTÉ One will commemorate 50 years since the first moon landing from Blackrock Castle Observatory in Cork. The 90-minute programme will celebrate and commemorate the moment that Neil Armstrong took his first steps on the moon.
We'll delve into the Irish contribution to space exploration from the Earl of Ross's Leviathan telescope to the calculations provided by mathematician Pat Norris – that not only changed Apollo's lunar trajectory – but the entire course of history. We'll also hear from Irish astrophysicists working at NASA Goddard and finding out how we might now travel to and live on the moon.
To bring some humour to this fact-filled show, comedian Neil Delamere will be on the scene to investigate the relationship between ancient man and the moon as well as lunar myths and superstitions before asking the all-important question: what has the moon ever done for us?
How did you get involved with a show like this?
I've always been interested in history. I had worked on history docs like The Only Viking in the Village and on Eureka! The Big Bang Query - a comedy science panel show - we looked at the zero-gravity room in the European Space Station so I think this show is where those two interests, science and history, intercept. That's probably why the show gave me the call!
We need your consent to load this YouTube contentWe use YouTube to manage extra content that can set cookies on your device and collect data about your activity. Please review their details and accept them to load the content.Manage Preferences
What were some of your biggest takeaways from the show?
Well, we learned what the moon is made of, and some of it is basalts, which can be found at the Giant's Causeway which was pretty interesting.
We were also looking into the myths and superstitions and some of the words associated with the moon like 'moonstruck' and 'lunar'. There's the legend that during the full moon, people go a little bit crazy, which is where the word lunatic comes from.
We're also looking at how some of the technology from NASA has transferred into everyday life. So, for example, mylar was used in making Apollo 11's lunar module, the Eagle. Now it's used in space blankets, the recovery blankets that you use when you finish a marathon.
The dustbuster, apparently, was made because they needed a cordless power tool in space to pick up samples and then they later developed it into the cordless vacuum.
There are so many things that were created for NASA but just fell into the consumer market.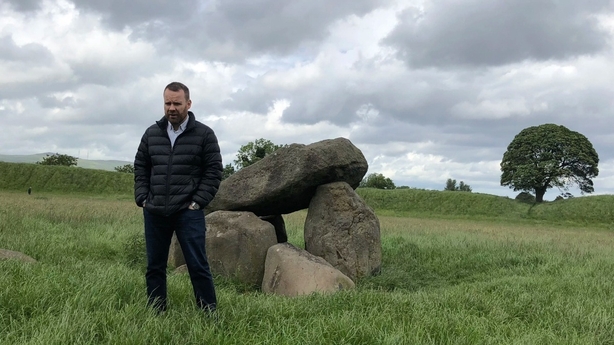 Would you hope to make more history/science docs?
It's always about whether the right project comes along. I wasn't necessarily looking to do something when this was offered but the topic was really interesting to me.
I think it's one of those TV programmes that a lot of people watch because it was a huge moment back in the day, it's now 50 years from it, and those kind of shows are rare on TV now.
It's the kind of situation that you get with a massive show like the Late Late Toy Show or maybe with the Rose of Tralee or something. So apart from the subject matter, it's exciting to get involved for that side of things where people are tuning in together.
They're huge amounts of work but they're really rewarding. It's a different level of satisfaction than you get with other shows.
You can catch Neil at the Vodafone Comedy Festival in Dublin this July Bank Holiday, plus you can catch his new show Work in Progress at the Galway International Arts Festival and the Edinburgh Fringe Festival.
Watch 50 Years: To the Moon and Back on RTÉ One on Saturday, 20th of July, at 6:35pm.