The writers Kurt Tucholsky (1890-1935) and Erich Kästner (1899-1974) both served in World War One and bravely resisted the Nazi jackboot through veiled satire in their published works.
Kurt Tucholsky was born into a middle class Jewish family in Berlin, and as a young man, he graduated with a law degree. He was conscripted to fight in World War One, although he was a decidedly inept soldier. As a journalist, he wrote all his life for the Left-inclined periodical, Die Weltbühne (The World Stage). His collected writings amount to thousands of pages, including a play.
In January 1933, his last piece for Die Weltbühne appeared before his German citizenship was revoked and his books burned en masse. The Nazis denounced him as "one of the most wicked of literary pornographers." He divorced his second wife Mary to save her from Nazi persecution through her association with him, and he lived out his last years in exile in Sweden, on short-term visas, under threat of deportation. He died from an overdose of morphine, ingested as sleeping pills. Two literary awards honour his name, the Swedish PEN Tucholsky Prize and the Kurt Tucholsky Prize in Germany.
Persecution and ostracisation certainly marked his life, but Tucholsky's only novel, Castle Gripsholm (Schloss Gripsholm) was hailed on publication in 1931 and had sold some three quarters of a million copies in German by 1985. in his introduction to the edition of that year, Schloss Gripsholm's translator, Michael Hofmann, describes the story as 'a bitter-sweet not-quite-idyll.' Happily, this short, absorbing novel has just been re-released by NYRB books in paperback.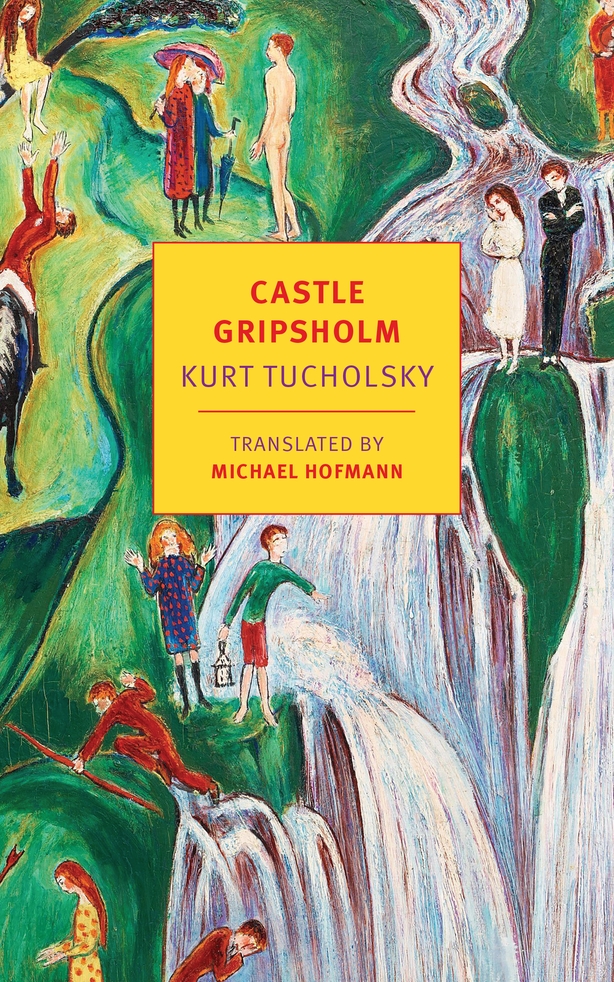 Tucholsky, at the start of the tale, envisages himself being pressed by his publisher in a brief exchange of letters to deliver a love story, which is bound to be more popular than his serious writings. Then the saga proper begins, as the unnamed narrator protagonist embarks on an off-beat adventure with his girlfriend, known as the Princess, real name, Lydia.
They take the train to Sweden from Berlin on a bright June day, crossing the ferry from North Germany into Denmark, with the train fitting on to its own rails on the boat, before arrival in Sweden. There is a jolly air of larks and japes, a la Jerome K Jerome's Three Men in a Boat, youthful exuberance and playful dialogue abound.
Tucholsky is much taken with the dialects and modes of German speech as the characters interact. He mentions 'Proper' German, but he is principally fascinated by Platt, Low German, which is spoken in North Germany, in East Frisia and elsewhere. Then there is the dialect known as Missingsch, which is what the Princess speaks when she is among familiars.
Missingsch is what comes out when a Platt German from the North wants to speak proper High German. It slithers about on the carefully wax-polished stairs of German grammar, before falling flat on its face in its beloved Platt. Lydia came from Rostock, and she knew the idiom to perfection. There's nothing rustic about it – it's much more subtle. The proper German in it sounds like scorn and caricature, as though a peasant had gone out to plough his fields in a top hat and tails.
The protagonist and his lady friend hire an interpreter to help them find a cottage for their five-week stay in Sweden. The interpreter tells them about gullible American tourists to whom he spins historical yarns that are factually inaccurate or embellished beyond credibility. Sound familiar, anyone?
The couple finally find a cottage in the grounds of the eponymous Castle Gripsholm. Inside the castle, there is a round wooden lid above the castle dungeon. The protagonist decides to fool some visiting German tourists by going down into the dungeon to shriek ghost-like, thereby frightening the wits out of one of their party in a scene almost worthy of Wodehouse.
Tucholsky is observant and wise about holidays and the ennui and occasional disappointments of travel which people tend not to factor into their account - our tendency, and it is the right one, is to see travels in a positive light, no matter about the mosquitoes or the ants or other bothersome features.
Nothing distracts people from their real perceptions more than place-names, heavy with ancient longings and crammed with a multitude of associations. Then, when they finally reach the place, it's just a shadow of what they'd hoped it would be. But who would admit it openly?
If you thought globalization was a recent phenomenon, then reflect on what Tucholsky was led to think almost 100 years ago. He has, it should be said, briefly extolled the Swedish capital, known as the Venice of the North for its islands and waterways. However, now he comes clean:
Monotony of Stockholm. Ah friends! How monotonous our cities have become! …What is there to see? The same tram-bells ring everywhere, policemen raise their white-gloved hands, everywhere the same colourful posters for shaving-soap or women's stockings. The world has put on an occidental uniform, with American trimmings. It's no longer possible just to go out and see the world; you have to live with it, or against it.
This short, 127-page novel gradually gets darker and the German pair find themselves involved in the resc of a girl who has been sent by her mother to a grim institution run by a cruel disciplinarian, a German lady. The narrator and Lydia notice the little girl one day, in a line of girls who are being led by 'a bossy-looking person.'
At the very end was a little girl on her own; she walked as though she were being pulled along, her eyes were stained with tears, she still sobbed occasionally as she walked, but she wasn't crying.
Tucholsky's wonderful tale blends fun and a devil-may-care outlook with what seems to be a rather oblique satire on Nazi strictures. The writer was a contemporary of Erich Kästner, the author of Going to the Dogs – The Story of a Moralist, which is also available in translation from NYRB books. This profoundly engaging story was originally published in German with the title, Fabian, which is the name of its chief protagonist.
First published in German in 1931, Kästner's story is set in Berlin following the economic crash of 1929. Jakob Fabian is "aged thirty-two, profession variable, at present advertising copywriter … weak heart, brown hair."
In a low-paid job without security, Fabian's excellent education is not serving him well and he is fired from the advertising department of the newspaper for which he has been working. In fact a more subservient, calculating colleague takes the glory for the copy which Fabian had written for a competition, scheduled for the pages of the newspaper.
A lurid Weimar atmosphere infects the tale, yet ideas are thrashed out just as ideas were the very fibre of Thomas Mann's far longer and much better-known novel, The Magic Mountain. Fabian and his pal Labude frequent sleazy bars and gatherings, talking and discussing life, philosophy and women at length.
Rodney Livingstone, who penned the introduction to the NYRB edition of Going to the Dogs, writes that the novel "brilliantly renders with tangible immediacy the last frenetic years [in Germany] before 1933." As well as being a sensual, libidinous tale of self-indulgence, Going to the Dogs is topical about political developments and makes reference to the National Socialists whose murderous regime is pending.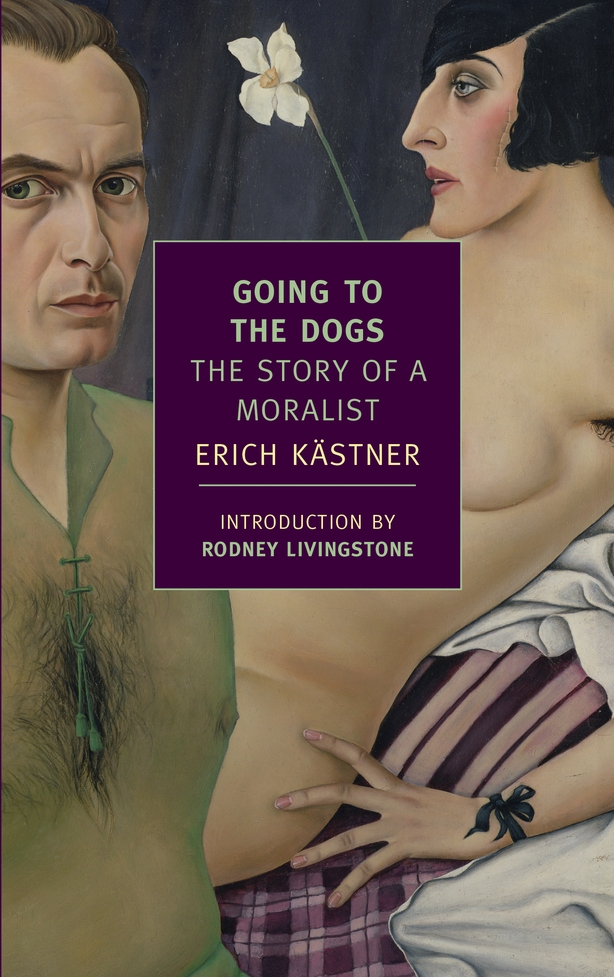 Goebbels himself presided over the burning of books on May 10 1933 in Berlin's Oberplatz. Kästner's books were burned with the works of Heinrich Mann as an affront to `discipline and morality in the family and the state.' Kästner was the only writer of the books famously burned who was present on that occasion, he never in fact fled the Nazi regime. His books were banned from Germany thereafter, but he lived on the income from foreign sales, as his works could be printed abroad.
The Nazis would thus consign Kästner's books to the flames, though not his two books for children, Emil und die Detektive (Emil and the Detective) which was first published in 1928, and its sequel, Emil und die Drei Zwillinge (Emil and the Three Twins). A hugely popular tale, Emil und die Detektive has been adapted for the cinema five times, three of those occasions in German, with UK and American versions in 1954 and 1964, respectively.
Towards the close of Kästner's engaging 208-page saga, Fabian returns to his home-town, believed in this instance to be a depiction of the author's native Dresden. His ramblings around his boyhood town have a wistful air of lost illusions.
The portrait of his provincial mother and father, both of whom are markedly different from the denizens of lusty Berlin, is somehow reminiscent of James Joyce. There is the isolation of the artist, the potential for misunderstanding. The kind of poise and pathos we associate with certain sections of Portrait of the Artist as a Young Man is apparent in Cyrus Brooks' translation, and it is a must-read.