Aibhlín McCrann, Festival Director of An Chúirt Chruitireachta International Festival for Irish Harp, writes for Culture about the living tradition of Irish harping ahead of this year's event, which runs from Sunday 30th June to Friday 5th July.
If you haven't already heard, Irish harping is on the cusp of an exciting new era of creative development. Experienced harp teachers and practitioners estimate the number of harpers in Ireland today to number around 2,000 - double what it was in 2001. And that figure is growing; there's a tidal wave of harpers coming down the line; which will mean more music for harp, more large ensemble playing, more innovation and a more inclusive approach generally. Even though the harp is our national musical instrument, and central to our rich cultural heritage, many people are unfamiliar with it, and maybe even have a notion of the instrument that doesn't do justice to just how amazing and innovative it can be and the very exciting things happening in harping in Ireland today.
Watch: Highlights from the 2018 Festival for Irish Harp
A cursory glance at An Chúirt Chruitireachta International Festival for Irish Harp will set that right – the festival is an impressive snapshot of contemporary Irish harping. As a showcase and celebration of Irish harping, it features a roll call of the best Irish and international leading harpers. A highlight in the Irish harp's calendar, the Festival is a mecca for harpers and an important annual platform for the exchange of music and ideas where practitioners can share their expertise and inspire future harp players. But the festival is not just for harpers - we are inviting everyone to come and experience it for themselves through our concerts and workshops.
Running from 30th June to 5th July, this year's Festival focuses on collaboration across art forms from poetry to dance beginning with a reflective opening concert on Sunday 30th June from Úna Ní Fhlannagáin, harp accompanied by poet, Ailbhe Ní Ghearbhuigh and finishing on Thursday 4th July with a gala concert from the scintillating duo, Maeve Gilchrist, (Artist in Residence for this year's festival), and percussive dancer Nic Gareiss in concert with the renowned RTÉ Con Tempo Quartet. Con Tempo will perform Pasture's Red, Maeve's work for harp and string quartet as well as illustrating the cultural cross-over between Irish and Romanian folk dance.
Listen: Úna Ní Fhlannagáin and Ailbhe Ní Ghearbhuigh talk to RTÉ Arena
Four of Ireland's best-known harp players, Paul Dooley, Cormac De Barra, Oisín Morrison and Séamas Ó Flatharta will appear together on the An Grianán stage on Tuesday 2nd July to celebrate the resurgence of interest in harp playing among men and boys, while the harp of earlier times is the focus of Siobhán Armstrong along with piper, Ronan Browne and singer, Róisín Elsafty on Monday 1st July.
This year's festival will also include a gathering of 150 young harpers from all over the country for a day of ensemble playing led by artist in residence and composer Maeve Gilchrist (this will probably be the largest gathering of harpers to date in Ireland) and culminating in an evening concert. The future for Irish harping is bright and we are very proud to shine a light on our rising harps stars at the Tholsel, Drogheda from Monday 1st to Thursday 4th July.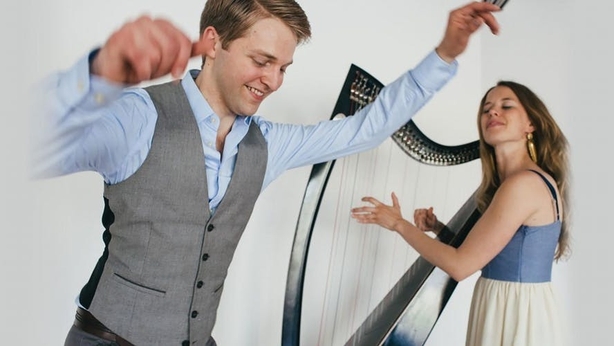 An Chúirt Chruitireachta is funded by The Arts Council, County Louth's Creative Ireland programme and with support from RTÉ Lyric fm and RTÉ Supporting the Arts - special thanks are due to the Trench Trust, who have generously supported the harp ensemble experiment.
All concerts and workshops are open to the public and we invite everyone to come and immerse yourself in this great music, enjoy a 'hands-on' harp taster, visit our harp making exhibition, discover the early harp and join in sean-nós singing workshops, showing how harp and voice combine with renowned singer Seosaimhín Ní Bheaglaoich. Fáilte roimh chách!
Find out more about An Chúirt Chruitireachta International Festival for Irish Harp here.