And how was your week? Here's our handy tipsheet of Cultural musts...
Colm Mac Con Iomaire's The River Holds Its Breath – Tost ar an Abhainn
The fiddle player from The Frames has become a formidable solo artist in his own right, and his epic new album might just be his finest hour to date. He's launching the record with a date at Vicar Street this Saturday night, May 18th - listen to the gorgeous title track below:
Once More We Saw Stars by Jason Greene
The saddest and most beautiful thing you'll read all year is Jason Greene's trancendental memoir detailing his search for meaning in the aftermath of the tragic death of his 2-year-old daughter. A tough but essential read.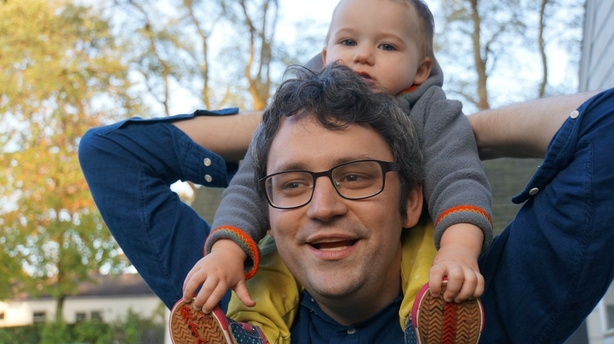 The imminent return of Girl Band
Prepare the ticker-tape parade: the finest Irish band of the last decade are finally on their way back. New single Shoulderblades is released on June 7th...
Ben Kenobi vs Darth Vader - the rematch
Two and a half years in the making, Star Wars SC38 Reimagined sees VFX team FixitinPost offer their own unique remix of the original lightsaber battle - let's just say they pick up the pace a little.
John Jeremiah Sullivan
We were wondering recently where the lad behind the Pulphead collection of essays had gone to and then we opened the new issue of the New Yorker. The best music profile you'll read this month contains Sullivan's wise words on the mesmerising Rhiannon Giddens - read it here.
Its been an honor to talk to the great music writer John Jeremiah Sullivan for this @NewYorker profile — any piece on me that starts with the history of an unknown black string band musician is magic to me. ✨

Read it: https://t.co/mpf12ZLyD3

Stunning photo by Paola Kudacki. pic.twitter.com/htTMW5a6yW

— Rhiannon Giddens (@RhiannonGiddens) May 13, 2019
Back to The Batcave
Batman, Batman Returns, Batman Forever and Batman And Robin are coming back to Irish cinemas, from May 17th - although obviously the first two (directed by Tim Burton) are great, and the last two are terrible. The last one is so terrible, that George Clooney is still apologizing for it twenty-two years later.
Jamila Woods - Legacy! Legacy!
The Chicago poet, activist and soul singer's second album is a glorious tribute to the black artists who have gone before her. Working with folks like Saba and OddCouple, Woods creates music which is magic, freewheeling and joyful.
It Galz
Much loved for their hilarious, irreverent and often outrageous takes on all things pop culture (with a decent sprinkling of social commentary), It Galz Jenny Claffey and Lindsay Hamilton have sold out their live podcast show at Dublin's Liberty Hall Theatre this Saturday, May 18th. If you didn't snag a ticket, the Galz' podcast has recently hit 1 million downloads - listen to an episode below:
The International Literary Festival Dublin kicks off
This year's ILFD features heavy hitters like Paul Muldoon, Naomi Wolf, Elizabeth Gilbert and Wonder author RJ Palacio alongside hot homegrown prospects like Kevin Breathnach, Nicole Flattery and Ian Maleney - what we're truly excited about is the session at The Ark from genius illustrator Chris Haughton, creator of picture book masterpieces Oh No, George! and Ssh! We Have a Plan, who'll be previewing his latest book, Don't Worry Little Crab - find out more here.
Robert De Niro's ad for bagels
Seriously. Directed by Father Ted veteran Declan Lowney, it's the best thing Bobby's done in a decade. Admittedly, the bar is set low, but we'll take this over Dirty Grandpa any day.
Contributors: Jim Carroll, Derek O'Connor, Rick O'Shea, Aisling Holohan