Cathal Coughlan has been the driving force behind two of the great cult Irish bands of all time, Microdisney and The Fatima Mansions, as well as an acclaimed solo artist in his own right.
Now this musical polymath is lending his mercurial talent to a unique creative collaboration - he's singing in the classical-jazz gig Mahler Reimagined, presented by Cello Ireland, and featuring Brian Byrne Jazz Quartet, at The Sugar Club on Sunday, 19 May - find out more here.
We asked Cathal for his choice cultural picks...
FILM
Let the caveats commence! I'm a film snob who doesn't go to the cinema very much. I'll religiously attend the latest by Michael Haneke, Lynne Ramsay, Andrea Arnold, Lenny Abrahamson, and – were he to revoke his retirement – Bela Tarr. But don't bother to ask me which 2018/19 festival prizewinners I'm awaiting the chance to pay 20 brexi-quids to view.
The last thing I watched all the way through, then, was The Deadly Affair, a hacked-together John Le Carre interpretation from 1966, a mightily gauche depiction of London on its uppers (as it remains in 2019, once you peel back the many idiotic surfaces, although minus this offering's technicolour smog and Blitz wreckage).
It stars James Mason, Simone Signoret and Maximillian Schell, all of whom give extraordinary performances – although, in Mason's and Schell's cases, 'extraordinary' here tends to mean 'what emotion could possibly cause a person to behave that way?' (Signoret, on the other hand, is simply luminous and profound beyond the bounds of the production).
Everything about this movie is WRONG – from the almost Ed-Woodian direction, to the often-grating deployment of bossa nova music by way of a score, to the very odd ending. It won't have been test-screened, of that I'm quite certain. I loved it, as a non-ironic if unwitting document of its time.
In the documentary area, I've recently enjoyed Paul Duane's While You Live, Shine, and Niall McCann's The Science of Ghosts.
MUSIC
I can't be alone in noting that today's (ironic) profusion of forms of access to music makes the 'latest music' question hard to answer, so enough about that, I'll answer in multiples.
This year, the new music I've most enjoyed includes Folly from Daniel O'Sullivan (of whom more below), Fat White Family's Serfs Up, the Delines' Imperial and Solange's When I Get Home.
Also, much that is highly individual and invigoratingly weird comes from artists including King Krule, Gazelle Twin, Lisa O'Neill and Adrian Crowley. Although as to when that occurs, I no longer can tell.
I always always return to the works of Townes Van Zandt, Sandy Denny, Todd Rundgren, the Waterson/Carthy family, Robert Wyatt, Joni Mitchell, Mark Hollis/Talk Talk/Rustin Man, Luke Haines, Bela Bartok and the always great, and to be much missed, Scott Walker.
BOOK
'Backlog' doesn't even begin to describe the dispiriting glut of items in many formats which I've acquired but have yet to attend to in this area, so I'll be brief.
I recently listened to and greatly admired Sinead Gleeson's Constellations on audiobook, finding it deeply affecting, a work which really needs to be in the world.
But now I'm back in my usual polygon of intermittent attention, featuring first Shoshana Zuboff's The Age of Surveillance. So far, she has shown that the menaces emanating from the digital domain merely use technology as a vector, their deeper root being in an economics-driven malaise which began in the mid-1970s, with certain near-forgotten events.
I'm also enjoying Patrick McCabe's The Stray Sod Country, which seizes what might seem like a familiar bygone Irish rural mileu and pitches it into what can only be termed a 'fresh Hell'.
And I'm dipping into Ian Bostridge's learned and inventive work, Schubert's Winter Journey, an examination of the German Lieder tradition and its meaning in music history, in Schubert's life and in that of the author, himself a lauded performer of that work. It's part of my preparation for May 19's Mahler Reimagined show at the Sugar Club in Dublin, with Cello Ireland and the Brian Byrne Jazz Quartet – and a valuable reinforcement of the humility/anxiety mandated by my part in that.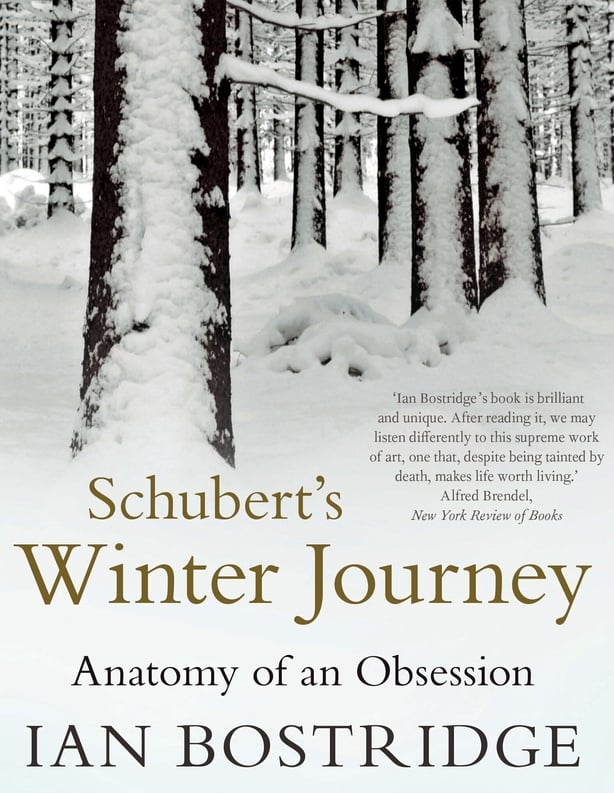 TV
Life comes to appear quite short when surveying this bit of the landscape, but anyway - I liked BBC Three's Back To Life (the highly uncomfortable black-comic work of writer/actor Daisy Haggard) a lot.
I'll usually watch Richard Ayoade on Travel Man, despite having no intention of visiting any of the places he quips and free-associates his way through.
GIG
This past week, I saw a riotous show by the Australian group Tropical F**k Storm in London. A hirsute and very sarcastic gentleman snarling from a limbo-like posture of knee-flexion, tall elegant ladies howling the gnostic gospel like banshees while pummelling guitars and other devices, you know the kind of thing. Wonderful.
Next thing I'm likely to see is Wilco, when they come in September – that's my concession to good taste this year.
ART
I'm not a great patron of gallery shows. In London, where I live, they tend to be over-sold and distractingly thronged by the semi-interested.
The Whitechapel Gallery can sometimes have great exhibitions. Last few times I was there, though, the only thing I liked was a photorealistic painting, I.G (790-3) by Gerhard Richter.
The Turner collection at Tate Britain needs to be visited once a year, if one is still indeed in the city, by some miracle or misfortune.
PODCAST
Podcasts can be a time-sink, but appealing human voices around me are sometimes scarce without them, of late. My regulars include Preet Bharara's Stay Tuned, which provides a calm and rational legal-minded analysis of certain toxic stupidities we're living through, without for one moment asserting that there's a magical curative bullet in any known locker. I also go for NPR's Fresh Air, the BBC's Thinking Allowed sociology podcast and, of course, RTE's Playback.
Listen to RTÉ Playback:
TECH
My days and nights are somewhat dominated by technology. At the moment, outside of the Mahler preparation, I'm engaged in songwriting, so I spend much of my time with my face planted against Logic X Pro and various iOS audio apps. There's much, much more, also, but the telling of that wouldn't be up to much.
THE NEXT BIG THING
I nominate the London singer/songwriter/everything Daniel O'Sullivan. I won't expound on his long pedigree of prior collaborations here (one can google it, and other search engines exist also), but in the past couple of years he's produced two mighty albums under his own name, VELD and Folly.
He's using elements which, in some cases, already existed long ago, but without a hint of referential laziness, he's fusing those and more to produce uncanny work which evokes his own life and times, including (without embarrassment) those of his growing family. This work could only be happening now. He has a live band which is often capable of genuinely transcendental performances. Please can the world make it possible for this man to go on working along his chosen lines.
Mahler Reimagined, presented by Cello Ireland, and featuring Cathal Coughlan and the Brian Byrne Jazz Quartet, is at The Sugar Club, Dublin, on Sunday, 19 May at 8pm - more details here.