Mark O'Brien, Director of Axis Ballymun, previews Electrolyte, an acclaimed new piece of theatre receiving its Irish premiere in Ballymun later this month.
I love the buzz that a brilliant live show can give you.
Wildcard Theatre company's Electrolyte comes to our stage in axis Ballymun on Tuesday 21st – 25th May for an exclusive Irish run as part of their 31 venue tour.
Why am I excited?
I went to the Edinburgh Fringe last year to see what new shows might be a good fit for future programming in axis. Before I went I asked for recommendations online and received loads. I looked them up and the one that stood out the most was this show, directed by Irish born, Olivier Award winning director Donnacadh O'Briain, that referred to itself as a piece of gig theatre, I was intrigued having never heard the term before. A heady mix of New Writing, Live Music, Spoken Word, and Theatre that really attracted me as these areas are central to our programming in axis.
Tickets were bought and travel was booked.
Edinburgh Fringe is a beautiful madness with so many shows fighting for attention. I can't remember how many I saw over the few days that I was there but I can certainly remember Electrolyte.
On a stage set up for a gig these actors / musicians brought the packed house on an incredible journey centred on an electrifying central performance from Olivia Sweeney as Jessie who we followed on her journey from Leeds to London, via digs, gigs and warehouses. These six cast members do it all, perform, sing, play in one of the most tightly knit effortless ensembles I have ever seen.
Electrolyte is Inclusive, raw, slightly dangerous, full of music and totally exciting.
It contained all the elements of shows that I love;
It's live, happening in real time
It matters if you're there
It spoke directly to me
It went to dark places
It was full of hope
And I knew I had to get it to axis, to Ballymun, to this great community, to Dublin.
I felt it could resonate with so much great work that's emerging from new voices, new writing and new ways of working. I felt and still do that audiences would love it. From those who go to theatre a lot, to those who have never, young and old.
I hung around afterwards and was introduced to the producer Joseph Dawson and the rest they say is history…..
Well the rest was actually getting support to bring it over and I am delighted that The British Council Ireland, Dublin City Council and The Arts Council came on board to help us bring this magical work to our stage.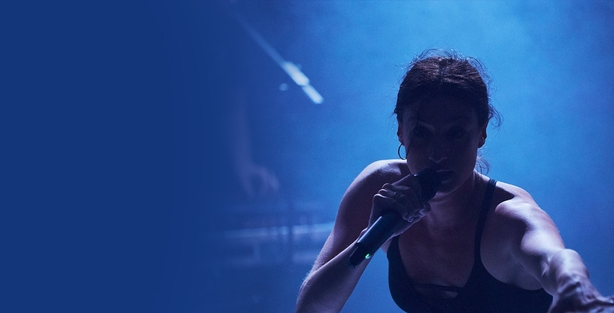 It carries with it rave reviews and multiple awards including The Mental Health Fringe Award.
We are delighted that, as part of our ongoing relationship with the HSE through our work around Creativity and Mental Health we will be able to sponsor groups of young people attending this show who wouldn't normally have that opportunity.
Hope, friendship, community, healing, mental health, adventure, love and music, it's all there and for a week this month, it will all be here in axis.
This is a truly powerful piece of work. Dream out loud. See you here
Wildcard Theatre company's Electrolyte is at Ballymun from 21st – 25th May - find out more here.