Kate Butler explores the history of D1 Recordings, the legendary Dublin dance and electronic music label, currently celebrating their 25th anniversary with an epic new compilation, 25 X D1.
Everyone at D1 is pretty shy. Everyone except Rob Rowland, of course, who is at the bar, drink in hand, grooving away, and talking about the night Bernard Edwards died, when the bassist blacked out on stage but still managed to keep time.
James Walsh, or maybe it's Alan Carbery, is on the decks, lashing out K-Hand's Come on Now Baby, and there are hands in the air. Donnacha Costello is here, maintaining a Kraftwerk-like distance.
David Donohoe is a bit younger than the D1 heads and is on the dancefloor with a pack of student friends. He hasn't released anything yet, but has been performing live at parties. He looks pure techno with his shaved head and UR t-shirt, but there's a bang of Kate Bush off him.
It's 1998 in the Funnel: a 300 capacity venue on Sir John Rogerson's Quay, a part of the city that everyone has forgotten about, except the dockers and the ravers. Later, it's back to 147 on Parnell Street in Dublin 1 [1]: a five-floor building where Eamonn Doyle lives and where lots of D1 artists and DJs will live over the years.
Listen: Come Down On The Music by Eamonn Doyle
147 is also home to the D1 studio, in the basement. For now, there's no work being done. It's four or five in the morning, everyone is talking shite and Doyler is kneeling beside the decks in the sitting room: he puts on Anna Stesia by Prince.
So, if you've been a kid in the 1980s and find yourself dancing to Detroit techno at a D1 club night [2], you realise you're in the right place because none of this came from nothing. You're all here because you grew up loving the same music that those producers in Detroit love: disco, funk, electro-pop. Especially Doyler, of course. Ask him about that time he was 15, in 1984, when he had a late night cuppa with Stevie Wonder in the Coffee Dock of the Jury's Hotel in Ballsbridge [3]. True story.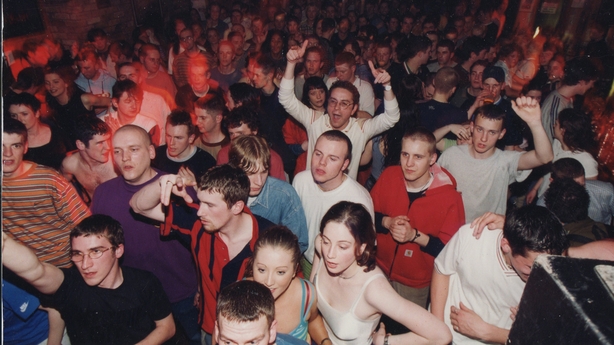 The epiphany for Eamonn happened in 1994. He had built a studio for the indie record label, Dead Elvis, but found himself sucked into the DJ sets at the Temple of Sound on Ormond Quay. And so, even though he didn't know any techno artists, he decided to start a techno label. He did know Niall Sweeney, however, who created the unimpeachable logo, and would help Eamonn produce a visual narrative for the label as important as the music.
Improbably, Rob Rowland sauntered from the heartland of Dublin's southside suburbia into Eamonn's city centre life. It was his Glocomm EP, DONE001, released in 1995, which kicked off proceedings. Another improbability occurred: Donnacha Costello read about D1 Recordings in an Irish fashion magazine, Image, and got in touch.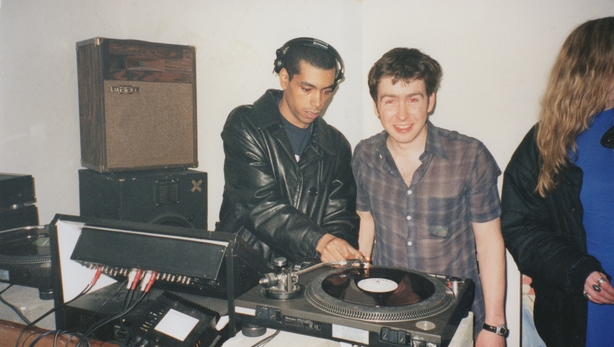 Over the next two years, there were eight releases from Rob and Donnacha, providing a consistency that no other Irish label or producer had yet achieved, getting international attention and giving Dublin a sense of its own electronic potential. As one fan letter put it, from a 17-year-old in the Irish midlands, sent in 1997:
"With every month, Irish Dance Music is going from strength to strength and I hope D1 will play their part by producing even finer records in the future. I hope D1 will be forever at the forefront of Irish Dance Music. Best of luck for the future. If possible, could you send me any info, articles, etc. about your label."
And so the audience was there, both home and abroad, and the impact was immediate. The early releases also gave Eamonn a passport abroad: after inviting Carl Craig's Innerzone Orchestra to play in Dublin at one of the ELEVATOR gigs [4], he got an invitation back to Detroit.
Eamonn had the number for Submerge – the Underground Resistance headquarters in Detroit – from Wilba Sandieson in Glasgow's Rubadub. Mad Mike, the architect of the techno resistance, drove Eamonn around the city, took him with him while he played baseball with Kevin Saunderson, and put him up at Submerge for two weeks, where Kenny Dixon Jnr, aka Moodymann, and Gerald Stinson of Drexciya were also working at the time.
Eamonn came back to Dublin with what he had set out for: a supply of Detroit records for the new shop he was about to open up on Parnell Street. But he came away with so much more: the support and friendship of the Detroit artists, many of whom would come over to perform at the D1 clubs and at the Dublin Electronic Arts Festival (DEAF 2002-09).
Listen: Diversions #2 by Donnacha Costello
Between 1995 and 2012, there was a steady flow of releases from D1 Recordings by Irish and international artists [5]. The hiatus came about when Eamonn started taking photographs again (he had studied photography and design at college) and swiftly achieved global recognition for his work.
But there was unfinished business at D1 and the 25th anniversary presented an opportunity to address it. This unfinished business had started in the Funnel, found momentum in Dublin Distribution [6], but really took root during the annual DEAF: it was the sound of the city beyond what D1 was putting out.
What had happened at the Funnel in 1998 and 1999 was that a cluster of DIY micro-scenes found kinship: D1 was promoting bi-weekly Saturday nights at the club, alternating with Bassbin, a jungle and dnb club, which would start its label in 2000. There was also the Ultramack night and label, which released Decal's down tempo techno album Ultramack 004 in 1994; and there was The Fear, purveyors of weird breaks and freaky electronics, which would also soon start releasing records.
The cross-pollination that happened from these four scenes working together at the Funnel meant that there was a sudden flourishing of independent record labels being set up, and countless producers at work [7].
But Dublin's peripheral location, its small population and its dearth of electronic music industry history, meant that all of these ventures were finding it hard to get a foothold. D1 already had distribution (thanks to support from Mad Mike), but Eamonn realised that all of the Irish labels needed a centralised system if they were going to have any chance: so, he set up Dublin Distribution in 2000, running it with Ross Carroll of Bassbin.
The issue for the labels, including D1, was that there was no pressing plant in Dublin, so the records had to be pressed abroad [8], shipped back to Dublin and then shipped out again, making them more expensive for shops to buy. Dublin Distribution was able to offer a package of records from various Irish labels to shops, making it cheaper to buy them in. However, it was dependent on two major distributors in the UK and Germany. When Dublin Distribution lost the support of the German distributor, the project lost momentum.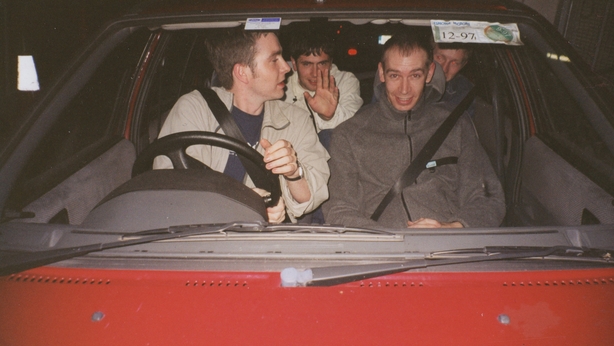 Eamonn kept going, however. Even in the face of these setbacks, and the challenges of Dublin's club scene [9], there was a clear need to showcase the Irish artists, to showcase Dublin as a place with an electronic music culture, and to bring world-class artists from abroad to share experiences, knowledge and vibes. The answer was DEAF, which Eamonn set up with Rob Rowland and Karen Walshe in 2002 and ran until 2009.
DEAF built on what had started in the Funnel: it provided a platform for Dublin electronic artists, whether they were on the D1 roster or not. Decal [10], Mcut/Americhord [11], Naphta [12] and Somadrone [13], were some of the artists who were around in the Funnel days, had released on other Irish labels, performed at DEAF and ultimately released some of the defining records on D1 [14].
Listen: Neurotik by Rob Rowland
However, there were many Irish artists who had a close connection to DEAF and D1, but didn't release any music on the label. Sunken Foal was a key example of this: Dunk Murphy, who had started out as Ambulance with Trev O'Reilly, they would get their break supporting Mike Paradinas at an Ultramack gig in the Funnel. As Ambulance and Sunken Foal, Murphy went on to become one of the key Dublin electronic acts, releasing on Dublin label Frontend Synthetics and Planet Mu, but not D1.
It was lacunae like this that Eamonn wanted to address. When the 25th anniversary of the label approached, it was the opportunity to bring these 'DEAF' artists into the label. And so, artists who are well steeped in the Irish electronic tradition, but are new to D1 Recordings, feature on the D1 x 25 box set [15].
It was also an opportunity for Eamonn to relaunch the label and seek out new work from a generation of Irish artists who emerged in the late noughties - Automatic Tasty (Jonny Dillon), Joni and Richie Kaboogie, and TR One (Dean Feeney, Eddie Reynolds).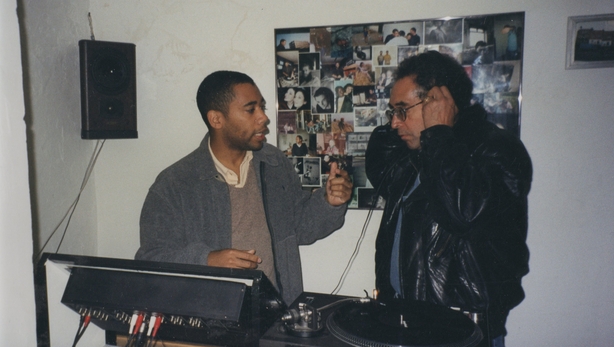 Then there is the new material from the Irish and international artists already on the label roster [16]. The label started out in a Detroit frame of mind – and that is still the predominant sound – but there has been a flexing, stretching and testing of what that means throughout the 25 years. The new material comes with the benefit of two decades of hindsight, talking back to what came before, while keeping the integrity of the dance as the central DNA.
Musically and socially, Dublin and Ireland has changed a lot, even in the last decade. There has been a rebirth of sorts, with a range of new electronic labels emerging across the country [17]. Dublin Digital Radio (ddr.) and the Open Ear festival (on Sherkin Island in West Cork) have been operating for the past three years, providing platforms for Irish artists that are getting international recognition [18]. It seems that when you have a groundswell of solidarity at home, it can make it a bit easier to be heard from the fringes.
There are also movements like the Gash Collective, also three years old, which are proactively facilitating female and minority participation in electronic music. Tellingly, these movements get fulsome support from the scheduling at Open Ear and ddr. On International Women's Day, ddr. broadcasts 24 hours of womxn's shows, with some airing from Belfast, Cork and Galway.
And yet, despite all this unparalleled, island-wide growth by a generation imbued with a golden kind of confidence and humanity, and despite being post-recession, and in the digital age, there is a similar kind of realism about the scene today, as there was back in the Funnel era: keep it DIY, be persistent yet sustainable, try to make a living out of it, don't be surprised if you don't.
Dublin Vinyl, a vinyl pressing plant opened by Hugh Scully [19] in 2017 and located in Glasnevin, has its eye on a global market, but could potentially make a big difference for this flourishing homegrown scene. It was here that the D1 x 25 boxset, in all its six-piece vinyl glory, was pressed: the first time that a D1 record has been pressed at home. Made in Dublin.
One of the many magic things that Eamonn Doyle did with D1 Recordings was to open up a channel of communication between the afro-futurist imaginings of Detroit artists, and our own tortured island, badly in need of a purge of the past and a vision of the future.
Eamonn did all of this fearlessly, with kindness and softness, a delight in the buzz and a dogged pursuit of the aesthetic. Now the future has almost certainly arrived and, actually, what we find is that there is no linear then and now. There is only the loop, on the dancefloor, where the whole of time and space is.
The D1 x 25 Anniversary Boxset is available to buy on the D1 website.
Footnotes:
[1] The postcode of the north Dublin city centre district where the label gets its name.
[2] 1997-8: The first regular D1 club night, Made in Dublin, at Eamonn Dorans; one off gig with Carl Craig at ELEVATOR in the Red Box; one off gigs at the Kitchen and one off gigs (Subtract) in the Funnel. 1998-99: Model One, a bi-weekly club, the Funnel. 2000-01: Model One at Switch; 2000-03: one-off Night Strikes at various venues including the Pod, Red Box, Temple Bar Music Centre. 2002: Technology at the Crypt. 2003: one-off Model One gigs in the Shelter. 2003-06:Model One at Traffic. 2007: Model One at Dame Lane. 2007: Model One at Tomato. 2007-09: Soundstream at Rogue.
[3] Or maybe don't ask him! He was brought to the Stevie Wonder concert by a group of older friends. When they tried to get into the afterparty, where Stevie was supposed to be attending, Eamonn got refused. One of the group, Tracy O'Connor, volunteered to bring him home. They stopped off at Jury's Coffee Dock. While they were sitting there, Stevie Wonder and his entourage walked by the window. Tracy ran out and asked Stevie to come and meet Eamonn, which he did.
[4] ELEVATOR at the Ormond Multi Media Centre was promoted by people in the Horny Organ Tribe, and others, including Niall Sweeney, the D1 designer.
[5] DONE60 is the most recent D1 Recordings release, but there were also releases on sublabels D1aspora, D1gital and Paradiddle. See Discogs for full release schedule.
[6] A company Eamonn set up in 2000 to consolidate distribution of Irish electronic labels.
[7] A non-exhaustive list of post-Funnel Dublin electronic labels and the year they started releasing: 2000: Baraka Records; Bassbin Recordings; Freestate; Frontend Synthetics; Minimise; Piranha Productions; Psychonavigation Records; Take Over; Trama Industries. 2001: Elusive Recordings; Fortress Records; Kin Recordings; One Louder Recordings. 2002: Looney Toonz; The Fear. 2003: All City.
[8] At the time, D1 was pressing 1,500 of each records, while other Irish labels were usually pressing 1,000. These days, few micro labels will press more than 200.
[9] Ireland's licencing laws changed around this time, allowing bars to stay open till 2.30am; clubs with a theatre licence were able to stay open just an hour longer. Many of these late bars employed DJs and didn't charge in: the effect was to decimate weekly club culture.
[10] Ultramack, Trama Industries, Frontend Synthetics and Planet Mu
[11] Law and Auder, Frontend Synthetics
[12] Bassbin, The Fear, Ruff Revival, Lightless Recording, Keysound Recordings
[13] Mango Music
[14] Strictly speaking Decal didn't release on D1 Recordings. Until 2004, Decal was Alan O'Boyle and Dennis McNulty (after which it was just Alan). Alan had a number of releases on D1 as Decoy.
[15] Irene Buckley, Linda Buckley, Derek Carr (Index), Glen Davis, Roger Doyle, Lenoid (Paul Smith), Oberman Knocks (Nigel Truswell), Shawn Rudiman, Alan Smith, Splitradix (Stephen Hennelly/skkatter), Sunken Foal (Dunk Murphy), TR One (Dean Feeney, Eddie Reynolds), Who's the Technician (Morgan Buckley), Zvuku (Karl McGrath/Slug).
[16] Rob Rowland, Bombjack, Donnacha Costello, Visitor (Mark Broom), Active Service Unit (Eamonn Doyle and Scott Logan), Scott Logan (Footnote) Decoy (Alan O'Boyle/Decal), David Donohoe (Nost), K1 (Keith Tucker), Americhord (Maura O'Boyle/Mcut), Five Green Circle (Donal Tierney), Lerosa (Leopolda Rosa), Eamonn Doyle (H Williams, LDR-21), Ikeaboy (Damian Tubbritt), Annie Hall, Educution (Tóirse Ó Ríordáin/Booger), Naphta (Shane O'Shea), Baiyon (Tomohisa Kuramitsu), The Seventh Earth Project (Eamonn Doyle and Alan Lambert).
[17] For example, Apartment Records, First Cut, First Second, Glacial Industries, Goldbrick, Lunar Disko, LRDX, Open Ear, Patrúin, Pear, Subtle Audio…
[18] For example, in 2018, ddr. won MixCloud European Radio of the Year while last year's Open Ear was reviewed in The Quietus.
[19] Hugh was a well-known house DJ in the 1990s, with residencies in the Kitchen and the POD. He hosted Blue Radio on Spin FM for five years.