For Poetry Day Ireland, six poets were asked by Poetry Ireland to recommend a poem close to their heart...
Stephen Sexton: Talking to Anne-Marie after the American Election by Tara Bergin
'And I said: But we've all been calling you Anne-Marie for years. Everyone calls you Anne-Marie. I know, she said. But it's actually Anne. […] Jesus, Anne-Marie, I said, I can't see you as an Anne at all.'
Since the first time I heard Tara Bergin read Talking to Anne-Marie after the American Election I've been stunned by it. Of course it's about politics, but I think it's fundamentally about the ways in which the people we think we know can remain unknowable to us, or how much we take for granted, or how our conception of a person can persist despite all evidence to the contrary: how we won't let Anne-Marie be Anne because that would require us to look at ourselves and admit we got it wrong.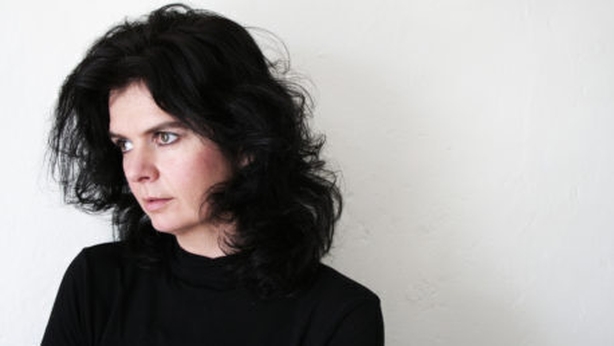 The poem takes place the morning after the US election, but I feel the poem's argument applies to the Brexit referendum too. So many people – myself included – got it so terribly wrong. So many people took for granted the opinions and political outlooks of their friends and families and neighbours without ever asking them. At least I think that's what the poem is about. There are other resonances in the poem, and hints at the violence that underscores a lot of the poems elsewhere in The Tragic Death of Eleanor Marx, but it thrills me for what it reminds me about myself and the ways in which people interact with each other in these less than comfortable times.
Stephen Sexton's poetry collection All the World and Love Were Young will be published by Penguin in August.
---
Anne Tannam: Will You? by Carrie Fountain
'The valentines
would've been better with glitter, and my son
hurt himself on an envelope, and then, much
later, when we were eating dinner, my daughter
realized she'd forgotten one of the three
Henrys in her class. How can there be three Henrys
in one class? I said, and she said, Because there are.'
I chose this poem because it explores beautifully, through relaying a simple domestic event, the reality and challenges of our modern society. It also poses the question how can we parent compassionately when we are so flawed as humans, and answers it with such humility and honesty, the reader is comforted by the poem's small gesture of kindness.
We need your consent to load this SoundCloud contentWe use SoundCloud to manage extra content that can set cookies on your device and collect data about your activity. Please review their details and accept them to load the content.Manage Preferences
Anne Tannam is a Dublin poet with two collections: Tides Shifting Across My Sitting Room Floor (Salmon Poetry, 2017), and Take This Life (WordOnTheStreet, 2011). A spoken word artist, Anne has performed at festivals and events in Ireland and abroad. She is co-founder of the weekly Dublin Writers' Forum, and regularly runs literary events across Dublin.
---
Teri Ellen Cross-Davis: A Short List of Grievances by Keith S. Wilson
'First, you are invisible,
which is another word for Jesus
she's gone. Second, the medulla oblongata makes you automatic,
so even when I am not thinking
of your hips, I am
thinking of your hips …' 
This question came at a time when I was in the middle of reading Fieldnotes on Ordinary Love by Keith S. Wilson. I finished it within 36 hours. It is his debut collection, and what wonderful work!
I would recommend A Short List of Grievances - in it, the speaker showcases a vulnerability and tenderness. Wilson does not slide into sentimentality, but instead creates lines that feel fresh and magnetic, pulling the reader's eye down the page. 
Teri Ellen Cross Davis is the author of Haint (Gival Press), winner of the 2017 Ohioana Book Award for Poetry. She is a Cave Canem fellow and a member of the Black Ladies Brunch Collective. She lives in Maryland with her husband, poet Hayes Davis, and their two children.
---
Stephen James Smith: Farming by Seamus O'Rourke 
We need your consent to load this Facebook contentWe use Facebook to manage extra content that can set cookies on your device and collect data about your activity. Please review their details and accept them to load the content.Manage Preferences
I recall discovering this poem one day while having my morning coffee and scrolling thought social media, I watched it about 20 times in a row. It left me smiling and crying. Seamus has a wonderful turn of phrase and is very understated in his performance, I've been lucky enough to see Seamus perform a few times and I'm always left incredibly moved. What he does sounds simple but requires such skill. Also as a Dub, I don't know too much about farming, but Seamus drew me in to appreciate something I'm ignorant on. He also cleverly using farming to speak so eloquently about the universal themes that arise in family dynamics. Just now I've listened to it three more times, and it still packs the same punch for me!
Stephen James Smith is a Dublin poet and playwright central to the rise of the vibrant spoken word scene in Ireland today. To date, his poetry videos have amassed over 1 million views online. 
---
Chris Murray: Geasa le Nuala Ní Dhomhnaill, translated by Medbh McGuckian
Geasa by Nuala Ní Dhomhnaill is from Pharaoh's Daughter (Gallery Press 1990, ed. Peter Fallon). With thanks to Gallery Press for permission to reproduce here.
Má chuirim aon lámh ar an dtearmann beannaithe,
má thógaim droichead thar an abhainn,
gach a mbíonn tógtha isló ages na ceardaithe
bíonn sé leagtha ar maidin romham.
 
Tagann  aníos an abhainn istoíche bád
is bean ina seasamh  inti.
Tá coinneal ar lasadh ina súil is ina lámha.
Tá dhá mhaide rámha  aici.
 
Tairrigíonn sí amach paca cartaí,
'An imréofá brieth?'  a deireann sí.
Imrímid is buann sí orm de shíor
is cuireann sí de cheist, de bhreith is de mhórualach orm
 
Gan an tarna béile a ithe in aon tigh,
ná an tarna oíche a chaitheamh faoi aon díon,
gan dhá shraic chodlata a dhéanamh ar aon leaba
go bhfaighead í.  Nuair a fhiafraím di cá mbíonn sí,
 
'Dá mba siar é soir, 'a deireann sí, 'dá mba soir é sior.'
Imíonn sí léi agus splancacha tintrí léi
is fágtar ansan mé ar an bport.
Tá an dá choinneal fós ar lasadh le mo thaobh.
 
D'fhág sí na maidi rámha agam.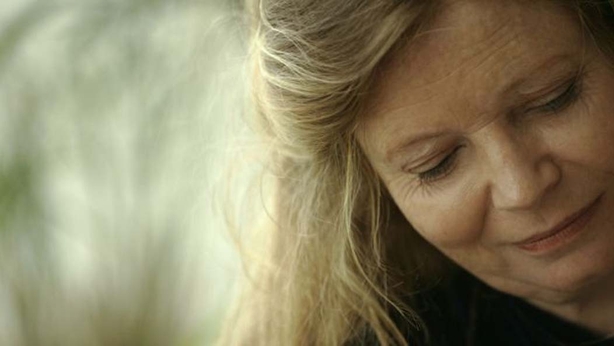 The Bond
If I use my forbidden hand
To raise a bridge across the river,
All the work of the builders
Has been blown up by sunrise.
 
A boat comes up the river by night
With a woman standing in it,
Twin candles lit in her eyes
And  two oars in her hands.
 
She unsheathes a pack of cards,
'Will you play forfeits?' She says.
We play and she beats me hands down,
And she puts three banns upon me:
 
Not to have two meals in one house,
Not to pass two nights under one roof,
Not to sleep twice with the same man
Until I find her. When I ask her address,
 
'If it were north I'd tell you south,
If it were east, west.' She hooks
Off in a flash of lightning, leaving me
Stranded on the bank,
 
My eyes full of candles,
And the two dead oars.
Chris Murray's bind was published earlier this year by Turas Press. She curates Poethead, an online platform for women's poetry. Her response to this poem called Answer is being anthologised in a forthcoming publication (ed, Lucy Collins)
---
Boundless & Bare: Natalya O'Flaherty's More Than Words
We recently attended Natalya O'Flaherty's More Than Words headline show in the Sugar Club. What made this event stand out for us was that she was supported by Tebi Rex and DJ Marcus Woods - it was a gig where the musicians warmed up the stage for a poet, instead of vice versa. A fantastic performance by Natalya and a bright future for spoken word in Ireland.   
Boundless & Bare is a representation agency for spoken word events and performers in the Irish spoken word community. Run by Melissa Ridge and Melanie O'Donovan, they produce monthly Spoken Word Gig Guides and co-host a spoken word podcast.