Musician Anoushka Shankar was taught by her father, the celebrated Ravi Shankar, a pivotal figure in the popularisation of the sitar. She continues to open up new possibilities for this instrument, and has collaborated with musicians as diverse as MIA and Herbie Hancock.
This weekend, she's coming to the National Concert Hall to perform a live score to accompany the film Shiraz: A Romance of India. A tale of love and undying devotion, Shiraz tells the story behind the construction of the Taj Mahal - more details here.
We asked Anoushka for her choice cultural picks...
FILM
Beautiful Boy. I'm generally useless at picking my favourite anything. The most exquisite film I've seen recently, however, is Beautiful Boy. I wept throughout, but want to point out how sensitively the film was made. It wasn't the kind of standard tear-jerker, by which I for one just end up feeling manipulated. As someone who's been close to many people in addiction and also in recovery, I was deeply moved by how the illness of addiction was portrayed from both the perspective of an addict and someone who loves him. Incredible.
MUSIC
Passages by Ravi Shankar and Philip Glass. When I was around nine years old, my father Ravi Shankar entered the studio (for what must have been the millionth time) to create a collaborative album with his dear friend Philip Glass. I have vivid memories of watching the full orchestra and choir recording gorgeous melodies over a period of several days. I would sit in the control room soaking up the music and learning about all the varied instruments. As an adult, the album is one of my favourites as one of the most successful collaborative projects I've ever heard, cross-cultural or not.
BOOK
A New Earth by Eckhard Tollé. Again, I'm terrible at picking favourites. I'm a voracious reader and have read so many incredible works of fiction, One of my recent favourites has been Everyone Brave is Forgiven by Chris Cleaves. However, I'm highlighting A New Earth specifically because I struggle to read non-fiction books and I'm currently loving this. His way of describing spirituality and presence resonates with me, and at the moment it's really helping me to stay grounded and connected.
PLAY
Yerma at the Young VicThe Young Vic is my favourite theatre. I love what they do: how accessible they make theatre, how exuberant and youthful and political and passionate everything they put on is. Not too long ago I saw Billie Piper and Brendan Cowell in Yerma, and they were absolutely beautiful and devastating together.
TV
Sharp Objects. Not one I can watch alone! But it's just so well done and Amy Adams is, of course, incredible. I'm not a fan of how all shows tend to leave you with cliffhangers after you've given them hours of your life, but this one was particularly good!
GIG
Last one attended: a blues bar in Atlanta called Little Willies. :) I recently had a night off on this current tour I'm on, and a few band members and I went to a recommended blues bar called Little Willies. I couldn't understand at first whether they were saying Little Willy's or Little Willies, but there you go. The house band was very good and an incredible elderly African-American woman came out late at night to sing. She was a proper old-fashioned entertainer and could certainly belt it out.
ART
Until a few years ago I used to feel rather intimidated by visual art. Somehow, although I grew up immersed in music, dance and theatre, I was never as familiar with visual art. The exhibition Making Colour at London's National Gallery was one of several that helped me to find my way into enjoying paintings. It was so accessible and fascinating to see colour used as a medium to tell stories of paintings, artists, and eventually world history as a whole. I loved it.
RADIO
BBC Radio 6 Music - I'm not often one to turn on the radio. I'm more likely to create playlists of music for myself. However I enjoy Mary Anne Hobbs and have discovered lots of amazing new artists through her.
v. excited to welcome @kellymoran to play a Near Future session live from Madia Vale at 12 noon today..

+ the @BBC6Music Listeners Basslines Mix
Franki Valli >>> Bad Brains and all points in between..

10.30am - 1pm pic.twitter.com/DHbpvvwunU

— maryanne hobbs (@maryannehobbs) April 2, 2019
TECH
As a musician, I"ve come to rely on certain apps on my phone. One is rather specifically for people interested in Indian music, and it's called iTablaPro. It's incredible. It contains a very acoustic-sounding tanpura (the drone instrument that's often played in the background of any Indian music) which you can modify to any key and note combination, along with a brilliant electronic tabla in any rhythmic cycle and tempo. It's incredible to practice with. My entire touring party also relies on MasterTour, which is an app-based tour book from which we get all our touring information.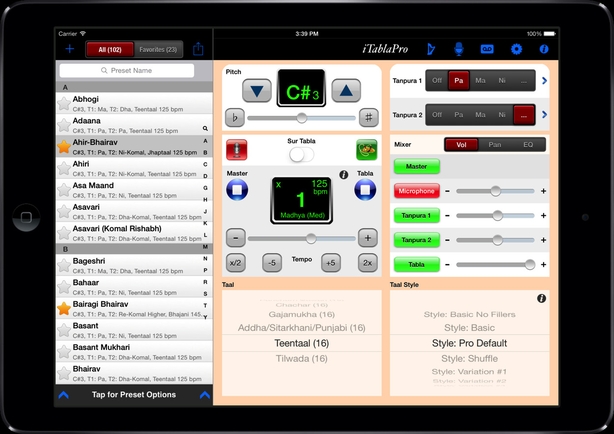 THE NEXT BIG THING...
Teleportation, please. I'd love to be able to see my kids and tuck them into bed whilst on the road.
Shiraz: A Romance of India with a live score from Anoushka Shankar is at the National Concert Hall, Dublin, on Saturday 6th April - more details here.