Following the success of the inaugural Cork Sound Fair in March 2018, the non-profit weekender returns March 29th – 31st with a series of live performances, exhibitions, residencies, and workshops, showcasing a host of emerging and established artists working in experimental music, sound art, electronic music, field recordings and video art.
Conor Ruane, Director of Cork Sound Fair gives us a run through of the weekend…
Cork Sound Fair is an attempt by me to programme a stacked weekend of music and art in interesting venues across Cork City. The Fair is an opportunity for artists to flog their material to punters and share ideas with each other; our 2019 programme features music mostly emerging from the experimental music Irish music.
My definition of experimental music is, in the broadest sense, music that is pushing boundaries - I come from a background in electronic music, which has shaped the whole concept of the festival. Perhaps I'm biased, but I find the most forward-thinking and exciting sounds are coming from the Irish electronic music scene right now. My main goal with this project is to give artists an opportunity to showcase their work - this is a completely independent event, and all monies raised go into the production of the weekend and the artists who take part.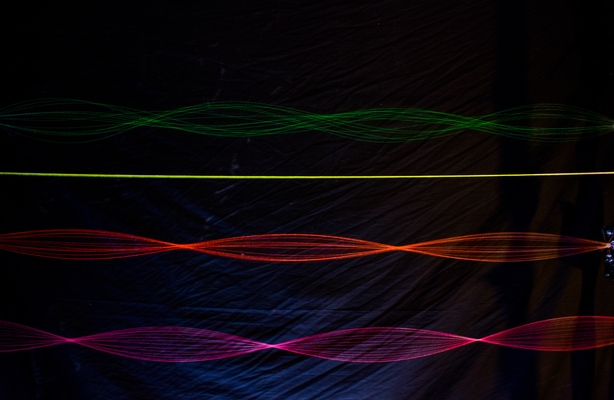 The opening show of the festival will take place in the crypt of the former Church at St Luke's on Thursday 28th of March. Audio-Visual artist Darren Kirwan will present diaphone.diaphane, a performance piece consisting of oscillating fluorescent wires, customised stroboscopes, and communication signals as audio generators. Using sound, light and motion as a performance tool, the distinction between these phenomena fades away, the result of which is a symbiotic journey through interconnectedness.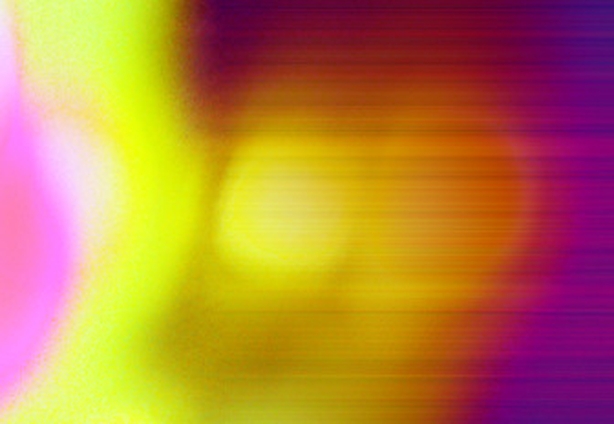 Friday night is the first night of the main Cork Sound Fair progamme, this night takes on a cinematic dystopian atmosphere as we take over The Kino, a former cinema, for 6 hours of sound and visual art. Cork Sound Fair A/V artist Underling will bring his work, which draws on minimalist, baroque, and experimental electronic music, to The Kino along with sound artist Last Eden - an experimental project by Aileen Wallace. Wallace is a multi-instrumentalist, producer, and sound artist. Last Eden unites her passion for ambient music, improvisation, and sound art. Closing out the night are two of Ireland most dynamic electronic music artists, Lighght and Naïve Ted.
On the Saturday morning, CSF attendees will be treated to a relaxing and uplifting morning concert in St Peter's, a former church, by the UCC Javanese Gamelan Orchestra. The 12th century building will be filled with the sound of the Gamelan, a spectacular set of tuned bronze percussion instruments played by an ensemble of up to 20 musicians, with music from the island of Java in Indonesia.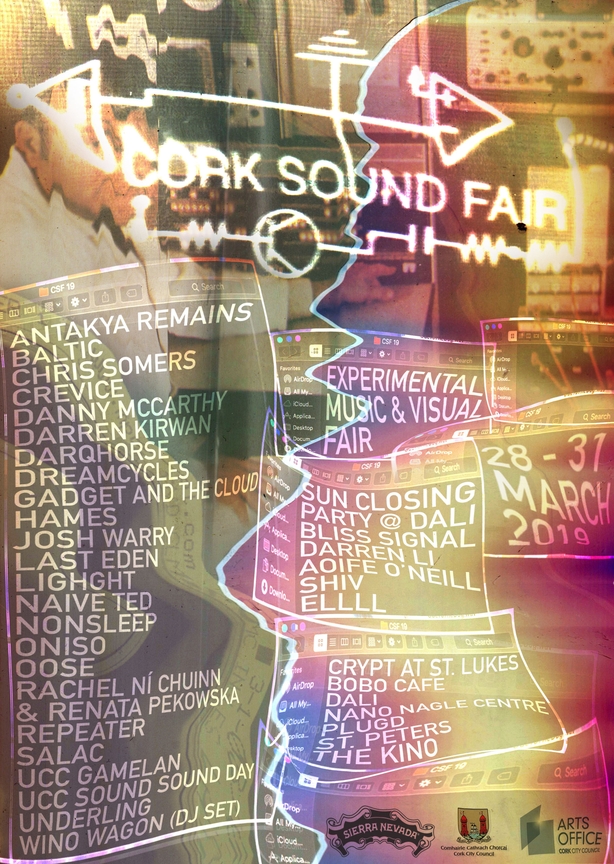 This year CSF has teamed UCC Sound Sound Day to present a Saturday packed with talks, performances, and participatory workshops, delivered by leading Irish composers, sound artists and sound specialists. Following this, focus will switch to the home of stranger sounds in Cork, Plugd (upstairs in the Roundy) - ooSe, the three-piece instrumental band from West Cork, will kick things off, followed by Dreamcycles who blew us away with her performance last year in the City Gaol. Cork-based artists Crevice and Chris Somers will bring us into the night with more experimental sounds. The day will be wrapped up by a DJ set from Wino Wago (Morgan Buckley and Dark Delight) to celebrate the release of Davy Kehoe's new record, The Pilot.
The final day of CSF will take place in a secret Cork city centre location, yet to be revealed, with attendees only being given the exact location on the day of the event. Attendees can expect established and emerging experimental artists such as Rachel Ní Chuinn, Renata Pekowsk, Josh Warry and Antakya Remains, who will bring dark-textured electronic sounds. Then we go to Dali nightclub, where the festival's headline act Bliss Signal closes the weekend. Berlin-based Corkman James Kelly (Wife, Altar of Plagues) and Nino, aka Shapednoise, showcase music from Bliss Signal's eponymous debut album, True Panther Sounds/Profound Lore, which is the stunning result of an unlikely partnership soldering an even more unlikely mélange of sounds, body-focused electronic music paired with extreme metal's core elements, resulting in a visceral, often hypnotic, hybrid. The night will be closed out by a host of the best Cork DJ's: Darren Li, Aoife O'Neill, SHIV and ELLLL.
If you aren't familiar with some of the names on the programme, I urge you to be adventurous and come check it out.
Cork Sound Fair runs from March 29th – 31st - find out more here.