To celebrate the 60th anniversary of The Niland Collection, The Model, Sligo presents The Keeper: To have and to hold, a major exhibition that considers art collections as living repositories of thoughts and ideas. A central element of the exhibition is the idiosyncratic private collection of curator and collector Jobst Graeve, an 'exhibition within an exhibition'. Jobst writes for Culture about his remarkable collection.
If The Model was designed to be a Keeper. I became an accidental Keeper. It was an accident waiting to happen, which began in the early 70's.
By that time I had visited with my family innumerable museums, churches and historic monuments across Europe. My father had just died and I received a semi-orphan pension for my education which made me modestly financially independent for more than a decade.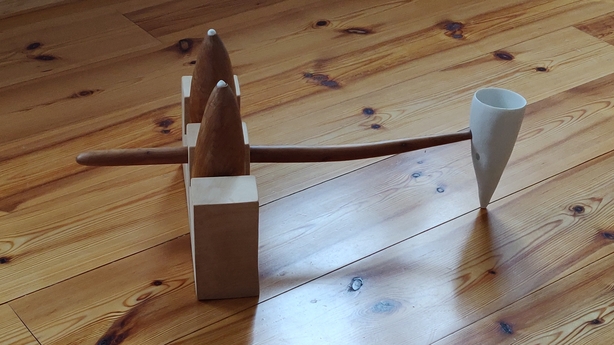 I was free in a world which, by historical coincidence was a centre of 20th-century avant-garde art. I didn't know it at the time. I totally took the amount of energy and creativity around me for granted. Within a 15-mile radius from where I lived were Hilla and Bernd Becher, starting a new approach to photography, Joseph Beuys creating a completely new understanding of art, the Zero art group were exploring minimalism, Pina Bausch was starting her Tanztheater, Karlheinz Stockhausen was composing his serial and electronic music and Kraftwerk released their debut studio album. My first live concert in the local community hall was also one of Kraftwerk's first concerts. It was what I expected and I was immersed.
Listen: Brian Leyden reviews the group exhibition The Keeper: To have and to hold at the Model Sligo, for RTÉ Arena
By the mid-1990's, I realized I had become an accidental keeper. I had accumulated more art in the broadest sense than I would ever have the space to show. It had become a multifaceted inclusive approach with, for me, different but equally valuable strands of multiples, painting, sculpture, and studio glass.
The realization that one has become a collector has a profound effect on the approach to art. Firstly, it sets each work into context with the others. It has an effect similar to writing about art, music or dance and changes your experience of a particular work. Secondly, for a private visual art collector, the art market regularly raises its obstructive head and sooner or later questions arise on how to deal with it. I had no interest in art as an investment and no interest of what other collectors or possible peers or institution were collecting. It would have been far too limiting. I have never sold a single piece and as time progresses this forms part of the value of the collection. It has become a personal history.
My family history began in Hagen, a city at the heart of 18/19th German industrialization. By the early 20th century Karl Ernst Osthaus together with Henry van de Velde were the driving force in the city of what became the Folkwang Museum Collection and the Folkwang University. Between 1908 and 1920 leading up to the establishment of Bauhaus, Karl Ernst Osthaus was in intensive discussions with its future founder and first director Walter Gropius. Shortly after the Second World War, my father was invited onto the Board of the Karl Ernst Osthaus Society.
Both the Folkwang and Bauhaus were not exclusive to any art form, but inclusive and a way of life.They have common roots in the Arts and Crafts movement which was so important to the Yeats family at the time.
In 2019, The Model celebrates the 60th anniversary of the Niland Collection with an exhibition that considers collections as living repositories of thoughts and ideas at the same time as the Bauhaus is celebrating its centenary.
People are invited to follow the Graeve Collection as it unfolds on Instagram throughout the year
The Keeper: To have and to hold runs at The Model, Sligo until 14 April. Admission is free - more details here.