For St. Patrick's Day, we've done you a handy list of some of the many Irish contenders making strides in the cultural realm right now, from music and literature to film and beyond. Celebrate their art - and go support their work!
Jafaris
The Irish hip-hop contender deftly incorporates elements of R&B, smooth neo-soul and even EDM to his downright funky debut album Stride. He's a major talent in the making.
Jessie Buckley
The Killarney-born actress has been steadily building a formidable CV, with roles in everything from Tom Hardy's TV series Taboo to Sondheim's A Little Night Music in London's West End. She's set to hit the big time with a proper movie star performance in forthcoming musical drama Wild Rose.
D.A.D.D.Y.
Writer-directors Mike Ahern and Enda Loughman have been making brilliant music videos and commercials for years - now they've made their eagerly-anticipated leap to features with Extra Ordinary, starring Maeve Higgins and Will Forte, which just debuted to rave reviews at this year's SXSW festival.
Fontaines D.C.
The rock band have been making quite a racket for a while; their live shows are already the stuff of legend, and forthcoming debut album, Dogrel, due in April, is probably the most eagerly anticipated Irish record of the year. Whatever it is, they've got it in spades.
Emma Dabiri
The writer, TV presenter, model and cultural commentator (also a teaching fellow in the Africa department at SOAS, Visual Sociology PhD researcher at Goldsmiths, and proud Dubliner) was snapped up by Penguin to publish her first book, Don't Touch My Hair, a non-fiction tome that promises to be "an inspiring personal and critical account of the history of Afro hair".
Dreamgun Film Reads
This comedic troupe take the scripts to classic movies and melt them into twisted radio plays, recorded in front of live audiences, with hilarious results. They've been selling out shows wherever they perform, and even convinced Game Of Thrones star Jack Gleeson to reprise his role (as a little boy) in their version of Batman Begins.
Conor Connolly
This accordion player won the Young Traditional Musician of the Year at this year's Gradam Ceoil on TG4 with an amazing solo performance on the night. He's a prime example of the incredible new wave of emerging players breathing new life into the thriving Irish folk scene.
Lux Alma
Composer, musician and sound designer Alma Kelliher has been making a splash here, there and everywhere: as an award-winning creator of theatrical soundscapes, a member of folk trio The Evertides and a cast member of the hit THISISPOPBABY show RIOT! Now she's reimagined herself as electro-pop artiste Lux Alma - her talent shines on.
Natalya O'Flaherty
Commissioned to write a piece for RTÉ's A Woman's World programme marking the centenary of the female vote in Ireland, this sensational spoken word artist performed her work Not Like The Other Girls on The Late Late Show - and immediately became an online sensation. With her smart, sharp and hard-hitting riffs on any number of Big Topics, from daddy issues to drug abuse, she might just be the voice of a generation. No pressure, mind...
Soft Boy Records
This renegade indie music label struck gold with Choice Music Prize nominee Kevin 'Kojaque' Smith - co-founder of Soft Boy Records with Kean Kavanagh, also a formidable musical contender in his own right. They've got an intriguing slate of artists up their sleeve, from Dublin-based rapper Luka Palm to jazzy three-piece Five To Two, pride themselves on their family vibe, and have excellent merchandise...
Niamh Algar
It's a great time for emerging Irish actors - Mullingar's own Niamh Algar steals scenes in one of the year's most acclaimed new dramas, Channel 4's Pure, features alongside Richard Gere in the BBC's MotherFatherSon, and will next be seen in The Virtues, writer/director Shane Meadows' first major telly project since his This Is England trilogy, and Ridley Scott's new sci-fi show Raised By Wolves.
3 of Ireland's leading young actors visit @IrishFilmLondon at @regentstcinema to launch St. Patrick's Day Film Festival 2019. The rising success of @SeanaKerslake @NiamhAlgar & @ChrisWalley95 prove the future of Irish film is in good hands! #LoveIrishFilmhttps://t.co/I7DsdaZKwO pic.twitter.com/O9vvBXjd9J

— London St. Patrick's Day (@StPatsDayLDN) March 11, 2019
Aran Murphy
The most impressive performance we've seen on the Irish stage in recent months came from a young actor not yet in his teens; Aran Murphy's one-boy tour-de-force as Shakespeare's son in Dead Centre's Hamnet. His dad Cillian has been burning up the stage and screen for years, but Aran's a formidable prospect in his own right.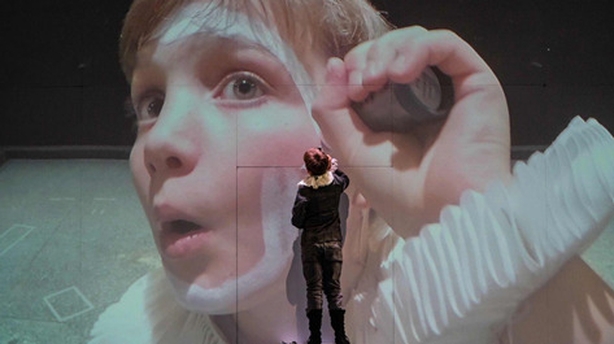 Ian Malaney
Publishing house Tramp Press scored a major hit with Emilie Pine's essay collection Notes To Self; now they've found another formidable essayist in Ian Maleney, whose forthcoming meditation on family and loss unfolding from the landscape of the Irish midlands, has already drawn comparisons to the works of John Berger and Tim Robinson. In his own right, he's a major new Irish voice.