First Fortnight preview: Clowns Without Borders Ireland is a collective of street performers, who for more than a decade have been bringing emotional relief to displaced children internationally and across Ireland.
Ahead of their showcase at this year's First Fortnight Mental Health Arts festival, Samuel Meyler of CWB writes for Culture about their recent excursions, and the healing power of laughter.
Clowns without Borders brings much-needed light relief to areas of crisis – refugee camps and conflict zones across the world. Here in Ireland we get out our clown suits and boxes of tricks for children living in direct provision centers around the country. Its a real privilege to be a part of this collective – a small group of Irish performers who offer their skills, humor and time on a voluntary basis to perform professional shows, teach skills and bring laughter to children and their communities in crisis.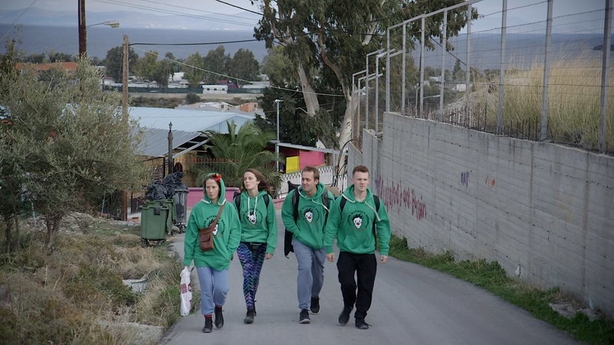 Our aim is to use laughter to alleviate the suffering of these children and their families. And here in Ireland, in our work with children in direct provision centres, the hope is that we can aid integration and promote a spirit of solidarity within Irish society.
Last month, with the support of Culture Ireland and with donations from the Irish public (and in collaboration with First Fortnight), we went to Greece where four Irish performers – Kim Mc Cafferty, Rosie O'Regan, James Bray and Samuel Meyler – performed 20 shows for more than 1,800 children in different refugee camps around the island of Lesbos and Athens.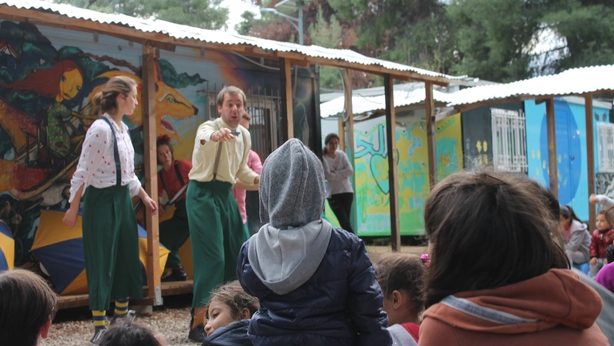 More than one million people have landed on Lesbos since 2015 – that's almost the population of Dublin. Many of these refugees pass through the infamous Moria Refugee Camp, which is considered by many NGO's as Europe's worst refugee facility.
Although the camp was built to hold roughly 2,000 people, it currently houses 9,000 refugees. In many places raw sewage runs openly through the camp. It is estimated that there is one toilet per 80-100 refugees. And in Moria, aid agencies have reported on a disturbing problem that has rarely been seen before – children attempting suicide.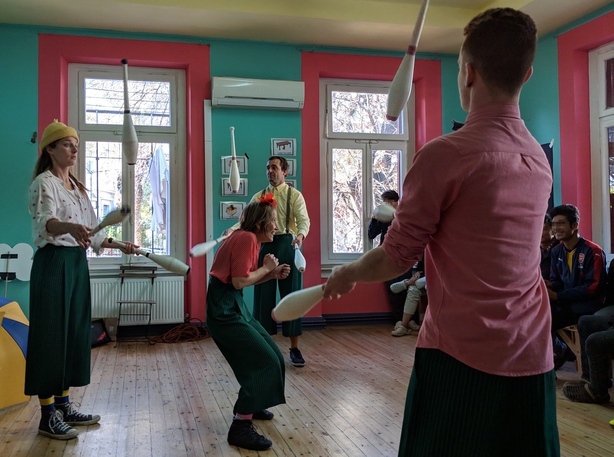 We performed in Safe Zone A and B of the Moria Camp, a protected part of the sprawling refugee camp with extra security measures to protect the unaccompanied minors who are staying there. It was such a strange feeling to perform behind so much barbed wire and fences, especially to children who have already experienced such trauma and now find themselves inside what ultimately is a prison-like environment. Nonetheless, the sweet affection of the teenagers (mostly unaccompanied minors from Syria and Afghanistan) and the gentle hugs of the children after each show convince us that our work is important.
Here in Ireland, throughout December, we are bringing our Clown-Dalkin project to the Clondalkin Towers direct provision centre. These workshops aim to provide a fun, safe space for the children to express themselves and to improve their self-esteem and their relationship with each other through games, theatre and learning of circus skills.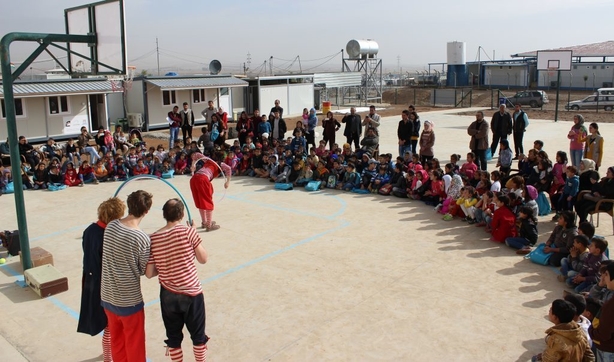 The project will conclude with a public workshop and performance with children from Clondalkin Towers, as well as the play 'Turas', a show by Clowns without Borders members about refugee migration, inspired by their experiences of visiting and performing inside refugee camps.
Many of the children living in direct provision centres have undergone unimaginable journeys and trauma to get to Ireland, travelling thousands of kilometres over the harshest of conditions. The effect that this has had on their mental health is difficult for us to understand. Perhaps in this light, the high rates of attempted suicide in the Moria Refugee Camp are less surprising, although still very shocking.
Back here at home, our hope is that the laughter, the play and the sharing that occurs in our circus and clown workshops will contribute positively to a child's mental health and bring them positivity and empowerment, even with all that they have been through.
Clowns Without Borders Ireland will perform a showcase at Smock Alley Theatre, Dublin on Sunday 13 January at 2pm, as part of this year's First Fortnight programme - the event will be followed by a post-show panel, as CWB discuss their experiences both at home and abroad - register for free tickets here.