Illustrator, graphic designer and comedian Aoife Dooley is best known for her character Your One Nikita (formally known as Dublin Hun). She published her first book How to Be Massive in October 2016, and her second, How to Deal with Poxes on a Daily Basis, in 2017.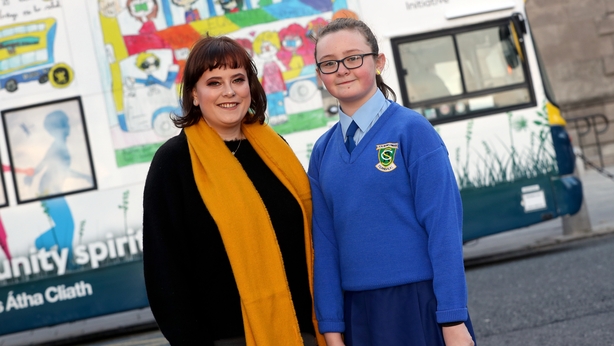 The animated TV series of Your One Nikita is now available on the new RTÉ Player - watch it here - and she also helped choose the winners of this year's Dublin Bus Children's Art Competition - find out more here.
We asked Aoife for her choice cultural picks...
---
Film
A Stupid and Futile Gesture is a great biopic based on Doug Kenney's life (Co-founder of National Lampoon Magazine, among other things). I was going through a rough patch last year and it got me weirdly motivated again and wanting to work on something big. Jim and Andy is an unreal documentary too, it's basically a behind the scenes look of the making of Man on the Moon and how Jim Carey went so deep into the role he played. Definitely worth a look, if you haven't seen it yet.
Music
Oh god! I listen to everything and anything, but I've been listening to The Go! Team quite recently, they're really good. They're a 6-piece band from Brighton and I'll be honest, I really don't know where to begin to describe them, but they're amazing so you'll have see for yourself. I listen to their songs Ladyflash and Huddle Formation on repeat when I'm working to deadlines and they get me through!
Book
I picked up Odd Girl Out by Laura James recently after I was diagnosed as Autistic and I'm really enjoying it. Laura is an author, journalist and the owner of a communications agency. She found out she's Autistic at the age of 45! The book is great for anyone post-diagnosis, for a little more understanding from someone else's perspective.
TV
I finished binge-watching season 2 of The Sinner! It was brilliant. I thought it was even better than the first season. My favourite comedy series though, hands down, is It's Always Sunny In Philadelphia. It's out there, weird, and I like that (laughs).
Art
I came across Saint Hoax's work on Instagram and as he describes himself on his site 'Saint Hoax is a pseudonymous artist whose self-coined "POPlitical art" repurposes political and popular ethos. Hoax's anonymity allows for uninhibited creative expression, and further emphasizes the art rather than the artist behind it'. I particularly love his oil on canvas paintings, they're so lifelike.
Podcast
Comedian and actor Tom O'Mahony runs a podcast called Buckshot - it's great! I've only started listening to it and he does a lot of interviews with other comedians so it's a bit of a laugh. Also: Those Conspiracy Guys!
Tech
Star Walk 2 is the best app I have on my phone. You just point your phone towards the stars/planets and it tells you what it is! Technology! Wetransfer for your phone is great (boring for anyone else who doesn't sent big files), but I just discovered the 'We Collect app and it's great for when you're on the go, if you need to check something and aren't at your laptop.
The Next Big Thing...
Could not tell you! I'm so not on trend. People ask me where I got my jumper for example and then I have to say 'I got that 5 years ago in Topshop', but if anything was to become the next big thing I'd hope it's something I can afford and that it's not avocado related.
Over 2,000 children from 25 primary schools entered this year's Dublin Bus Children's Art Competition - the paintings are included in the Dublin Bus Children's Art Calendar, which is distributed among the participating schools, Dublin Bus employees and is available to the public from the Dublin Bus Head Office at 59 Upper O'Connell Street, Dublin 1.