With its implementation still in hot turmoil, a long-planned, two-venue art exhibition in response to Brexit will open this week on both sides of the Irish border, with performances by an artist known for his use of blood, mud, water, milk and flour.
Nigel Rolfe will perform Breathefreedom at 7.45pm on Friday 23 November at Highlanes Gallery in Drogheda, and again at 3pm on Saturday 24 November at FE McWilliam Gallery & Studio in Banbridge, to mark the opening of Crossing Lines.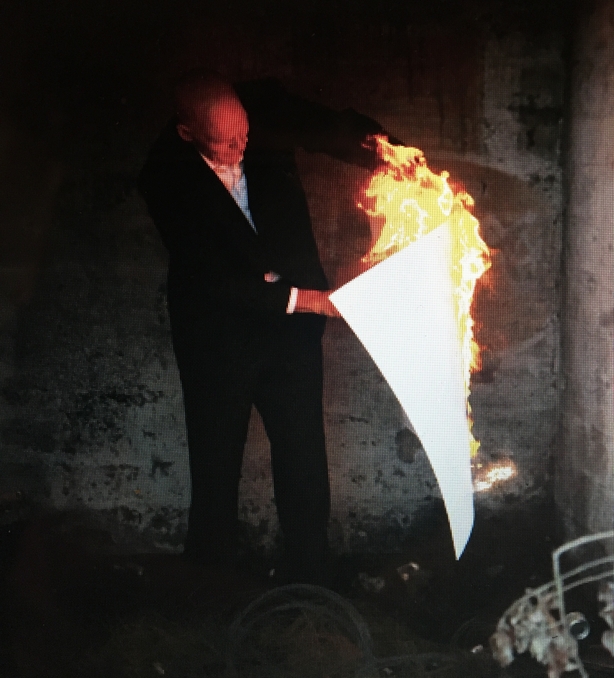 UK-born Rolfe is a veteran and pioneer of the performance art scene in Ireland, having lived in Dublin since 1974. He makes works on paper, photographs, sound and video art as well as live performances, essentially using his body as a tool, and often his head, face or breath as a mark-making alternative to a paintbrush.
His tall, angular physicality is key to the impact of his work. Rolfe's performances involve very deliberate movements and gestures, and materials, objects or locations with particular context or resonance. Works on paper featuring dusty pigment are often left behind.
For a taste of what to expect this weekend, watch Dismal part IV, in which he pushes a full-to-the-brim bucket of water across a gallery floor using his head:
Although he generally performs without speaking, Rolfe is extremely articulate about his work. Watch as he talks about once stopping traffic while performing The Rope, in which wraps his head in a ball of creosote-soaked sisal twine found in a derelict cottage in the West of Ireland.
He has featured on some unforgettable album covers too, in particular Northern Irish rock band Therapy?s seminal 1994 release Troublegum, and more recently 2012's A Brief Crack of Light and 2015's Disquiet.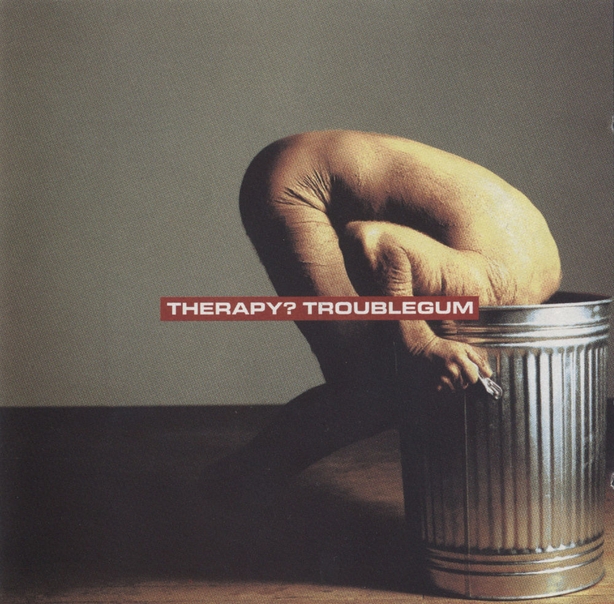 With art drawn from the UK Arts Council Collection, National Museums Northern Ireland and artist's studios, Crossing Lines will feature work by almost fifty artists, including John Behan, Rita Duffy, Siobhan Hapaska, John Kindness, Alice Maher, Colin Middleton, Declan McGonagle, F.E. McWilliam, Brian O'Doherty, Susan Philipsz, Bridget Riley, Nigel Rolfe and Dermot Seymour, many of whom have been making social and political work for decades.
Rolfe talked to me about making art in response to what he termed "the rebirth of fascism and super-militarism" in the Green on Red Gallery back in 1999.
#NigelRolfe talks to me about making art in response to the rebirth of fascism, back in 1999. Apologies for not entirely clean audio. "Good art takes you away and it absolutely locates you." #soundart with Greg Boland on guitar, John Donnelly on keyboard https://t.co/VE0tvkWZ0F pic.twitter.com/nqSVaav7Kn

— Cristín Leach (@cristinleach) November 14, 2018
This show as a response to Brexit has been curated from the perspective of two galleries built due to a capital build partnership to provide cultural and tourism resources for the border region. Crossing Lines will feature art about dissent, dissonance, difference, the current political and social environment, and public protest.
Highlanes Gallery and FE McWilliam Gallery & Studio were established in the wake of the Good Friday Agreement - the Banbridge venue is dedicated to the memory of artist FE McWilliam. The Drogheda gallery is a restored Franciscan Friary, which now also houses the Drogheda Municipal Art Collection.
Crossing Lines runs at The Highlanes Gallery in Drogheda and F.E. McWilliam Gallery and Studio in Banbridge from 23 November 2018 - 26 January 2019 - more details here and here.