We're delighted to present an extract from The Ireland's Own 2018 Anthology of Winning Irish Short Stories, edited by Phil Murphy.
Ireland's Own magazine has been published for nearly 120 years, and has run highly successful competitions for new writing for more than three decades now, providing an essential showcase for new writing talent. The latest edition of their popular Anthology of Winning Irish Short Stories is the 9th anthology of short stories, with eighteen Irish counties represented in this eclectic collection. Below, we present the Overall Short Story Winner - Someday Soon by Philip Cunningham, from Pennyburn, in Derry City.
Paudraig is now middle aged and the last of his family  left living on Arranmore Island. He is growing weary of the  lonely life and his thoughts often stray to Julia, his childhood  friend whom he had grown very fond of when they sat  beside each other at school.
---
PAUDRAIG Ó'CAITHÁN LIVED alone in his small, thatched, whitewashed cottage on the Arranmore Island that faced east across the stretch of moody sea towards Burtonport and the Rosses. Now, at the age of forty-six, he was growing weary of the lonely island life, having lived with his mother ever since his younger brother, Seán, and his father, Thomas, had perished in their curragh whenever a storm had visited the Island some years before. His mother, Mary Ann, was also now gone to join them, the long years of grieving and harsh life on the Island having taken its toll.
He hadn't been across to Burtonport in quite a few years and remembered those happy days in his youth whenever his father had taken him and his brother, Seán, to the fairs there every June. On one of those trips, each was given a whole sixpence to buy sweets and lemonade and to throw wooden rings at the hoopla stall in attempts to win one of the glittering bangles or other trinkets to take home to their mother. 1
Once he did manage to land one of the rings over a little delph cow and remembered the sparkle in his mother's eyes whenever he proudly presented it to her when they arrived back home that evening. The little cow still took pride of place on the high, turf-smoke blackened mantelshelf above the open fireplace many long years later.
Now in his mid-forties, Paudraig could see no ease in the poverty and want that pervaded many of the small thatched homes around him.
Back over those long hungry years, his thoughts were now roaming. He recalled rising with his brother, Seán, and his father, Thomas, before dawn to carry the seaweed at low tide from the shore to the small patch of fertile ground with the grey, lichen-covered, dry-stone wall built around it. That patch yielded the potatoes and vegetables that sustained them year upon year during the long harsh winters.
He remembered, too, the-oh-so short, warm summers when he would steal away on his own to lie on his back on the sweetscented heather in the sun and close his eyes and see his childhood friend, Julia, walking beside him again to school. Or dream about the two of them sailing away in his own boat across the ocean to explore all those exotic countries that he had read about in the school atlas. He would then drift gently back to reality with the sound of his mother's soft voice calling on him to return to help his father working in the cow byre.
Paudraig's father also kept poultry and some pigs, their one and only milking cow fending for itself along with their few sheep that grazed on the hillside. They had also willingly shared some of their provisions with their less well-off neighbours. That was the way with people on the island. He remembered, too, climbing down the precarious cliff faces along with the other, more daring young men to rob the eggs from the screaming gulls' nests; and on other days rowing out over the gentle, summer-green sea to lay their baited lines to catch the silvery oil-filled mackerels, and hoping as well to catch the big cod or conger eel that lived in the depths among the wrecks of sunken ships.
He often thought, too, about the times whenever several of his companions had forfeited their lives in the heart of a sudden storm when the raging sea had swamped their little currachs as they attempted to make for the safety of the shore. The hardships and tragedies and drudgery seemed to be never ending.
Now, in his more mature years, he was alone and grew tired of this kind of life and longed to cross the stretch of deep, uneven water in his currach to escape from the lonely future he would spend living on the island. But the past would ever be with him, hanging like an invisible mantle around his broad shoulders to remind him of his status among the peasantry and gentry of the land.
Paudraig now spent too many lonely days sitting outside his cottage door, watching and gazing across the stretch of restless sea at the multi-coloured green hills and purple-blue mountains of County Donegal. He thought many times of Julia, his childhood friend, whom he had grown very fond of whenever they sat beside each other at school and as they grew older had remained close friends.
Lovely Julia, who kissed him on the lips that morning whenever she said goodbye to him before stepping onto the currach that carried her and her older brother Liam to the Burtonport Pier, from where they would begin their journey to Derry's Quay to board the boat to Scotland. 
That's where I should be, his thoughts were saying, I should be happy now along with Julia wherever she is. Whilst in his heart so many strands of silver threads that bound each generation to Aranmore held him fast. It was now early in the spring of the year and Paudraig struggled for a long time between his rebellious mind and his heart's heritage to break the bonds, until at last the longing to leave his home became strong enough. Leave here and search  for Julia, that's what you should have done a long time ago, his inner self commanded him. Paudraig's mind was now made up. Within a month he would settle his affairs on the island and would share out his animals and poultry among his poorer neighbours.
The cottage he would sell to Charlie Brady and his four sons; they bought up any small pieces of land or property that became vacant. They were the richer inhabitants on the island, being moneylenders as well as being hard workers on their land. Charlie Brady owned the only shop and public house on the west of the island and it was whispered among the islanders that he was among the elite breed of Donegal's gombeen men. Paudraig's conscience still nagged at him. He could hear his father's voice calling from amongst the ghosts of the past; 'You are bound to the Island like we were, we all are as the heather and the rocks and the winds a part of it. Má thréigean tú linn … if you desert us our fields will die.'
He felt troubled on hearing his father's scolding and whispered back in answer, 'Is this how they all felt, all those generations of young men and women who had left the Island before me? Did they feel the same doubts and hear the same haunting voices of their dead peoples pleading with them to stay?'
Other voices were encouraging and pushing him on, saying, 'To stay for what? Stay and wither away and become a few mere handfuls of earth to be strewn about the hillside with the winter storms? Remember your father and mother and your brother, with only a stone to mark their last place of rest. Where does the dust from theirs and our ancestors' bones lie now? Scattered over the island and drifting in the depths of the  living sea.'
His breathing became heavier as he again repeated in a whisper, 'This must have been how those long past young island men and women before me had all felt before their leaving the island. I am no different and I will follow them.'
He then spoke aloud to the silent house, 'I will pretend to myself that I'm crossing to Burtonport to buy some meal for the pigs and hens. Isn't that what many island men do to escape from their boredom? Even for a little while? They dream; they pretend. I will do the same. I will go even further than they, and whenever I get to Burtonport, I will travel on and never return to my island again to live out this use- less existence, struggling day by day in poverty and loneliness along with my poor, beloved people.'
On a mellow autumn evening, Paudraig Ó'Caithán sits alone and at rest outside his cottage door. He listens to the forlorn cry of a curlew overhead as he gazes over the stretch of calm, placid sea that now idles at peace in its low ebb, awaiting the next flow and surge that will renew its unsettledness again. His only companions are his thoughts to talk to and comfort him and he can sense the surge of underlying, unsettling currents within himself beginning to flow again, urging him to leave  the Island.
'Someday, one of these days,' he whispers to his companions, 'I will leave this lonely Island and cross that stretch of green water to Burtonport and move on. Someday soon.'
A sudden soft breeze moves across the heather and brushes alongside his cheek. It seemed to whisper lá éigin go luath. Someday soon.
Like any other inhabitant who had ever lived on an island, Paudraig's ear was fully attuned to every movement and sound that travelled on the breezes emanating from the earth and sea and from every living creature that flew over or lived on the island. He heard and interpreted the whisper that had brushed across his cheek. His senses now being heightened, he looked about him before turning his eyes towards the sea and the purple mountains beyond.
Standing up from his seat, he slowly moved away from the house in the direction from where the soft breeze came. He believed that someone was trying to talk to him. Lá éigin go luath. The words on the breeze were again whispered in his ear. He could feel his urge to respond heighten and he called out, 'Is it you Julia?' Moving through the heather, he spoke again, 'I hear you and will soon leave this place to find you.'
The autumn dusk was beginning to creep slowly over the flowing sea and island whenever Paudraig had finished tending to and settling his chickens and animals for the long night ahead. He carried enough turf indoors to keep his hearth glowing until the dawn, whenever he would prepare to settle his affairs and leave the island. His mind was finally made up before he knelt on the hard, clay floor to pray beside his bed, where he would rest uneasily and try to sleep until the first soft light of the new-born day would filter through his small window.
Next morning, by the time Paudraig was dressed and had finished his breakfast, his heart seemed lighter and he went about his morning chores with an easy step. Now it was time to approach some of his neighbours and tell them of his plans; he arranged with them to divide his animals and the contents of his cottage between them before he went to offer it and his small piece of ground for sale to Charlie Brady and his sons.
A week later Paudraig was in Derry City where, before boarding the ship bound for Glasgow at Derry quay, he went into the General Post Office to send a telegraph message to Julia's address in Glasgow, to let her know that he would be arriving late that evening at the docks. His heart was heavier again, and his conscience pricked at him as he thought about waving those last farewells to his island friends who were gathered at the stone pier to wish him good luck and goodbye.
 His mind felt disturbed again thinking. 'This must be how those who have left the island before me over the years had felt when leaving their friends and the island behind them. I am no different and will remain as strong as they were until these silver threads that bind me to the island finally break and fall away.' He put his hand over his heart to feel the bulk of the precious letter that his inside breast pocket contained. It was from Julia. The postman had delivered it to him two days before he left his cottage home. He kept his hand over it as he recalled its contents once more in his mind.
Dear Paudraig,
It seems a lifetime since I said goodbye to you on the pier that day whenever I left the island on the currach along with my brother Liam. I have made a good and happy life here in Glasgow along with Liam, who married a beautiful Glasgow girl several years after we settled here. Unfortunately, Liam died in a tunnelling accident within a year of his marriage. His wife, Mary, was expecting their first baby that was born one month after his death. It was a fine and healthy boy and was named Liam after his father.
At present, I am residing with Mary and young Liam, who is now at college; I am employed as a secretary to a prosperous solicitor who pays me well. He is happily married and has three girls; of course, you must be wondering why I have left it so long before writing to you and I ask your forgiveness. My heart was breaking that day I left on the currach to cross to Burtonport and it was then that I realised that  I was in love with you. I should have felt that long before then, but we were so young and happy as children growing up together on the Island that, in my innocence and naivety, I was so unaware that there could be anything else more than our close companionship.
 I just couldn't gather up the courage to write to you until these past few days when I kept hearing your voice on  the breeze calling to me. I couldn't understand what was happening and thought that my mind was beginning to play tricks on me. You are so much in my thoughts lately that I felt strongly compelled to get in contact with you.
I will close for now Paudraig and will write to you again soon and will understand if you do not reply to my letter. I hope this correspondence finds you well.
Love Julia.
Paudraig disembarked later that evening and felt so lost and confused on seeing so many people milling about and rushing to and fro, as ships were being loaded and unloaded. Dozens of hand trucks and trolleys were trundling and weaving along the wooden dock as passengers gave instructions to their handlers. He just stood and looked around him, not knowing in which direction to go. It was a completely new world and experience to him.
'What am I going to do or in what direction will I go?' he  said aloud to himself, 'I am completely lost.' He wandered through the crowds in vain hoping to see a familiar face, but  everyone was a stranger to him. He stopped, hoping to see  an official that he could ask directions; but again, all he could see and hear were strangers moving in different directions carrying suitcases and calling and talking. Nearing despair, here he was, a stranger who had lived on a small island all his life, now lost in a sea of people and noise in another country. la
Just then he felt a gentle grip on his elbow and his name being spoken, 'Paudraig, is it you?' He turned to look and was overjoyed when he looked into the face of a beautiful lady; it was Julia. They immediately put their arms about each  other and embraced. Tears were streaming from her eyes with happiness. 'Oh, Paudraig I have missed you so much,' she cried. He then held her at arm's length to get a better look  at her. 'Julia, I am so happy to see you again after all these  long years; you look more beautiful now that you have become a woman.'
A month had now passed since his arrival in Glasgow, where he rented a room in Mary's house. He got employment in one of the many seed mills stores and began to settle contentedly into his new life. Young Liam and he became close friends and often they went walking in the park along with Julia and Mary. As time passed, Julia and Paudraig spent more time together and talked about old times and of how each of  their lives had taken different paths, until they had finally  met each another again. They were now so happy being close companions, until the day arrived whenever he eventually asked her to marry him.
Their marriage was childless, as was expected, Julia being  just past the age of childbearing. However, they now were so happy to be with each other living in Mary's house.
Four years had now passed by since their marriage and, although Paudraig was happily married and now acclimatised to living in Glasgow, he would often feel a longing to visit his  old dwelling place again on Arranmore Island. He could feel the gentle pull of the silken threads that, somehow, still bound him to his place of birth. He believed he could hear the moving tides and the whisper of the heather-scented breezes and the lonesome cry of the curlew heralding the coming rain. Some nights, when in bed he would be awakened by the soft voice of his mother calling on him to come down from the hill. I'm just feeling homesick, he would think. This must be how I will feel until the longing wears off completely. 
On one of those days whenever he felt the longing, as he and Julia walked in the park reminiscing about days that were long gone, Paudraig asked her: 'Would you ever return to Arranmore Island again along with me Julia? With longing in her eyes, she answered in a whisper; Lá éigan go luath. Someday soon.
About The Author: Philip Cunningham was born in Derry City in 1937 and was one of 13 children. He left school at 14 and was employed in labouring and semiskilled jobs until he retired in 1998. He is married with a family of six boys and a girl, all still living in Derry city. He has written four books on local social history and has made notable contributions to various other local historical books and assisted various local authors. He enjoys art and painting. He is a keen photographer and restores a lot of old photos.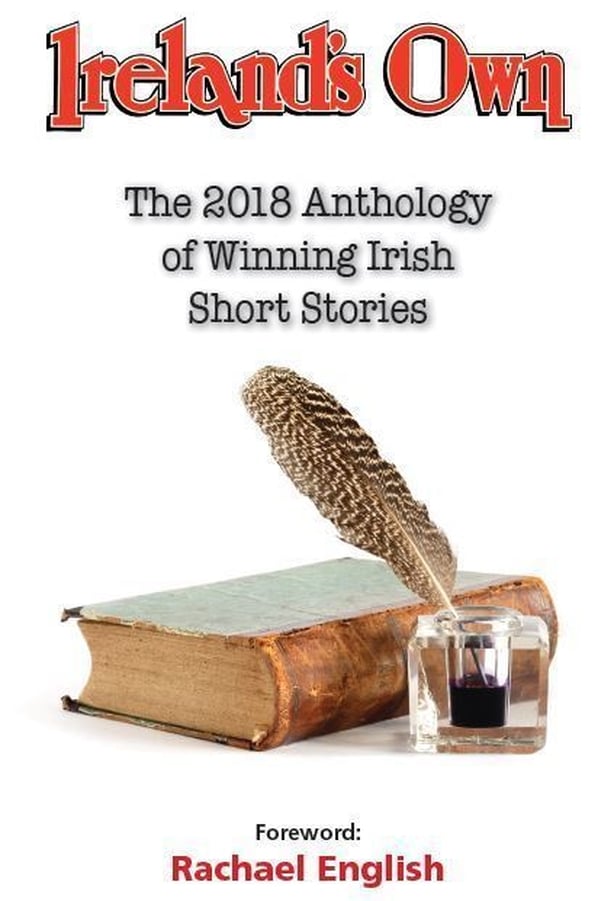 The Ireland's Own 2018 Anthology of Winning Irish Short Stories (published by Three Sisters Press) is in bookshops now.