---
We're delighted to present an extract from Blood & Oranges, taken from Paprika, the new short story collection from author and playwright Frank McGuinness, published by The O'Brien Press.
In the first collection of stories by Frank McGuinness, this award-winning master storyteller writes above all about freedom: freedom to love, freedom from hate, freedom to speak, freedom to silence. In hypnotic, spellbinding prose, Frank McGuinness hears the voices and sees the visions of his own troubled times.
---
She looked at him as if he had been lying.
No – not lying. Thieving.
It came as a most dreadful shock. He had been well brought up. His parents, they would have been scandalised. Yes, that is the accurate word, scandalised – to think a child of theirs would take what does not belong to him.
But there could be no doubt, absolutely none, that is what Zoia, the cleaning manager, was implying. Underneath her breath, as they say here, but she was letting him know where he stood and what she made of this matter. She felt it proper she should keep repeating for his benefit so that he might not have a memory lapse in the future precisely what the hotel's policy was. All those employed here on a daily, or hourly, basis, as he was, they must follow the same rules strictly. There were no exceptions, and no favours to be asked were he to receive a call on his mobile the night before at any time up to midnight when tomorrow's schedules were complete and it was clear who needed and who did not need to show up, then he was obliged to be ready to start work at six the following morning. No excuses allowed, no special pleading – the management drummed that into Zoia's brain, and she never let anyone forget it.
Not that Ion was one for excuses nor pleading. The only time he had erred and missed a call, failing to show up eager for the fray, there was no credit on his phone, and there had not been for a few days. He had lived off bananas – a bunch, six in all, eating two at night time, washed down with milk, even sparing himself the luxury of his beloved coffee. When he had the wherewithal – how he got the cash was his business – then he retrieved the message, and he called in person to the hotel to apologise. He thought even of picking small wild flowers as a gift to soften tempers, but instinct told him that this might be a foolish move dealing with such a tough boss. The apology itself, it was received with a slight smile and a long silence. That was typical of Zoia. She nodded and sent him on his way, convinced he would never clean there again. While he was scrubbing those sinks and changing the rolls of toilet paper, spitting for spite into the bowls, he cursed each and every one of those interminable bedrooms. Now they seemed like the most desirable of residences, and he longed to open their doors again and guarantee for himself the single day's wages, amounting to a fortune when the chance to earn it seemed to have vanished entirely.
We need your consent to load this Facebook contentWe use Facebook to manage extra content that can set cookies on your device and collect data about your activity. Please review their details and accept them to load the content.Manage Preferences
Watch: Frank McGuinness talks to RTÉ Arena
Still, he was taken back. And what for? To face the same predicament. It was not that he'd tried to skip his hours that infuriated Zoia on this occasion. But she was truly implacable in what she now demanded. That was the complete return of the tip an American couple had left in the room they'd just vacated. And he did not think that was fair.
She was not interested in such nicety. Fair does not enter the picture here, my friend – did he not realise that much? He was simply mocking her. She must let him know she would not stand for such cheek. She would not allow him dare claim ignorance. The company's rules could not be plainer. If he could not understand this English, then he should not be employed in this establishment where fluency was essential for the smooth running of the operation. The message was clear enough. Were any monies left as gratuities in bedrooms recently vacated, then all cash was to be handed over to supervisors. What those same supervisors did with it was not the business of the cleaners. So, where was it? Don't say they left nothing behind. When the lady passed Zoia in the corridor, she mentioned the tip was waiting for her. Hand it over.
Ion found himself shaking his head. He heard his voice declaring very quietly but with great assurance this money had been left for staff; that they could all agree upon without question. He was staff as much as Zoia was. But you, Ion, you are employed by the hour – by the day if you are lucky enough to be given the hours, and I am on legal contract, she protested, you have no right to tell me what I can do or what I cannot do. That money was left for me. I told you already to hand it over and I mean what I say. If you do not obey me, I will be forced to take action. I will have your pockets searched.
Now this was too much. Really too much. What was she saying precisely? Was she threatening to put her woman's hands into his trousers and remove his wallet? This was forbidden anywhere in the civilised world, and he was still a citizen of such a world even if this barbarian forgot her manners in this strange country. Had they sunk to such savagery that an act of this nature would be tolerated? It was perverse, and she knew it. I do not think you are allowed to threaten something like that, he reminded her, in case she had forgotten what a physical outrage she was threatening against him. I know you are the type who doesn't like women's hands near them – we all know that, she threatened, but I still strongly advise you to do what I tell you. I know why you have come here – what your kind are looking for. It is all you think about – so you had better watch out and behave carefully.
They had now backed each other up into a corner of the corridor. Other cleaners and chambermaids could hear every word of their argument. To a man and woman, they wanted Ion to win it. Zoia had earned herself the reputation of being a lackey for the bosses, always ready and willing to do what was best service for those ruthless bastards. She had ripped off more money than they cared to remember from those of her own who could least afford to hand it over to this painted bitch. She spends it only on make-up, on expensive wine, on the fancy man she reports us to when anyone slackens under her watch. I hate her and I hope he continues to defy her – that was the general consensus. Some even hoped he'd lift his hand to slap her face, but Ion was not the kind of guy to hit anyone, let alone a woman. My goodness, though, she was pushing her luck and no mistake when making these accusations.
Ion demanded to know what she was hinting, but she only laughed out loud. Then she delivered her body blow. Zoia told him that if he was thinking he could return to Romania and become a teacher of English in a secondary school, she would put paid to such notions – she could see to it as a matter of certainty he would not enter that profession. French is my subject, he blurted out, suddenly regretting his admission. It makes no difference, she retaliated, if I report you have been fired here in Dublin for upsetting guests with your queer behaviour, then you will never darken the door of any school back home. That lady who left the tip, she told me how you were gazing at her handsome husband. You would have made a move on him if she had not always been there beside him. Look, you're blushing – because it's the truth. I can repeat this. It will get back to Bucharest, or Timişoara – wherever your kind gather. Is that worth the price of the Americans' money? Or do you only want it because it is a souvenir of the man you could not corrupt?
Paprika by Frank McGuinness (published by The O'Brien Press) is out now.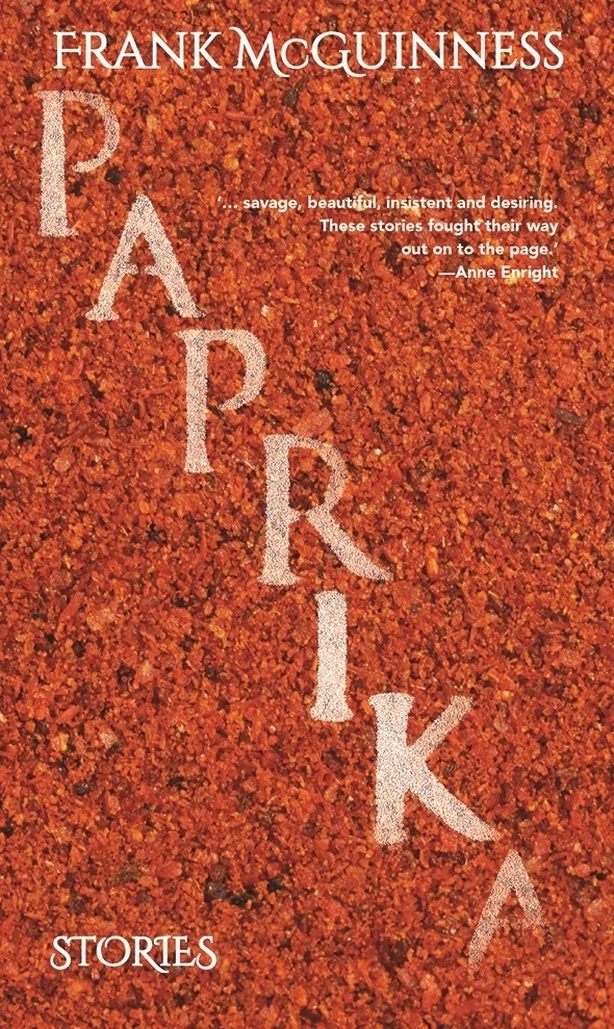 About The Author: Frank McGuinness is Professor of Creative Writing in University College Dublin. A world-renowned playwright, his first great stage hit was the highly acclaimed Observe the Sons of Ulster Marching Towards the Somme. He is also a highly skilled adapter of plays by writers such as Ibsen, Sophocles, Brecht, and writer of several film scripts, including Dancing at Lughnasa, and he has published several anthologies of poetry.