Every week, Simply Folk host Ruth Smith selects a classic record from the folk music archives.
This week, she's chosen Anthem by De Danann.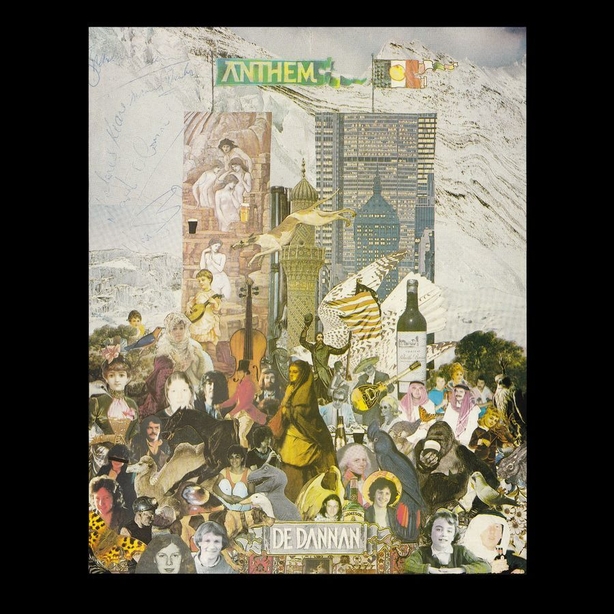 Anthem by De Dannan (Released 1985 on Dara Records)
Recorded at Oranmore Castle, Galway
Produced by John Dunford, Alec Finn and Frankie Gavin
Featuring: Frankie Gavin (Fiddle, Flute, Piano, Viola), Alec Finn (Bouzouki & Guitar), Máirtín O'Connor & Jackie Daly (Accordion), Johnny McDonagh (Bodhrán), Mary Bergin (Tin Whistle)
Vocalists: Dolores Keane, Mary Black & Maura O'Connell
Taking their name from the legendary Irish tribe the Tuatha Dé Danann, the band De Dannan, (the subtle name change from Dé Danann to De Dannan happened on this 1985 album), grew from a weekly Sunday session in Hughes Pub in Spiddal from the mid 1970's.
Spurred on by the fiddling talents and teenage drive of a young Frankie Gavin, along with his right-hand man Alec Finn on bouzouki, De Dannan brought Irish music to the world stage during the 70's and 80's. They also provided the launch pad for a number of leading female folk singers, including the three that appear on Anthem - Dolores Keane, the original voice of De Dannan, joined the band in 1975 and was followed by Maura O'Connell in 1980 and then Mary Black from 1983 – 1986.
Listen to Anthem by De Danann
On Anthem we have a confluence of these three singers' talents, with both Dolores and Mary taking an equal share of vocal duties. They duet on the brass-infused English mining ballad Diglake Fields; Mary sings her memorable and poignant versions of the two anti-war ballads, Johnny I Hardly Knew You and Paddy's Lamentation and Dolores takes the lead on Anthem for Ireland, written by Desmond Leslie of County Monaghan, and Lennon & McCartney's Let it Be, on which Maura O'Connell provides backing vocals.
These five songs are woven into the 11-track album alongside a selection of tune sets that display all the characteristic lift and flare of De Dannan's trademark sound, owing much to Frankie Gavin's interest in the music of the 1920's and musical pioneers like Sligo fiddler James Morrison and the toe-tapping Irish-American trio The Flanagan Brothers.
The album also showcases Gavin's compositional skills with the opening tune The Wren's Nest, and the writing of prolific Leitrim composer and fiddle player Charlie Lennon with Ríl an Spidéal - no doubt a nod to the early days in Hughes pub, where the De Dannan story began.
As with all stories, there are twists and turns, and the plot thickened in 2003 with an acrimonious band split that formed two separate offshoots of the original line up, led separately by Gavin and Finn. Thankfully, with the passing of time bridges have been mended and musical partnerships renewed, and over a decade since the split (and more than 40 years since Gavin and Finn began playing music together) they are back performing and recording together again.
Watch: TG4's Sé Mo Laoch - a profile of Frankie Gavin
In the words of Anthem for Ireland from the album Anthem: "All wounds shall heal, unkindness be forgiven, all hurts forgot". The music plays on and the story continues.
Listen to Simply Folk on RTÉ Radio 1 on Sundays at 10pm. Ruth Smith is the co-presenter (with John Creedon) of this year's inaugural RTÉ Radio 1 Irish Folk Awards, which take place on October 25th, 2018 in Vicar Street, Dublin - find out more here.