Eleanor White, Assistant Dramaturg at Druid Theatre, writes for Culture about Druid's production of Shakespeare's Richard III, which plays at this year's Dublin Theatre Festival.
This production of DruidShakespeare: Richard III is Druid's second encounter with Shakespeare's history plays. It follows on from the company's epic staging of four history plays DruidShakespeare: Richard II, Henry IV (Pts 1&2) and Henry V, in 2015. While this production concerns itself with just one play, it is still a mammoth undertaking: Richard III is the second-longest play in the Shakespearean canon, after Hamlet. The play calls for more than forty speaking roles and condenses decades of English history into a few hours of dramatic action.
These challenges have been met with aplomb by the production's thirteen actors who, aided by evocative costumes and a dazzling set, shift from one character to another, and conjure up the different worlds of the play. If any of this sounds intimidating, it shouldn't. The aim from the beginning of rehearsals has been to make this story as clear and accessible as possible.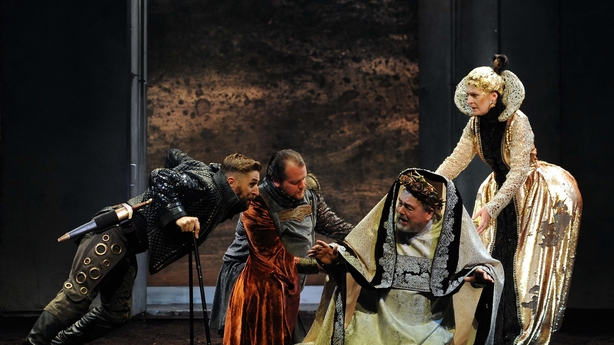 You don't need to be familiar with the play, or with 15th century English history, to appreciate this story of a man hell-bent on obtaining absolute power. In fact, there's a lot in this play that feels strikingly contemporary – for example, the word 'news' is used 25 times, far more than in any other of Shakespeare's plays.
And, of course, there's the character of Richard himself. A self-proclaimed villain, Richard is perhaps one of the most beguiling figures in all of literature. He's a consummate performer, adopting whatever role a situation requires of him. From the very beginning of the play, he takes us, the audience, into his confidence, and this unique relationship between actor and audience is one of the things that makes this play so thrilling.
Richard has a magnetic presence: it's hard not to be drawn in by his antics, his sheer audacity and his irreverent, clever, elegant turns of phrase. Indeed, he is a frighteningly modern figure – so captivating and entertaining a performer, that it's alarmingly easy to dismiss his villainy, and sometimes even to delight in it. The covetable role of Richard has given this play a timeless appeal and, simultaneously, there's something about his irresistible charisma and his unapologetic villainy that feels remarkably current.
The character of Richard is a shape-shifter, someone who can change his identity to suit any situation. This production has required its cast to be equally dexterous, with many actors playing multiple roles. If Richard III is a play about a man employing theatrical means to get to villainous ends, the Druid Ensemble has deployed every tool in its theatrical arsenal to bring this story to life – from music and movement, to epic battle sequences, and spectacularly sequined costumes.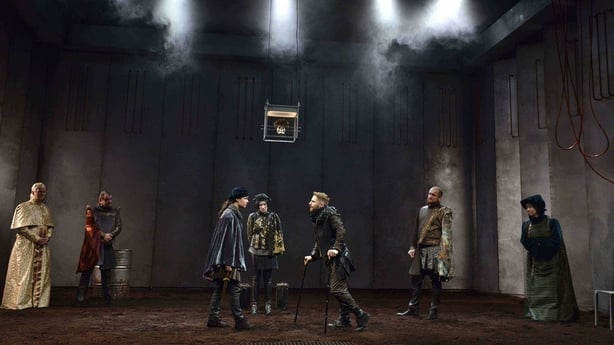 At its core, Richard III is a gripping story, with an unforgettable protagonist, and Druid's production strives to tell that story in a way that is engaging, modern, and utterly thrilling.
Eleanor White is the inaugural recipient of Druid's Marie Mullen Bursary for female theatre artists working in the fields of direction, dramaturgy and design.
Richard III plays 3 – 27 October on the Abbey Stage, as part of this year's Dublin Theatre Festival - more details here. RTÉ One will repeat the acclaimed DruidShakespeare documentary on Tuesday, October 2nd at 11.25pm.