Sinead O'Shea is the director of the acclaimed new documentary A Mother Sends Her Son to be Shot, released in Irish cinemas this weekend.
Five years in the making, the film tells the true story of Derry woman Majella O'Donnell, who brings her teenage son, Philly, to be shot in both legs by dissident republicans.
We asked Sinead for her choice cultural picks...
FILM
I recommend A Mother Brings Her Son to be Shot, obviously! I really like it still.
I also enjoyed Cold War, by Pavel Pawlikowski. The first half hour or so is nearly perfect. After that, it becomes a bit uneven. He's said it's about his parent's marriage and so maybe that accounts for the flaws, maybe the perspective we have is of a child just receiving some of the information and it's not enough for an audience. Anyway, it's so great in parts and it's much better than nearly anything else out there. Overall, I prefer one of his earlier films, My Summer Of Love, which is a brilliant coming of age film with Natalie Press and Emily Blunt in her breakout role. Blunt became a star, but Press is amazing in it. That film means a lot to me. I love it. That's my real recommendation.
MUSIC
I'm listening to Kendrick Lamar a lot at the moment. I realise I'm about 7 years behind the curve with that. I think at the time I was so sick of hearing about his sensitive-yet-still-relevant genius, but of course it was all true. I used to work in a record shop and had a reasonable sense of what was happening in music, but now I am very adrift. That's quite a defensive and old person thing to say, I realise also. As is that sentence.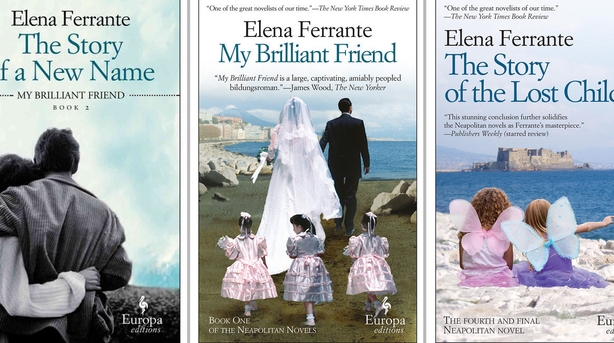 BOOK
Again this is probably belated for most people but I strongly recommend all of Elena Ferrante's books. I began with the Neapolitan novels, and have read her earlier ones now also. She has one called Days of Abandonment, which is almost laughably intense, about a woman's reaction to her marriage breakdown. It's so brilliant. The Neapolitan novels, starting with My Brilliant Friend are masterpieces, I think. They're so absorbing and so full of insight. I think they provide the most spectacular account of being a woman, of female friendship and of Western politics in the twentieth century. Apparently Hillary Clinton began reading them after Trump won. I'm not a huge fan of hers, but obviously I can appreciate what a calamity that was in so many ways. I love that only Elena Ferrante could distract her.
- Okay Eliza, just try and relax.
- I'm fine.
- This is a safe place.

First day of #rehearsals for ELIZA's Adventures in the Uncanny Valley*

3 — 7 Oct, 7:30pm @BeckettTheatre as part of @DubTheatreFest https://t.co/mlJMgoJVfy#ELIZAsAdventures #DTF18 pic.twitter.com/gDQWsDcH9r

— Pan Pan Theatre (@panpantheatre) August 27, 2018
PLAY
I'm recommending Eliza's Adventures in the Uncanny Valley by Pan Pan, which will be in the Dublin Theatre Festival. I loved The Importance of Nothing before and this features some of the same talent; Si Schroeder, Gavin Quinn, Andrew Bennett, Dylan Tighe plus the great Eugene O'Brien. I'd like to see Spit Ends by Lauren Larkin and A Holy Show by Janet Moran as they're both such talented women, and I'm recommending Looseysmokes too. They're fantastic aerialists and are very intense. I'm going to take my 7-year-old for her birthday. I might have built them up too much for her, though.
TV
I'm just about watching the new series of Better Call Saul. I don't like it as much as the earlier series, and also I'm really worried now because something is going to have to happen soon to sever Jimmy and Kim so that he winds up being the character he becomes in Breaking Bad (I haven't actually seen Breaking Bad, but I've heard...). So what am I saying here? I think I recommend watching Better Call Saul from the start, if anyone hasn't already. They are fantastic; really moving and funny.
GIG
Hmmm... I've no gigs planned. I went to see Kamasi Washington for the second time this year last month. Both he and his band are amazing. I remember he said at the start of the first gig that he was going to take the audience on a musical journey, and I was just thinking to myself "Yeah, right" - but he did just that. As I write, I realise I could probably do with a better attitude to new things.
Conrad Frankel, 'Bray Hill, Cornwall'. Don't miss the opening of the artist's solo show Road Trip @OC_Gallery this coming Sunday, 16th September, 3pm. All welcome. #ConradFrankel #oliviercornetgallery #irishart #dublingalleries #soloshow pic.twitter.com/E1vm34sh6n

— OlivierCornetGallery (@OC_Gallery) September 12, 2018
ART
God, this has to stop. I don't know that much about art. I used to live with a guy called Conrad Frankel who has an exhibition starting this weekend in the Oliver Cornet Gallery but I honestly don't know what it'll be like.
PODCAST
Ken Early has a politics podcast as part of The Second Captains, and I sometimes listen to that. I think it's great. We are quite old friends and we did an interview last week about A Mother Brings Her Son to be Shot and it was very funny to be speaking so formally about something. I also listen to Intelligence Squared despite its inane title and You Must Remember This.
TECH
LOL. Is there anyone really who can properly answer all these questions?
THE NEXT BIG THING...
I look forward to seeing Amazon's forthcoming series Modern Love, based on the popular New York Times column. There's some great stuff in it from what I know, and some very talented people involved.
A Mother Brings Her Son to be Shot is released in Irish cinemas on September 14th - director Sinead O'Shea will participate in post-screening Q&As at the Light House Cinema, Dublin on Friday, September 14th at 7pm, at Queens Film Theatre, Belfast on Saturday, September 15th at 6pm, and at Brunswick Moviebowl, Derry, on Sunday September 16th at 7pm - more details here.