Ahead of his forthcoming Irish concert with Jon Stewart at Dublin's 3Arena, Siobhan Kane examines the career of one of modern comedy's true legends, comedian Dave Chappelle.
---
"The hardest thing to do is to be true to yourself, especially when everybody is watching." -Dave Chappelle
Dave Chappelle has always preferred to be more of a peripheral cultural figure. His recent Netflix comedy specials have introduced him to a wider audience, and re-established his place in American culture, at a time when much has shifted since his seminal, and brilliant television series Chappelle's Show.
Watch: Siobhan Kane talks Dave Chappelle on Arena
Chappelle's Show ran on Comedy Central from 2003 – 2006, and its mixture of comedy skits and sketches, musical guests, and searing commentary on American culture, taking in politics, race, and sex, gained it a cult following, but also positioned Chappelle as a freewheeling comic, who was using comedy as political discourse, taking in elements of some of his heroes; Richard Pryor, and George Carlin.
The Pryor-Carlin influence is interesting, because part of their sense of being gloriously free, challenging a system that has little changed over decades, even though society has changed. Chappelle has previously said that Pryor set a precedent, not only as a comic, but as a "dude" – that he was inspired by how truthful Pryor was in his stand-up, how open he was about his failings; "I freebase, I beat my women, I shot my car. And nobody's mad at Richard for that. They understand." In being so open, Pryor was not only trying to connect to an audience, but to understand himself. Carlin existed in a similar space, providing an atmosphere for us to understand and laugh at the flaws in the world, as well as his flaws, and our own flaws.
Pryor passed away in 2005, and Carlin in 2008, and Chappelle seems like the most natural bearer of their legacy. Part of this is also bound up in his sense of the importance of language, his playfulness with language, and his provocative approach to language, riffing on Carlin's take on political correctness:
"Political correctness is America's newest form of intolerance, and it is especially pernicious because it comes disguised as tolerance. It presents itself as fairness, yet attempts to restrict and control people's language with strict codes and rigid rules. I'm not sure that's the way to fight discrimination. I'm not sure silencing people or forcing them to alter their speech is the best method for solving problems that go much deeper than speech."
Chappelle's Show was a perfect vehicle for Chappelle's own preoccupations with political correctness, as well as his idiosyncrasies, inspiring political debate, instead of crippling it, and putting forward the idea of comedy as an act of rebellion.
His abrupt exit from the show he had built was a further act of rebellion, and its ripple-effects profoundly interesting, providing the basis for a collection of essays in 2007 by Professor William Jelani Cobb,The Devil and Dave Chappelle, about the art and politics of black culture. The book posits that Chappelle's departure distilled a lot of questions that continue to surround black culture, and Chappelle's discomfort with what he was producing, and how it was perceived. His own feeling was that the work was being misinterpreted, and instead of seeking to destroy stereotypes by ridiculing them, people were often not getting the irony, and instead reaffirming some of those stereotypes.
Chappelle talked about the departure in one of his recent Netflix specials The Bird Revelation, referencing Iceberg Slim's 1967 memoir Pimp, making it analogous to his leaving of the show, and his sense of being a pawn in a game he hadn't signed up to, that spoke to an underlying issue within society.
Chappelle has always been relatively uncomfortable with the 'industry'. His sense of suspicion, and need to remain an outsider questioning society and its institutions began at a young age; brought up by politically active college professor parents, with a busy household that welcomed visitors such as Pete Seeger, he always wanted to be a comic, seeing it as a useful form to explore the inequalities and painful nuances within American culture.
Chappelle's Show was a perfect vehicle for Chappelle's own preoccupations with political correctness, as well as his idiosyncrasies, inspiring political debate, instead of crippling it, and putting forward the idea of comedy as an act of rebellion.
His ascent was a hard-won apprenticeship that began by him moving to New York, being booed off Amateur Night at the Apollo Theatre in Harlem, (which galvanised him to keep going, illustrating his need for a kind of tension), opening for Aretha Franklin aged just 19 (the template of comedy and music was there from the beginning), making waves with appearances on Def Comedy Jam, The Late Show with David Letterman, Conan O'Brien, Mel Brooks' Robin Hood: Men in Tights, and generally being industrious, and creative; the experiences placing him among peers that he respected and learned from, and in turn, he has become that for other people, from Jordan Peele (one half of Key & Peele, now an Oscar winner for Get Out), to Kendrick Lamar (who he did a very interesting interview with in 2017).
There is perhaps no better example of the ideals and interests he holds most dear than in his 2004 film, Dave Chappelle's Block Party. Directed by Michel Gondry, the film chronicles his free concert in Brooklyn, where he managed to get The Fugees to temporarily reform, as well as bringing together artists like Kanye West, Erykah Badu, and The Roots, celebrating community, and creativity, with the film capturing the joy, and need for such gatherings, promoting some of the best artists at work.
Hip-hop has always been a perfect musical fit for Chappelle, something (along with soul) that he has always referenced, with hip-hop's own radiant and renewing sense of resilience a guiding light, representing aspects of the best of the black tradition in America, while often adding in further intellectual and political commentary.
Detractors might point to when Chappelle sometimes employs crude language, and crude ideas, suggesting that his comedy is from another era, and perhaps out of touch - but behind that crudity is a desire to engage audiences into something more profound; he disrupts to make us uncomfortable, while also making us laugh. This is where Chappelle's comedy lives, ideas explode, conversations take place, and our own sense of prejudice interrogated.
While the world has changed in many ways since Chappelle began as a comic, his recent Netflix specials illustrated just how angry, and confused he can be, how curious to learn he is, and how vital he remains.
He recently won a Grammy for two of those specials, The Age of Spin and Deep in the Heart of Texas, and an Emmy for his hosting debut on Saturday Night Live, but it was back in 2013 when he won perhaps his greatest accolade, when his pancake-serving, basketball-playing version of Prince, from one of Chappelle's Show's most famous sketches a decade earlier, became the cover art for Prince's single Breakfast Can Wait.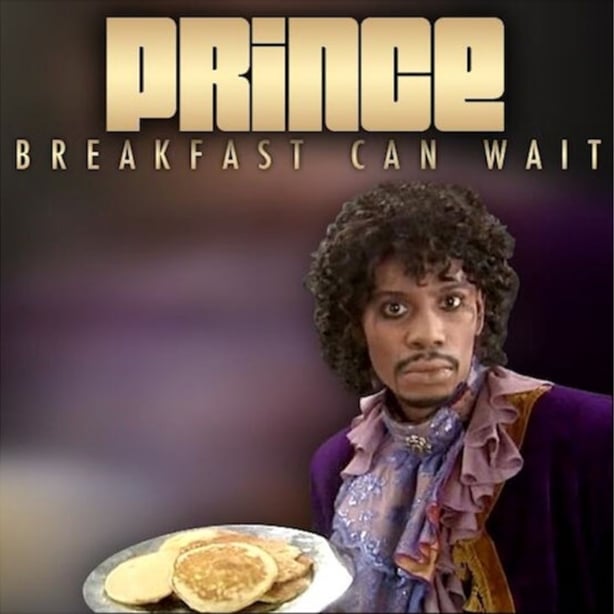 Chappelle called it a "judo move", "You make fun of Prince in a sketch and he'll just use you in his cover. What am I going to do, sue him for using a picture of me dressed up like him? That's checkmate right there." In an increasingly narcissistic, fragmented world, perhaps we need Prince's sense of humour, and Chappelle's sense of comedy more than ever before.
Dave Chappelle and Jon Stewart play the 3Arena, Dublin, on October 17th - more details here.