Vocalist (and National Treasure) Maighread Ní Dhomhnaill writes for Culture about her latest project, which pairs her with two of Ireland's finest traditional musicians - button accordionist Máirtín O'Connor and guitarist Séamie O'Dowd, for a national tour that runs through September.
It all began last year when Music Network invited Máirtín O'Connor, Séamie O'Dowd and me to come together for a tour.
I have admired both Máirtín and Séamie's work over the years (and played many, many moons ago with Máirtín) so I was interested from the get go you could say. I'm very excited about being on stage with such talented musicians for this ten-day tour.
WATCH: Mairead Ni Dhomhnaill sings her Aunt Nellie Dhomhnaill's version of Roisin Dubh, circa 1983
Collaborations can be terrifying but equally extremely rewarding. I've worked with many excellent musicians over the years, and there's always an element of the unknown: you are setting out together, each bringing your own ideas and the end result is new to everyone, so there's a great energy in that.
Since the initial invitation, the three of us have been in contact a lot, putting together material for the trio. We met and rehearsed over the summer months at Seamie's place in Sligo.
We've essentially been given carte blanche, and the freedom of that is both a blessing and a curse. Each year, Music Network puts together tours of traditional music that feature musicians of renown who haven't worked together before. Over the years, some very special collaborations have taken place and some go on to work together to perform more concerts or produce recordings. But there's no expectation of that from the outset and it really is a kind of musical experiment, albeit in the hands of trusted musicians.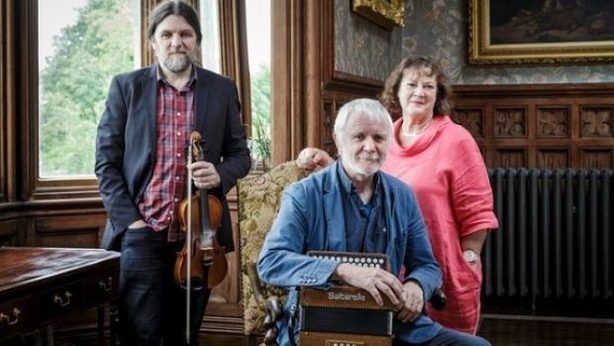 For this tour, we've put together what we feel is a great breadth of music – and we've thrown in a few surprises! Máirtín is such an incredible virtuoso and composer, it opens up a huge palette for us to work from. And as for Seamie, he's a renowned multi-instrumentalist and is a one man band in himself, so as well as guitar he'll be playing the fiddle and singing a few songs. Our set list ranges from re-worked traditional tunes, freshly composed material, and of course plenty of songs both from myself and Seamie – so there will be a really nice balance.
WATCH: Tríona & Maighread Ní Dhomhnaill sing Liostáil Mé Le Sáirsint
For me, music is very much part of my family heritage. One of the songs I'll be singing is a song composed by my father Hiúdaí Ó Domhnaill. He was a singer, melodeon and flute player and a song collector for the Irish Folklore Commission, and this will be a very special opportunity to perform his composition Amhrán Hiúdaí Phádaí Éamoinn live. I'll also sing some songs I learned from my aunt Neili that I am keen to share with audiences here at home in Ireland, supported by the ever inventive Mairtin and Seamie!
I hope people come out and hear us live – collaborations like these are once offs, so they are very special. We'll be in Wexford, Dublin, Castlebar, Letterkenny, Clifden, Ennis, Listowel, Dún Laoghaire, Roscommon and Port Laoise from 11 – 23 September and the details are here.