Dublin Fringe Preview: Dancer and choreographer Phillip Connaughton writes for Culture about his new show, Assisted Solo, a 'raw allegory of life' inspired by his mother's struggle with dementia.
I've always had a really great relationship with my mum, Madeleine, and it's hard at times noticing how our roles shift as her dementia advances. But it's a gradual, everyday thing so there's space for laughter. It's not depressing, it's just the way it is.
It had never been my intention that my latest dance piece, Assisted Solo, would end up dealing with that relationship. I initially wanted to make an abstract piece about three dancers using each other and anything else, to make, or achieve their own perfect solo. I was excited to work and dance alongside two dancers that I greatly admire. Magali Caillet is an incredible French dance artist that I've watched for years. It was always my dream to work with her. She turned 50 this year, and is such a powerful presence on stage. Then there's Lucia Kickham, a beautiful younger Irish artist who makes her own gorgeous work. She has danced in several of my pieces and I've seen her shift and grow- she's so brave.
Then there was this YouTube clip of Lucille Ball and Shirley Maclaine dancing together. It was a Bob Fosse number with the older Ms. Ball showing the younger Shirley that less is sometimes more, allowing the backing dancers to do most of the hard work. I found the 'older/younger' dynamic very interesting. I was also thinking of stars and their backing dancers- we often don't remember the dancers though they're so important to the overall effect of what we're watching- often expelling most of the energy and framing the subtleties of the star.
Because I was working on this idea of assisting, I started seeing my mum as the main performer in her own perfect dance. My siblings and I assist her.
It began to seem like choreography. I noticed that perhaps it isn't always so clear who's assisting who. There's a lot to learn from caring for somebody.
I decided to take these ideas into the studio. We played with choreographic vocabulary. Bits of past dances, like information bytes that had to be remembered, reminded me of my mums struggle to hold on to her identity. We also worked with what it is to be a carer and what it means to retain one's own identity while caught up in someone else's life.
Luca Truffarelli, sound designer and video artist came and filmed Madeleine so that we might reference her in the studio but it soon became clear that we had to show some of this beautiful footage alongside the dancing.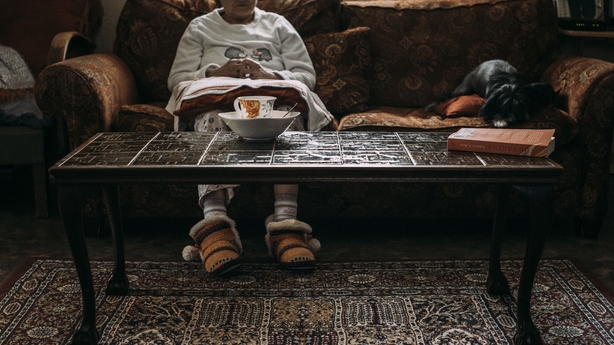 Dementia is something that touches so many people in this country. It's teaching me so much about my relationship with my mum, and about life in general. An ideal scenario for me would be for people to come away from this piece having laughed and maybe even cried a little, while understanding that, yes, we all have our own solo to dance but it's ok to depend on others too, and even better to care, in whatever way you can, for someone you love.
Assisted Solo is at the Project Arts Centre from September 8-15th, with a preview on the 7th, as part of this year's Dublin Fringe, with an additional performance on Saturday 22 September at The Everyman, Cork. - more details here.