The Trip to Tipp is back - or so the poster says!
Pre-pitched tents, leave-no-trace eco policy, and assuraces that 'the safety of the 'glampers' and the environment that homes the 'glampsite'' are of utmost importance to the professional 'glamping' company running the show, with of course clean toilet and shower facilities and Prosecco and strawberries on arrival.
OK, maybe not the Féile I remember, but at least the line-up is the same!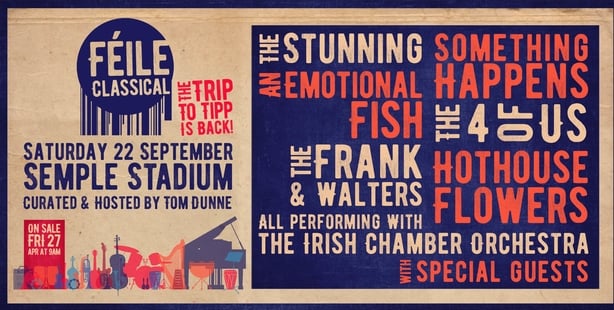 Thinking about all the bells and whistles that accompany these current festivals - especially the new Féile - got me thinking as to how much has changed since I first went to the Trip To Tipp in 1991.
It was my first experience of a festival - I met a girl, got drunk, got robbed, made new friends and I met one of The La's, and this was all within the first two hours of arriving in the campsite on the Thursday night!
And I was 15 years old!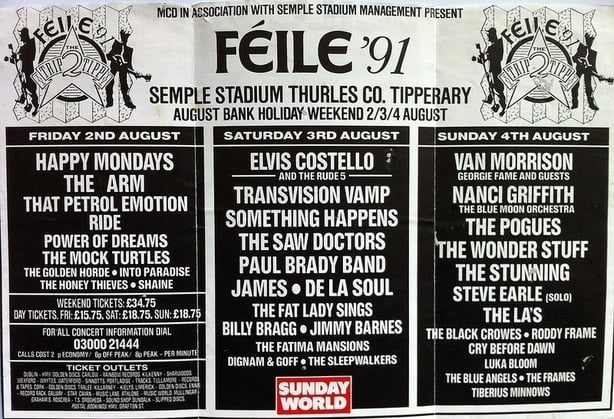 I've mentioned in some of my ramblings here before about the questionable laissez-faire attitude, and general absence of parental responsibility that allowed a large number of 14 and 15 year olds from Santry in Dublin to jump on a train and spend four nights in a field in Tipperary attending a music festival, but in our parents' defence, they were more simple times, and in fairness some of us actually turned out OK in the end, for the most part!
There was no Prosecco and strawberries on arrival, but our fruit and fizzy alcohol requirements were met with the two-litre bottles of Linden Village that we brought with us (plastic to adhere to our eco sensibilities), the safety of the campers was maybe a little less of a priority for the organisers judging by the two tents that I saw on fire on the first night, but the general cleanliness of the toilets was grand as you rarely bothered to actually make it as far as the toilet area when you needed to go!
WATCH: Via RTÉ Archives, Gerry Reynolds reports from Féile '92
And back then, we were simply campers - not glampers! We were also underage drinkers and I by no means condone this activity, and apologise for it.
Having said that, the malevolent nature of those that decided to steal from my tent aside, it was a glorious weekend.
With 'Madchester' in full swing, and with prerequisite long-sleeve T-shirt and shorts that sat just above the knee, we made our way to Semple Stadium on Friday afternoon anxiously awaiting Happy Mondays, The Mock Turtles and The Farm. I don't remember much of their sets, but I recall strangely enjoying this plump lad called Frank Black – hadn't a clue who he was, and he certainly didn't look like a popstar – and The Golden Horde I remember clearly because of Simon Carmody, I'll say no more about that!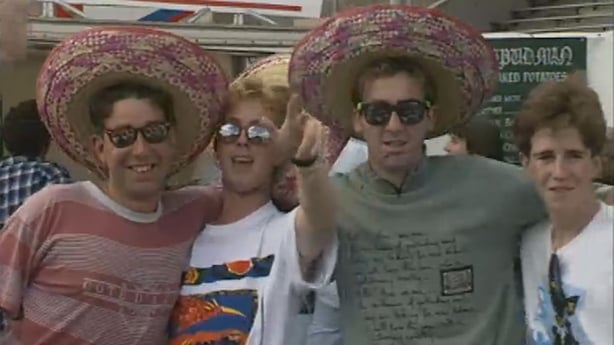 Which stage were they on? Well the one at the end of the stadium of course, the only stage!
Happy Mondays were terrible - although by that stage I was a little too worse for wear and went to the back of the stadium to sleep it off a little, where I subsequently woke up so cold that I purchased a long-sleeve Mock Turtles T-shirt to keep me warm. For any of you that ever seen me in a Mock Turtles T-shirt, this is my excuse! And for the record, the only items I remember being on sale back then at festivals were artists' merch and beer, although I'm sure there was somewhere to buy chips.
Of the whole weekend, James and Transvision Vamp stick in my memory, and not being a big Elvis Costello fan until many years later, I left the stadium early in his set. I wrote Van Morrison and Steve Earle off as granddad acts, but made sure to see The Wonder Stuff.
History doesn't remember them well, but to 15 year old me, they were outstanding that night.
I also caught The Black Crowes, but missed Roddy Frame; I clearly hadn't planned it well!
LISTEN: 'Shocked' Christian Martin talks to The Gerry Ryan Show about The Trip To Tipp:
Féile was a curious festival, hanging in the stadium or the campsite during the day whilst waiting to see your favourite artists was not common whatsoever, at least not for us. At Féile, you just took off to the town of Thurles, and specifically Hayes Hotel to hang out there; and here began a back-and-forth between Semple Stadium and the town for the whole weekend. No doubt the locals hated us, but the Trip To Tipp most definitely brought prosperity to the whole town of Thurles, and if Hayes' Hotel was originally infamous as being the venue where the GAA was formally established in 1884, to a new generation it meant something much different, but equally as iconic.
WATCH: Via RTÉ Archives - 1990: Thurles Hosts Trip to Tipp

Regretfully, by Féile '92 and '93 I was beginning to spend more time in Hayes' Hotel than the stadium, but I do remember catching acts such as Primal Scream, The Beautiful South, The Sultans of Ping, David Byrne, The Stunning, Deacon Blue, The Manic Street Preachers and Aztec Camera among others, but I never did get to see Whipping Boy at the Trip To Tipp, which still sits with me.
I also skipped the campsite in '92, this was (in part) due to the entrepreneurial actions of the people of Thurles who simultaneously invented glamping and the 'pop-up' business in one fell swoop. Not only was every house within a five-mile radius of Semple Stadium a 'pop-up' B&B, but should all rooms be booked, you could pitch your tent in the back garden for a small fee, which is what we did. If you were lucky you got a rasher sambo and cup of tea, and if you managed to get upstairs to the toilet, well that was your indoor 'lawn of tranquillity' right there, wellness was alive and well in the upstairs bathrooms of Thurles between '90 and '94.
LISTEN: 25 years on from the very first Féile, The Trip to Tipp revisted:
I was in Santa Ponsa on a post Leaving Cert exams holiday when Féile '94 rolled round, so my Trip To Tipp years were over. These holidays went against my (imagined) cool, indie persona but like the theme(s) Damon Albarn explored in Girls and Boys, a large part of me was appalled by the mindless debauchery of these 18-30 holidays, but an even larger part of me desperately wanted to join in! Maybe if I engaged less in this activity I wouldn't have needed to repeat my Leaving Cert the following year!
Having said that, I think I made it to the glory years of Féile (1991-1993), and some of the pictures online bear testament to this. The clothes were not trendy (for any era) - but they were practical - and the only instance of posing for the camera was from that lad that was sitting on top of the lamppost or the telephone box - this was a strange phenomenon but very popular in Ireland during those years! You got to see people passed out, or generally mugging for the camera in the media coverage that accompanied the festival, and in the papers you also got to see pictures of the acts performing, unlike today where over 50 pictures of the most recent festival will be on display, with not one of them exhibiting a picture of an artist and every one of them capturing some good-looking people, decked up to the nines in festival chic whilst strutting a pose that any supermodel would be proud of. No vomit on display here!
They're probably all 'influencers' too.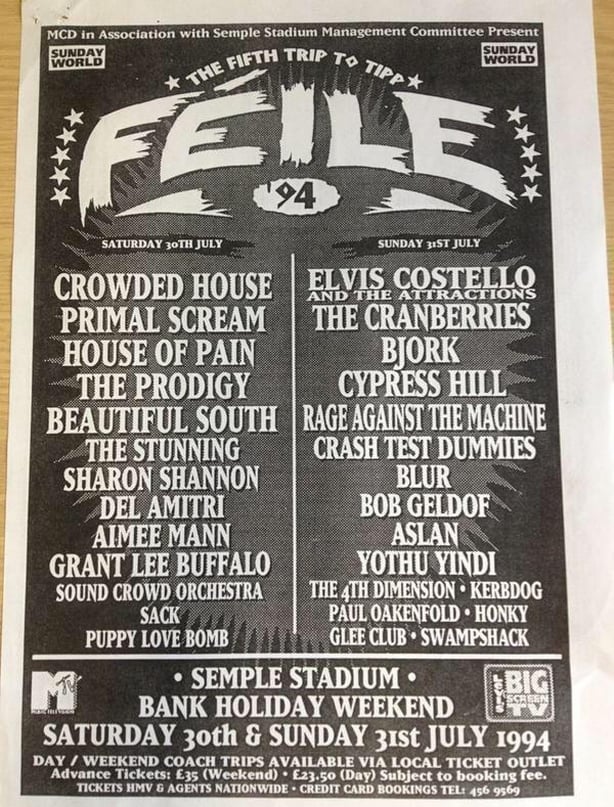 Féile Classical (as is its official title) will be an altogether classier affair - it has an orchestra after all! Exploiting all the current festival add-ons, it is a curious and whimsical trip down memory lane for those who will attend, helped in large parts by the exhibition of images of previous Féile festivals that will be on display around the stadium, which is a wonderful idea. But most intriguing is the line-up, which is made up of Irish acts from the original Féile era like The Stunning, An Emotional Fish, Hothouse Flowers, Something Happens, The Four of Us and The Frank and Walters.
WATCH: The Cranberries live at Feile 94
I don't believe there is an era in Irish music where a selection of home-grown bands captured the public's imagination as much as this one during the late 1980s and early 1990s. Each of these bands were superstars in their own right, each has at least one anthem, and one or two could have sold out arenas in their pomp… if only in Ireland!
Of course we've had more global success with other Irish artists - Sinead had her day, The Cranberries achieved world domination, The Thrills burned brightly for a short time, JJ72 had a minor spark and The Script made a solid career for themselves, and of course Louis Walsh embarrassed us all with that conveyor-belt of blandness that was Irish boys and girls regurgitating already mediocre pop songs and managing to make them a hundred times worse, whilst selling millions in the process.
In more recent times we've had the global success of Hozier, pushed along by the mass popularity of the outstanding Take Me To Church, a song that is obviously better than anything else on his eponymous debut album, and as four years have passed already since its release, there's a crucial period for Hozier coming up with the impending release of album number 2. Villagers have wowed the critics everywhere and Damien Rice is revered around the world and will probably sit somewhere near the top of most 'famous recluses' lists, but I don't think there has ever been an 'Irish scene' per se like this one. And in a way, the proof is in the pudding, as it's only An Emotional Fish who haven't sporadically remained together in the intervening years. They also all had major record deals, which is probably the legacy of U2's success in the mid-1980s and the subsequent flood of A&R people into Ireland during that period.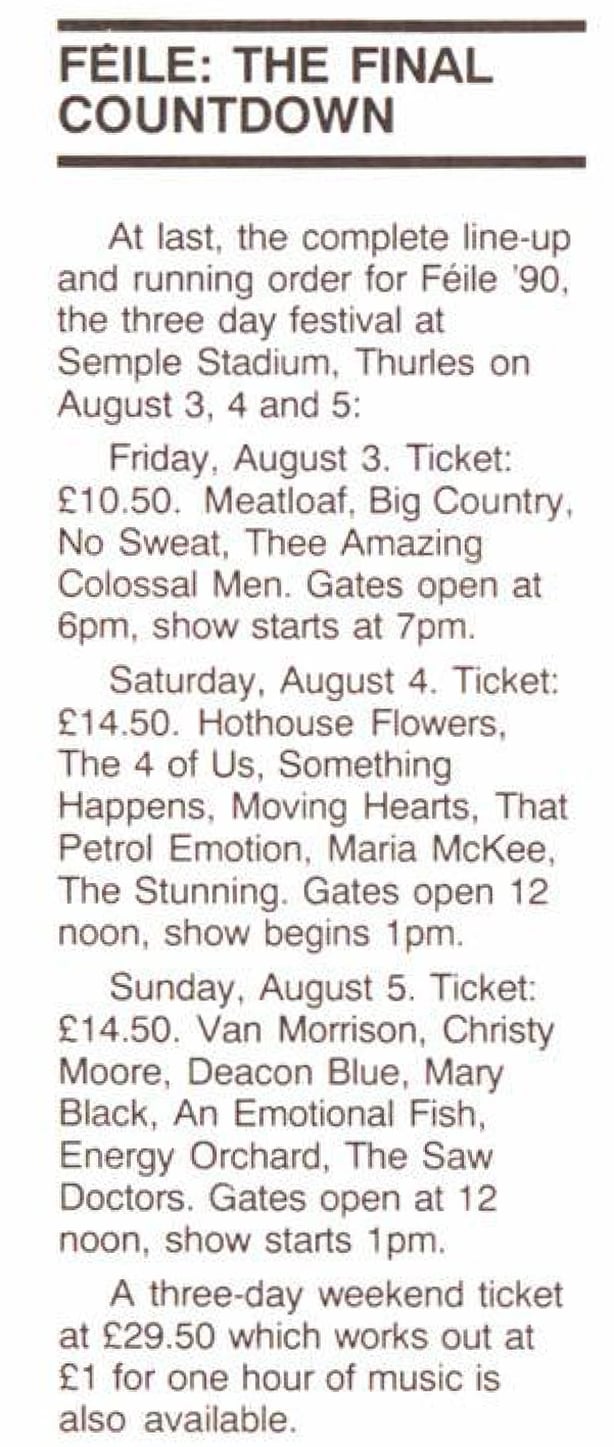 Arguably The Coronas are the most comparable Irish act on the current scene, they continuously sell out arena sized venues in Ireland without any notable backing from a major record label, and although they regularly tour internationally, it's mostly to play to an ex-pat audience. They are quintessentially an Irish phenomenon.
Féile Classical is a super idea and as it sold out quickly, I assume everybody thinks the same. The environment will be vastly different for what is ostensibly a grown-up audience, but if the years have caught up with those teenage and twenty and thirty something's that attended the original Trip To Tipp, it is not the only reflection on the difference between the former festival experience and the modern one. For the festival itself has grown up more than any of us, and all these reminiscent ponderings aside, it is better for it. Today it is about so much more than just the music, but whether it is food, poetry, mindfulness, debate, spoken word etc, the creativity is overwhelming and a joy to see.
LISTEN: The Féile Classical Spotify playlist
So for those of you at Féile Classical, have a ball and if it gets cold, I'm sure the organisers have planned for this and a long-sleeve Mock Turtles T-shirt won't be necessary. And if you're tired, well there are seats now so that shouldn't be a problem. But most of all, enjoy the music, the instigator of it all.
And me, well I didn't go to All Together Now, and already I've had people tell me that it was like being at the first Electric Picnic, but I've paid little attention because I know they weren't even at the first Electric Picnic!
All the same, I already deeply regret not attending, but hopefully I can find naturopathic herbalist, and a bio energy session somewhere else!
Féile Classical takes place on Friday 21 and Saturday 22 September at Semple Stadium, Thurles - more details here.