- Disenchantment, the newest series from The Simpsons and Futurama creator, Matt Groening, premieres on Netflix on this Friday. Alan Corr got a sneak peek and joined Arena's Kay Sheehy to give her his take.
Set in the fictional kingdom of Dreamland, the series follows Princess Bean (voiced by Abbi Jacobsen), the "rebellious and hard-drinking" monarch who flees her own royal wedding in a bid to find her way in the world, accompanied by Elfo (Nat Faxon) and Luci (Eric André). Alan cites Game of Thrones and The Big Bang Theory as clear influences on the show.
"This show, Disenchantment, reminds me of the kind of multi-player game that the lads in that show [The Big Bang Theory] would actually play. So, it's combining those sort of nerdy things and the fantasy, mystical thing as well."
Princess Bean's travel companions, the misery-seeking elf, Elfo and misery-creating demon, Luci are central to the plot, Alan says.
"Luci just wants to create evil and Elfo just wants to feel misery because he's sick of feeling happy all the time."
While this trio are the show's main focus, there is a wealth of minor characters to be enjoyed along the way.
"This being a Matt Groening show, there is a multitude of characters we're going to meet over the next 10 episodes - like The Simpsons and Futurama, this will grow and grow in the telling."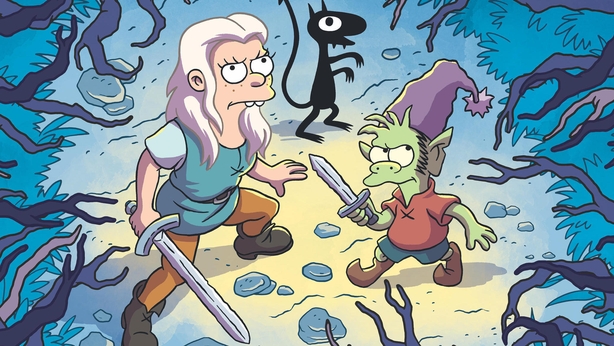 Alan points to the show's graphic nature as a way of differentiating it from Groening's previous efforts.
"It's quite a violent show, and unlike The Simpsons, its slapstick comedy and slapstick is a bit more graphic. But it's advertised as The Simpsons for grown-ups. I always thought The Simpsons was The Simpsons for grown-ups."
With successful cartoon series like Bojack Horseman attracting adult audiences to the cartoon format, Alan is unconvinced it will reach those heights.
"I don't think it really fulfils its reputation or what's being built up to be an adult animation show. It kind of pulls back just before it hits the mark... It's going to be very hard to see it compete on that level."