Every week, critic Cristin Leach talks us through a different artwork for Through The Canvas on RTÉ lyric fm - this week, she's taking a closer look at Jack B. Yeats' iconic painting The Liffey Swim.
Although The Liffey Swim (1923) is a hugely popular painting in the National Gallery of Ireland Collection, it is not my favourite by Jack B Yeats (1871 - 1957). I prefer his later work. Unexpectedly - as our tastes don't always coincide - my co-presenter Diarmuid McIntyre does too.
We are both bigger fans of Men of Destiny, painted in 1946.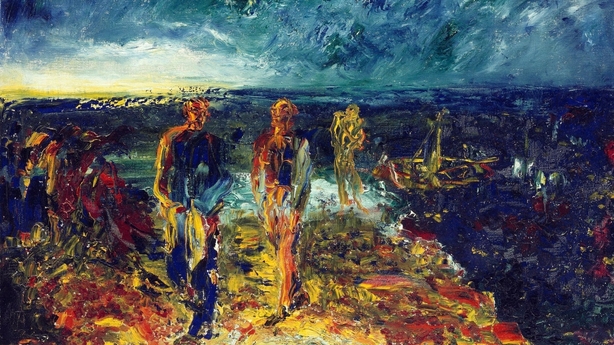 What I do enjoy about The Liffey Swim is its presentation of a quintessentially Dublin scene, and how it captures a collective moment of celebration and community. Yeats started out as a commercial artist in London, doing illustration and comic strips.
The Liffey Swim, along with other paintings produced around this time, marks something of a turning point. If you visit it in the National Gallery you will see brushstrokes of red among the blue and grey in the water. Yeats did not subscribe to any particular school, or style of painting. He was influenced by Expressionism, but he stood alone. His art did too.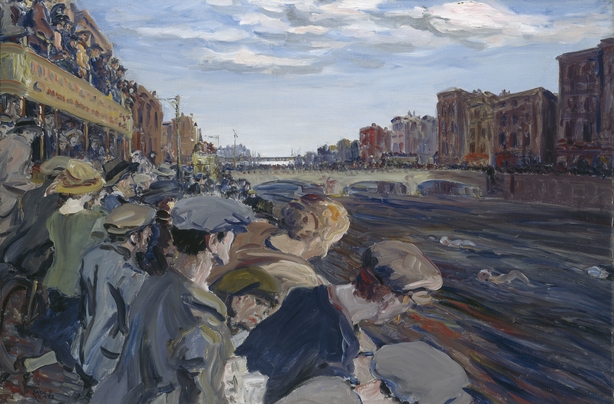 During his lifetime, his work was celebrated in New York and elsewhere. Today his reputation is predominantly confined to his home country; a fate that needs to be rectified. From the 1930s onwards, his output consists of profoundly rich, challenging compositions that are as enticing as they are occasionally repelling. His work became as uncompromising and difficult, in the best possible way, as reputedly the man himself.
Yeats was the younger brother of poet William Butler and son of the portrait artist John Butler Yeats. This painting won him a silver medal in the Olympics, making him the Irish Free State's first Olympic medallist, as part of the competitive arts categories included in the Olympics from 1912-1948. It was affirmation that that he was heading in the right direction. He didn't look back.
Through the Canvas is a Grey Heron production for RTÉ Lyric fm funded by the Broadcasting Authority of Ireland with the television licence fee. The series is presented by Diarmuid McIntyre and Cristín Leach. 
Listen to Through The Canvas on lyric fm, on Tuesdays at 11.30am (as part of Niall Carroll's Classical Daytime) - and find out more about the show here.